Chart Highlights – September 2, 2021
Heating up: Guy Sebastian's 'Believer' adds 270 spins, debuts at No. 26
High Point: Justin Wellington cracks the Top 10 with 'Iko Iko (My Bestie)'
Biggest Mover: Rain Radio & DJ Craig Gorman combine for a Top 40 radio hit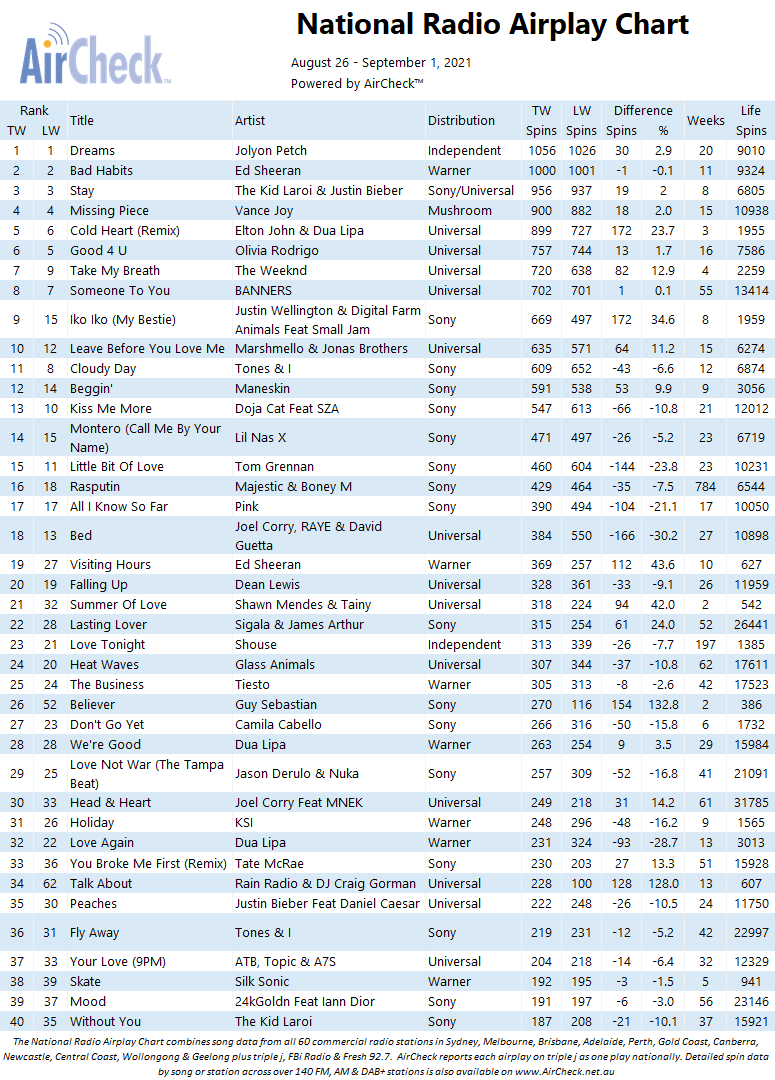 As he continues to mentor 'Team Guy' through the final stages of The Voice Australia, Guy Sebastian has capitalised on the show's momentum to debut at No. 26 on the National Radio Airplay Chart. 'Believer' marks Sebastian's first appearance on the chart since early July, and his highest peak since 'Love On Display' in March.
'Believer' was the 15th most-played song on the KIIS playlist during the charting week, ranking fourth among Aussies. Overall, the song's output increased by 154 weekly spins (+132.8%) across all of radio, with the Novanetwork offering an extra 89 spins on top of last week's tally.
Justin Wellington's meteoric rise is showing no signs of slowing down. 'Iko Iko (My Bestie)' is peaking at No. 9, rising another six frames this week. Nova stations are currently doubling the spin counts of most other stations in Australia. 'Iko Iko' is currently the fourth most-played song on Nova's national playlist.
Rain Radio & DJ Craig Gorman enter the chart at No. 34 with 'Talk About'. Originally released back in May 2021, the high-energy club cut has been picked up by 17 outlets, including The Edge Sydney and Fresh 92.7, as well as Nova and triple j.