It's only been a few months since we reported on the departure of Kim Napier from the Kim and Dave Breakfast Show on Hobart's Heart 107.3.
And It was only a few months before that, in July last year, that Kim and Dave (below left) made news around Australia with 'that' interview with the colourful Senator from Tasmania, Jacqui Lambie who told them she was looking for a man with plenty of money and a big package.
Yet, after 15 years a star on breakfast radio, Kim quit near the end of last year to be with her family in Adelaide. As she says on her blog, "In this short period of time I have suffered an identity crisis as I move forward in a new city, new State and away from life as a public personality. I needed to remind myself that role, which I held for 15 years didn't define who I am, I had to take a deep breath and tap into the things I am known for and like away from the limelight."
In the meantime she has managed to pick up some part time journalist work with FIVEaa. She lives in a home just 200 metres from the beach and still, there's something missing.
What she misses most about being a co-host on a major provincial station is her hairdresser.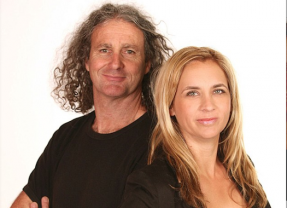 "Yep, it drives me nuts," says Kim, "And despite all the soul searching, it is THE one thing I miss about life as a personality.
"The company I worked for had a contra account with the best salon in Hobart and thus talent, to make sure they looked their best could have their hair blow dried, straightened, coloured or cut all thanks to the boss. This was great for me as I have hair like the Paddle Pop Lion. Some call it beach chic I call it unmanageable. There is no way I can get a brush through it rather I have to pull my knots apart, and it takes some muscle.
"I would kill for a treatment and a blow dry (as a casual employee I can't afford to pay) made even more urgent following a comment from a friend at dinner over the Australia Day weekend. Despite my excellent communication and social skills and my warm but authoritative voice, my friend, who owns a company said she would not employ me (not that I was looking for the job) as receptionist at her business because I, wait for it…WASN'T PRESENTABLE ENOUGH. No amount of Kerastase product can save me. I guess you could say I have a head for radio," says Kim.
Read more about Kim Napier here.