Public health information targeting diverse communities at the centre of the latest COVID-19 outbreak is almost two months out of date, according to news reports this morning.
An ABC report says the Federal Health Department's COVID-19 information, which comes in more than 60 languages, has not been updated for almost eight weeks.
The multilingual information still says AstraZeneca is the preferred vaccine for Australians over 50, even though that advice was changed in June. There is also no mention of the latest expert vaccination advice to residents in outbreak areas.
Thankfully Australia's multilingual community broadcasters have kept their information up to date and have been communicating it to listeners around the country.
National Ethnic and Multicultural Broadcasters Council (NEMBC) CEO Russell Anderson has told radioinfo: "Our daily news is in 20 languages a week and plays 80 times across 13 radio stations in Victoria. We also distribute it free to other Ethnic language stations around Australia, such as WOW FM in one of the Sydney hotspots.
"We estimate our social media reaches thousands a week, including Vic Gov distribution. We have the usual Facebook, Twitter, Instagram outputs, but we also target through WhatsApps groups and our membership to spread the news directly…
"We have Soundcloud channels and last Saturday and Sunday we produced information about Exposure site rules in 22 languages, as well as our normal daily news."
The NEMBC is also distributing 4 minute explainer Community Service Announcements produced by Brisbane's full time ethnic station 4EB with the support of the Queensland Government.
Over at SBS Radio, the recently appointed Director of Audio and Language Content at Special Broadcasting Service David Hua has told radioinfo:
"For more than 45 years, SBS has played a key role in keeping Australia's diverse communities informed, and with the rapidly changing COVID-19 situation, it is now more important than ever those communities are able to access and understand the latest health updates to ensure their personal safety, and the well-being of those around them. SBS has a unique ability to reach those communities through its services in more than 60 languages, available across multiple touchpoints.
"The current COVID-19 outbreak reminds us that we are all in this together, and these regular updates will play a key role in keeping everyone informed."
SBS has aggregated all its content in one place on its website, which has had more than 8 million visits since the pandemic began.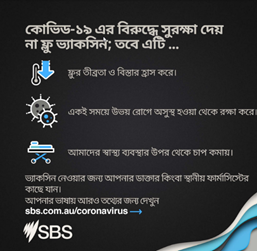 As well as editorial coverage across the day, SBS News is delivering extensive cross-platform coverage through Vaccine in Focus, a cross-platform series providing key explainers on the vaccine to dispel misinformation. A range of vaccine videos have also been produced in conjunction with the Department of Health.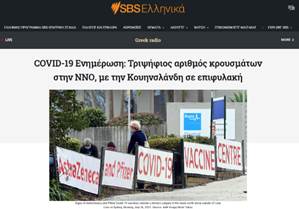 Daily social videos and audiograms are being made and shared for the 20 most spoken languages in the Sydney Local Government Areas most affected by the current COVID cluster, in languages including Arabic, Mandarin, Cantonese, Vietnamese, Greek, Italian, Spanish, Macedonian.


SBS daily radio programs regularly run live panels and talkback moderated by the SBS producers who "collect the voices of our communities, identify needs or issues regarding the knowledge of the vaccine rollout and can address those with targeted editorial initiatives." There is a daily COVID-19 podcast from SBS Mandarin and SBS Cantonese providing information on the latest updates including vaccine rollout and weekly COVID-19 podcasts from SBS Arabic24, all with trusted community voices such as family doctors and reputable infectious disease experts featuring in the live programs, podcasts, online articles, and social media posts.
Gli ultimi aggiornamenti sul #DeltaOutbreak in #linguaitaliana sono qui –> https://t.co/ZShi76hifD pic.twitter.com/RnaEmnyC3K

— SBS Italian (@SBSitalian) August 3, 2021
---
Subscribe to the radioinfo podcast on these platforms: Acast, Apple iTunes Podcasts, Podtail, Spotify, Google Podcasts, TuneIn, or wherever you get your podcasts.