Heidi Anderson, from hit92.9's Heidi, Will & Woody got raw this morning on-air and discussed the mental health issues that plague her personal and professional life.
Diagnosed with anxiety in 2009 after a stint in the UK, Heidi has been battling every day with an emotional rollercoaster of over-thinking, stressing, mental spacing and much more, which has been at an all-time high over recent weeks.
In this morning's chat, Heidi opened up about how this illness has impacted her work and her relationships with friends, family, her boyfriend Griffo and most importantly … herself.
Heidi refuses to suffer in silence as she worries many people do and it seems her conversation may have given some listeners a voice, enabling them to reach out to Heidi on the Heidi, Will & Woody Facebook page with one woman writing "I struggle every day with every day things and hearing Heidi explain her life with anxiety makes me feel like I'm not alone."
Listeners have also reached out publically on the hit92.9 Facebook page.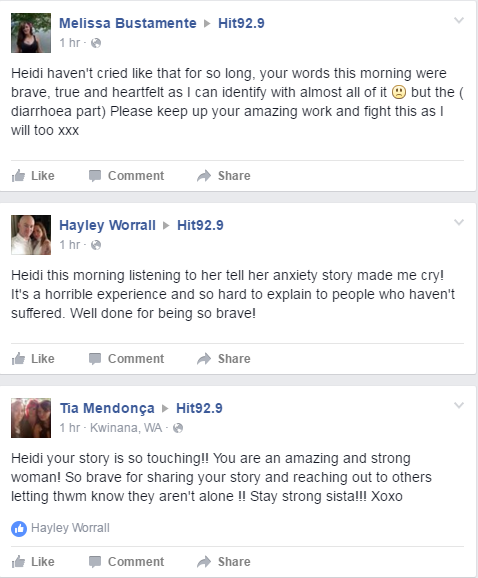 If this report has raised any issues for you, contact Lifeline for help, phone 13 11 14.