Keith McGowan recalls his years at 3AW with 'colleague' Derryn Hinch. In the mid 70's I was doing the Afternoon Program on 2UW (now MIX 106.5). I lived in Penrith and travelled to and from the CBD by train. Two hours a day on public transport and you'll read anything you can get your hands on. In Sydney's small paper there was a restaurant review column titled "The Hungry Hinch" and I read it each week little knowing that the writer, Derryn Hinch was to figure so prominently in my life over the next decades.
A couple of years later, prompted by Ray Bean who hired me at 2UW, I moved to Melbourne to do mornings on 3MP (now MyMP and before that MTR) for him. Soon after 3XY tried an experiment in their morning program. They put the experienced and popular Greg Evans with the unknown and very brash former Sydney-sider Derryn Hinch. It was an appalling start to what was to become a stellar radio and TV career for Hinch. From such a small acorn a big oak tree grew.
At the time Bert Newton on 3UZ (now Sport 927) dominated Melbourne mornings and for a couple of years I did a good job finishing second to "Moonface" many percentage points astern. Soon enough 3XY (now Magic 1278) and Hinch tired of each other and the then struggling 3AW took Hinch on, and from almost day one the "headlines" began.
Derryn was very vocal about how he was going to knock Melbourne's much loved Bert Newton from his perch. It was a campaign that I recall amazed me with its viciousness.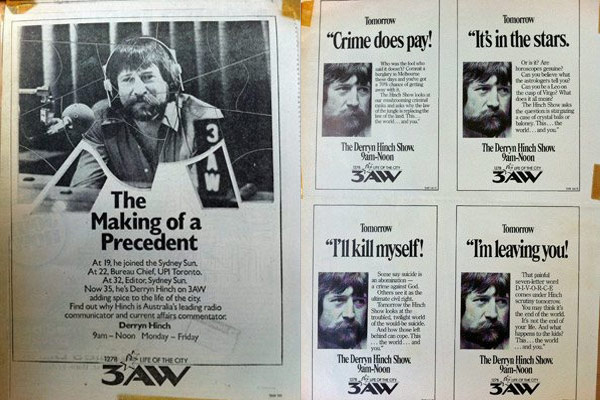 Hinch brought to 3AW a radio program you couldn't afford not to listen to, setting a standard to which we all aspire. After a rating book or two 3AW mornings closed the gap on Newton, and then came a survey period that 3AW and Hinch were certain they would win. A cruise ferry on the Yarra was hired, and journalists and TV were invited to celebrate the "Death of the King……Long Live the King".
Sadly for Hinch it didn't work out that way. Hinch pinched enough of Bert's listeners to make it easier for me to make it to number one on 3MP. Incredulous, Hinch described me as, "A very poor Jockey on a very fast horse." It must have been a mournful cruise on the Yarra that day for 3AW's guests.
Newton and I swapped top spot for the next two surveys, then Hinch got his coveted "flag" and didn't look back.
Around this time, Hinch was seen with the best looking ladies on his arm. He was writing books, owned a restaurant and was in the newspapers every other day and by now he was letting everyone know he wanted to be on TV. In the 1980's and early 90's he got his wish. "Beauty and the Beast" and "Hinch" were two small-screen successes for him.
My closer involvement with Derryn came about in 2000 when he returned from a stint in Adelaide to do Nightline on 3AW when Bruce Mansfield and Philip Brady (left) were set aside due to Mansfield's involvement in what was to become known as the "Cash For Comment" scandal. After a year Mansfield and Brady were reunited on Nightline and Hinch commenced doing mornings on then Melbourne Radio minnow 3AK (now SEN) where he stayed for two years until called back to do 3AW Drive in place of Stan Zemanek.
Derryn Hinch was "home" at 3AW and fitted like a glove. Ross Stevenson and John Burns on Breakfast, Neil Mitchell on mornings and Hinch on Drive. How was that for a line up?
But then came the unfortunate death of former Australian Test Cricketer and 3AW Sport Broadcaster David Hookes in January 2004. Hookes was loved by 3AW staff members on and off the air and the sadness at the time of the passing had to be seen to be believed.
At the time, Derryn Hinch who thrives on controversy said some things on air about the Hookes "family situation" which got a lot of 3AW people off side. Many of those people cut their involvement with Hinch there and then and the wounds to this day were never healed.
With three months to go on Hinch's contract, due for renewal this year he was told by Station Manager Shane Healy there would be no re-signing. Hinch was stunned. His audience was stunned. I was stunned. In fact I consider it to be the most baffling management decision I have seen in radio since I started in 1957.
Although aged 68 now, on air Hinch is ageless. There is no doubt there are some radio years left in him still. A couple of weeks ago over coffee the former Fairfax Group Manager Graham Mott told me that "No way would I have got rid of him." adding "It's a strange decision for sure."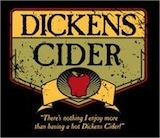 On Friday, I listened closely to the final Hinch program on 3AW Drive, and I believe I heard a man who was sad and angry, yet very much in control of his emotions. It's been a tough 18 months for Hinch – the transplant, the home detention, and now the loss of his platform, the radio program.
It is not difficult to get in the shit when you're a broadcaster on a talk station. And I sure did by playing the Dickens Cider ad on air once too often. I thought my days at 3AW were over.
I spoke to Derryn about my problem and he said "Hang on, I did that too." and he added "You tell them if they sack you, they'll have to sack me too."
That's Hinch. That's Life.
Keith McGowan