"I won't be returning to radio, I'm contracted to SkyNews," Derryn HInch has told radioinfo in an online discussion that began when he commented on shift change rumours at 2GB/3AW.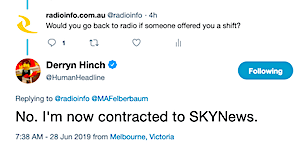 As Hinch finishes his term in Canberra, his focus has now returned to media, after he performed one last duty as a Senator.
Annika Smethurst captured his one and only ribbon cutting ceremony as a Parliamentarian, the naming of Hinch Way, outside the Ostani Bar in Canberra.
Hinch began an online discussion about talk radio networking when he tweeted about the rumours surrounding possible shift changes for
Steve Price, Chris Smith
and
Dennis Walter
(see our
earlier
reports
).

As scores of his fans responded to his tweet, Hinch recalled his famous campaign years ago against the short lived Packer radio network, when talk stations in Sydney and Melbourne were networked together.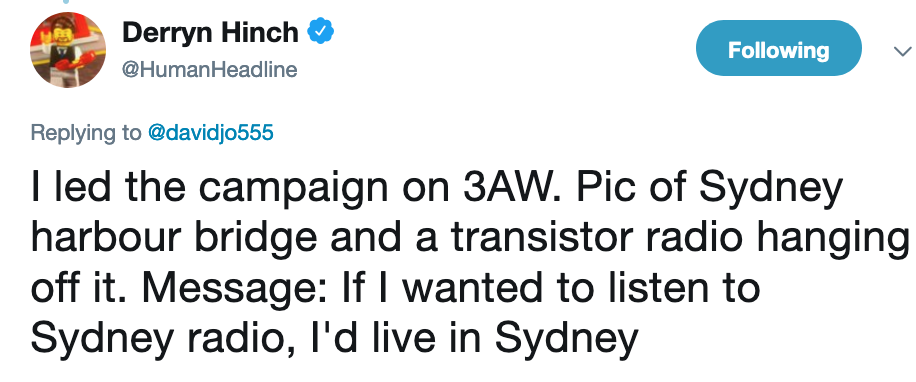 See the tweet and all responses by clicking the twitter comment below.
Media rumour that 3AW will sack afternoon host Denis Walter and replace him with syndicated Sydney shock jock Steve Price. Reminds me of last time this was tried. I said: If I want to listen to Sydney radio I'll live in Sydney.

— Derryn Hinch (@HumanHeadline) June 26, 2019