One of our readers, known as Gumbuoy on social media, responded sceptically to our recent article about the latest podcast ranker figures, questioning several aspects of the methodology.
Fair enough, we welcome all opinions here*, and we promised to follow up to find out more about how the Podcast Ranker works.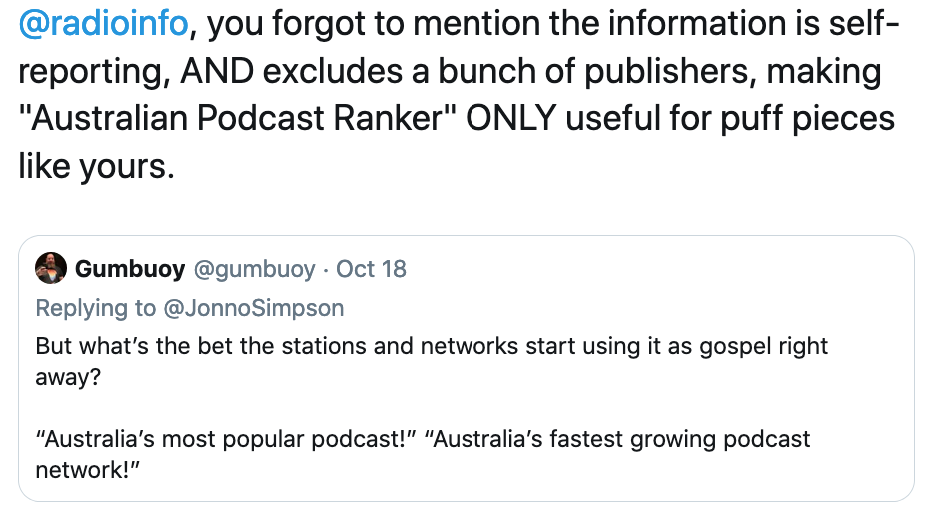 So we put Gumbuoy's two main assertions to Triton's US based President of Market Development John Rosso (pictured), then we also asked him more about how the Podcast Ranker system works.
Self Reporting
"The data is not self reporting. Triton podcast metrics collects the data directly from the content distribution network or the hosting company. The podcaster does not touch the data, it comes direclty from the host of the CDN. We ingest the data directly from the source… The advertising industry in Australia has been very supportive of this because self reported data is a big problem."
Excludes a bunch of publishers
In our twitter reply at the time, we already agreed with Gumbuoy that some podcasters (especially the ABC) are currently not in the ranker. John rosso says:
"It is open to any podcast publisher who chooses to participate and subscribe…. We will measure anybody who would like to be measured. Our teams are actively out in the marketplace trying to secure agreements with many of the podcast networks in Australia, and around the world."
Of course, some podcasters may not be able to afford to subscribe if it is too expensive, so we asked John about that. He was not specific about exact costs, but said: "The costs are nominal, I can't quote a number for publication, but it's not a cost that would be much of a factor for any ad supported podcast business… We don't charge anything for appearance in the ranker."
When John mentioned the ad supported businesses, we asked about the ABC, which cannot take advertising. John replied: "Government broadcasters may wish to be measured for non commercial purposes. For example if you're commissioning content for ABC Australian you may want to have an accurate third party measurement that is calibrated to the rest of the market, measured the same way as everybody else is."
The ABC is expected to become part of the ranker soon.
"We have to have a deep integration server side in order to pull the data directly from the server. This requires considerably more work so some broadcasters take time to iplement that."
That's fine for big business, but what about small businesses, the little podcast producers? "We would be pleased to meaasure those guys, they would have to subscribe to our service to get that.
If a small podcaster did subscribe they could view all their data and their position in the ranking via the dashboard (pictured below, click to enlarge). If they made the Top 100 they would show up publicly, but would not be published if they didn't make the Top 100, although they would privately be able to see their position and how their podcasts are being consumed by their listeners.
John Rosso says most podcasters that are using a host platform may already have access to that data because their platform subscribes. "Podcast networks can enrol their podcasters so they can see the data, otherwise they will get it in summary form from the host company," he said.
What can podcasters learn from console?
Podcasters using the dashboard can see the number of downloads, hours, unique listeners and trends. They can also see countries and regions, device families, operating systems, smart speakers, types of smart speakers and details of other devices.
The data is aggregated from all the participating podcast distributors.
John Rosso says smart phones make up the majority of listening for podcasts measured by Triton. When the cellular-enabled Apple smart watches were launched he saw "an initial increase, then it fell back off."
All data is filtered for compliance to filter out invalid traffic and apply various guidelines, using accredited guidelines for audience research companies.
Thanks Gumbuoy for making the comment and prompting us to find out more about Triton's podcast ranker.
Gumbuoy produces a music podcast with some colleagues, which can be heard here.
* Opinions welcome as long as they don't contravene our defamation or publication guidelines. We generally try and respond to valid comments if they have raised a fair point, even if they are a bit insulting to us (we're not precious).