Would you go this far?
When Kieran Simpson's hometown UK football team Lincoln City made history on Saturday by becoming the first non-league team to reach the FA Cup quarter finals in more than a century, the 25 year old broke English ex-pat made the journey of his life to get there, just for a 12 hour stopover.
The KIIS FM content producer who works on Matt & Meshel's breakfast program in Melbourne spent more hours flying to and from London than he spent in the country thanks to the generosity of strangers who helped fund his flights to get to the important occasion and didn't even visit his family while he was there.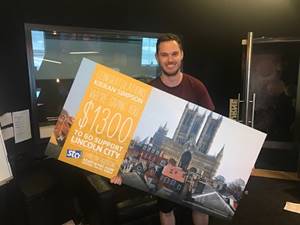 After starting a crowd funding account to get him back to his homeland for the game, Kieran incredibly caught the attention of travel company STA who rallied to help him fulfil his dream to watch his "crappy" team play in the most important game in its 133 year history.

It's the first time in 103 years – since the FA Cup was restructured – that there's been a team outside of the football league in the quarter finals and people from all over the world will converge on London.

Kieran left at on Saturday morning from Melbourne and journeyed to London arriving just hours before the match at 5.30pm on Saturday afternoon. To save money, Kieran then slept at Heathrow Airport before flying out on Sunday morning at 6am.

Fortunately had Monday morning off the KIIS breakfast shift with Victorians resting on Labor Day.

Kieran has become a viral sensation wit International media from UK and Ireland so touched by Kieran's story he has done several interviews with radio stations and newspapers.

Kieran, who moved to Melbourne from Lincoln in 2012, was disappointed his team lost 5-0 and turned up very weary for work this morning but doesn't regret his decision one bit.

Kieran will donate the additional money raised from his crowdfunding account to the BeyondBlue charity.