Radio Tomorrow with James Cridland
RAJAR, the radio measurement organisation in the UK, has just released their latest MIDAS research. RAJAR (Radio Joint Audience Research) clearly likes acronyms. MIDAS (Measurement of Internet Delivered Audio Services) is one of the best. Particularly since it doesn't just measure internet delivered audio services, just like RAJAR doesn't just measure radio.
Anyway, it's here – http://www.rajar.co.uk/docs/news/MIDASAutumn2015LFFinal.pdf – and it covers all of what we might call "audio" – everything from the radio through to apps, podcasts, and other devices.
The first thing that's interesting is that on-demand music services – things like Spotify, Google Music, Apple Music, Deezer – aren't really mentioned. Much. But they do appear in one of the graphs. So they've clearly been measured. I wonder what the story is here.
The graph they do appear in is audio listening against time of day: and it turns out that online music services reaching about 10% of the population during the typical workday.
So, between 10 and 6, music services have around 10% of the population listening to them right through the working day. To put that into context, radio – through the same working day – is listened to by anything from 15% to 20% of all adults.
So – during the workday, online music services are already half as popular as radio. Half as popular as radio. That's a real story.
And the research is also quite revealing about podcasts.
Yeah, podcasts, they're the next big thing, right? Except… hmm. They're not that big really. Only 7% of people use them (3.2m). Over a third of all podcasts that people download aren't ever listened to (only 62% are).
Podcasts are listened-to more in the evening than the morning: perhaps that's because of breakfast radio's connection to the outside world, I don't know. Two-thirds of people who listen are blokes; and a third of all time spent listening is in the car – which, by the way, puts it above radio.
And after 7 in the evening, the amount of people using online music services, or podcasts, or listen-again, or live radio… is almost equal.
These figures show a number of things. First – that music intensive radio is under significant pressure from online music services; but second, that live radio – proper radio, connected radio, human radio, still has its place.
You can get my newsletter, free, at james.crid.land – and until next time, keep listening.

About The Author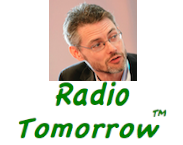 James Cridland is a radio futurologist, and is Managing Director of media.info, a companion website to radioinfo and AsiaRadioToday.
He has served as a judge for a number of industry awards including the Australian ABC Local Radio Awards, the UK Student Radio Awards, and the UK's Radio Academy Awards, where he has also served on the committee. He was a founder of the hybrid radio technology association RadioDNS.
James is one of the organisers of nextrad.io, the radio ideas conference each September, and is also on the committee of RadioDays Europe. He writes for publications including his own media.info, Radio World International and RAIN News.
James recently moved from North London to Brisbane with his partner and a two year-old radio-loving toddler. He very, very much likes beer.