Here, There and Everywhere (HT&E) – best known to those in radio as ARN's parent company has released its full year report for the 12 months ending 31 December 2018.
Australian Radio Network
Radio market grew 3.5% in 2019; 5.9% in H1; 1.3% in H2

ARN revenue growth of 3% to $235.5m

EBITDA up 1% to $84.6m, margin maintained at 36%

Highest average ratings year ever

Dominance in Sydney with No.1 and No. 2 breakfast shows

Gold in Melbourne #2 station and KIIS 101.1 building momentum

Ambition to be clear #1 national radio network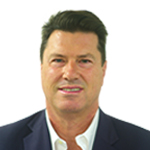 HT&E Chairman, Hamish McLennan, (left) said, "Senior Management is dedicated to operational excellence across our radio operations and making sure we have the right people and structures in place is of paramount importance. As part of this approach corporate cost reduction and simplification of the Company is an important focus for the Board.
"The radio industry remains one of the most resilient sectors of Australian media, both from audience engagement and advertising interest, and I expect it to remain so in the foreseeable future. Against this backdrop we are ideally positioned to drive strong ongoing performance for shareholders.
"HT&E's strong balance sheet, together with ARN and a number of emerging digital investments, means we are one of the most exciting media businesses in Australia today."
HT&E CEO & Managing Director, Ciaran Davis, said, "ARN implemented a strategy focused on ratings growth and commercial success in 2018 and ended the year experiencing growth across a number of FM stations, culminating in the highest average ratings in the history of the Company.
"We saw some growth at the EBITDA line in ARN to $84.6 million and importantly saw a strong EBITDA margin maintained at 36%, highlighting the strength of the business even despite a softer market at the end of 2018.
"It has never been a better time to invest in audio and 2019 will see HT&E focus on ARN's broadcast, digital, social and streaming suite of assets with a clear vision to create the future of audio entertainment. We have put plans in place to deliver increasing value for shareholders by driving and delivering operational performance across the group."

The report stated: ARN performed in line with the overall radio market with revenue growth of 3% to $235.5 million, which was a good result in a mixed year for the industry. In the first half the market was up 5.9% and then softened considerably in the last 4 months of 2018, with growth of approximately 1.3% in the second half.
Costs were up 3.3% to $150.9 million driven by higher variable cost of sales on higher revenue, increases in promotion and marketing to launch four new shows, and further investment in ARN's non-traditional broadcast product offering. As a result, EBITDA was up 1% to $84.6 million on a healthy EBITDA margin of 36%.
ARN's key on-air talent is locked in for at least the next two years across the KIIS and Pure Gold networks. The Company delivered its best ever ratings result in 2018 and ended the year as the number two national radio network in Australia, less than one share point behind the leader.
In Sydney, ARN dominated FM breakfast, holding the #1 and #2 FM spots for three of the eight surveys. After holding #1 or #2 station positions for six surveys, KIIS 1065 and WSFM ended the year as #2 and #3 station respectively. KIIS 1065's Kyle & Jackie O and WSFM's Jonesy & Amanda achieved outstanding results, with a 10.5% and 9% share respectively.
In Melbourne, ARN made a number of significant changes in 2018. In January KIIS 101.1 breakfast was relaunched with Jase & PJ, whilst in June Gold 104.3 launched the Christian O'Connell Breakfast Show. After expected audience churn, ratings of both shows and their respective stations are improving.
Brisbane remained one of the most competitive radio markets in Australia. 97.3FM ended the year as #4 FM breakfast and 4KQ retained its position as #1 AM station overall, and #2 AM commercial breakfast. Mix102.3 maintained its lead in Adelaide, finishing the year as #1 station, and the #1 FM breakfast show. In Perth the Paul & Lise breakfast show is gaining traction that was reflected in survey 8, in a market dominated by strong standing teams. ARN also successfully launched the new national Drive show, Will & Woody, across the KIIS network in 2018.
The Future of Audio Entertainment
ARN's vision is to create the future of audio entertainment in Australia. iHeartRadio is a key component in ARN's future and a driver of audio content. The iHeartRadio app has now surpassed 1.7 million downloads and has more than 1.1 million registered users generating over 3.5 million hours of listening per month.
Dynamic ad insertion is now common on the iHeartRadio platform, with advertising programmatically inserted based on user profiles. The iHeartRadio app is also being integrated into voice activated products including Apple CarPlay, Android Auto and smart speakers including Google Home and Amazon's Alexa.
Ciaran Davis said, "ARN's ambition is to create a future for audio entertainment that resonates with both listeners and advertisers. We have strong digital platforms that are growing in relevance and we are making investments in new technologies and data that sit alongside our key radio brands to better engage and influence audience behaviour and advertiser solutions."