Chart Highlights – 3 September 2020
New Music: Calvin Harris & The Weeknd debut at No.28 with 'Over Now'
Heating Up: Jason Derulo rises 6 places to No.18 with 'Take You Dancing'
Highest Gain: BTS enter the chart at No.38 with 'Dynamite' with spins up 146.3%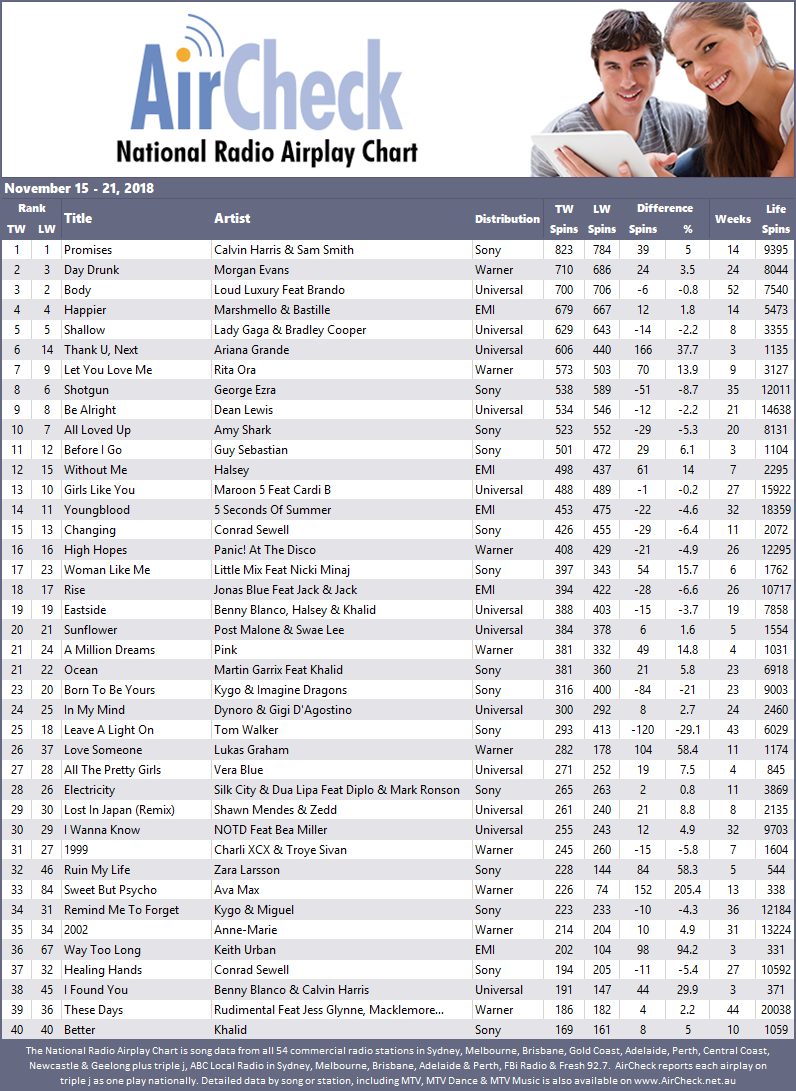 This week Calvin Harris teamed up with The Weeknd, debuting at No.28 on the AirCheck National Radio Airplay Chart with 'Over Now'. The new release earned 221 spins across 16 stations with the strongest support coming from the Nova network who put the track on high rotation, accounting for almost 75% of the week's airplay. The KIIS and Hit networks and triple j also jumped on board spinning the track in its first week on air.

Jason Derulo's 'Take You Dancing' continued its ascent this week, gaining 64 spins to rise to No.18. Across Australia, 19 stations added spins with The Edge Sydney out in front with 40 instances, followed by the KIIS network adding 39 and 37 spins in Melbourne and Sydney respectively. 973 began spinning the track, while the Hit network doubled spins.

K-pop sensation BTS was up 98 spins, landing at No.38 with 'Dynamite'. The track earned 165 spins across 11 stations, namely the KIIS, Nova and Hit networks. KIIS Sydney and Melbourne were the top spinners of the track adding spins throughout the day, meanwhile airplay from Nova and Hit was predominantly during the evening with few trickling through to mornings and afternoons.
---
Subscribe to the radioinfo flash briefing podcast on these platforms: Acast, Apple iTunes Podcasts, Podtail, Spotify, Google Podcasts, TuneIn, or wherever you get your podcasts.