Chart Highlights – May 5, 2022
Top Debut: Jack Harlow zooms to No. 34 with 'First Class'
Heating Up: 'Enemy' by Imagine Dragons & JID notches 170 spins
New Leader: Latto jumps to No. 1 with 'Big Energy'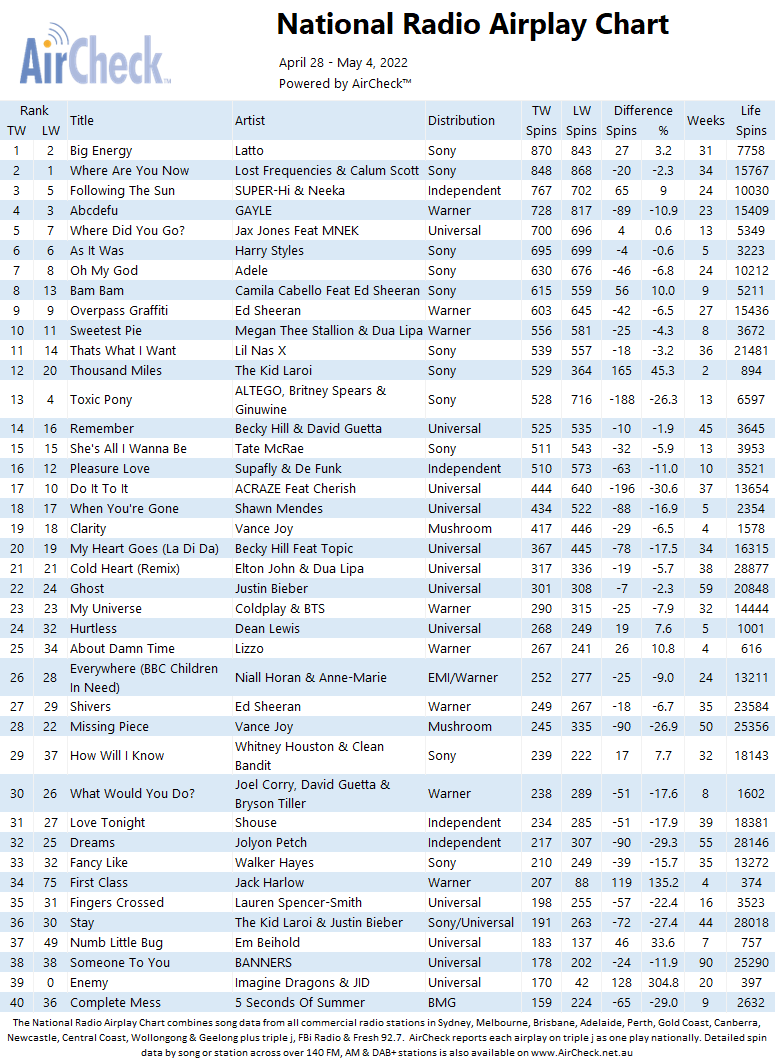 Rapper Jack Harlow scores the top debut on the latest AirCheck National Radio Airplay Chart with 'First Class'. The song lands at No. 34 with 207 spins.
Sydney's CADA was the key contributor, accounting for 41 spins (19.8%). 'First Class' was also the third most-played song on triple j this week with 15 spins.
Imagine Dragons & JID's 'Enemy' reaches the Top 40 more than six months after release. The track posted its first spin on Wave FM in December 2021, and until this week, was only being spun by three stations nationally.
However, the addition of Nova was enough to lift 'Enemy' to No. 39 this week. The network averaged 33.2 spins across its five metro stations.
Latto's 'Big Energy' has bumped Lost Frequencies & Calum Scott's 'Where Are You Now' off the top of the chart with a +3.2% gain in spins. Latto is the second Sony artist to reach the summit this year as 'Big Energy' becomes the sixth airplay chart-topper of 2022.