On the road in regional Victoria with Keith McGowan. Jon Vertigan, the ACE Network's Breakfast Personality has just celebrated 20 years in Radio. Aged 18 in 1992 Jon was doing afternoons at 3SH (Swan Hill), the result of sending them a poor quality audition recorded in his bedroom.
Now approaching 40 Vertigan is heard from one end of Victoria to another through 3YB (Warrnambool) 3HA (Hamilton) 3CS (Colac) 3WM (Horsham) 3SH (Swan Hill) & Gold1242 (Traralgon).
I hear a lot of Jon on 3WM as I travel to Adelaide. When I first heard him I had no idea he was "networked", and indeed I thought I was listening to a very local Horsham radio program.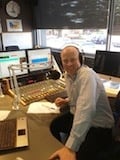 I asked Jon how can he do a program for a cow cocky in Gippsland, a retired couple on the South Coast and a fruit grower in the Wimmera ? He told me "We work very hard on local segments, weather, news, events, sport results and more."
Jon also has a great understanding of the regions he broadcasts into, as over the past two decades after Swan Hill he moved to 3WM, 3SR (Shepparton), 3YB and 3TR (Sale).
Whilst at 3TR Jon drove to Melbourne each weekend to broadcast Saturday and Sunday mornings on MIX101which led to him moving to Sydney as the Music Director of MIX/ARN network. Now back with ACE and at 3YB for the past eight years Jon told me "this is where I want to be."
With John Vertigan as his Father, was it always going to be Radio for Vertigan the younger? "Yes it was" says Jon. "Dad used to take me into 3UZ when I was a little kid and I loved it back then."
John Vertigan met Jon's Mother Jill at 3UZ where she was a receptionist. Jon Vertigan met his wife Kelli at 3YB where she too was the receptionist. Will there be a third generation Vertigan broadcasters?
Maybe it's too early to tell with Ben (4). But Chloe (9) is a "bit of a performer on stage so who knows" says the proud Dad.
Jon Vertigan is a five time ACRA winner and has been nominated for three more this year. We will await the judges decision and "correct weight."
Below: The father, John Vertigan at 3UL Warragul circa 1959.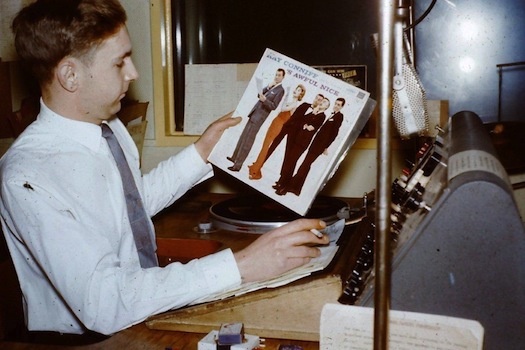 Keith McGowan