KOFM still leads the pack in Newcastle in the latest GFK survey.

In what will be their last survey before becoming Triple M Newcastle, KOFM, despite dropping 2.8% to 14% , continue to lead with stablemate Hit 106.9 in second spot on 12.7% (down 3.4%)

ABC 1233 made the biggest gain, up 2% to 10.6% while 2HD remains on 8.7% and NEWFM is up slightly to 10.1%.

KOFM's breakfast duo, Steve & Tanya lost 2.3% of their audience, but continue to dominate with 16.8%, nearly 4% ahead of the ABC 1233.
KOFM lost audience in almost all sessions with Kennedy Molloy on drive down a massive 5% or almost one-third of their audience .
Next door Hit 106.9 was also down in all sessions with the drive combination of Carrie & Tommy followed by Hughesy & Kate dropping by 3.5%.
Overall 2HD and NEWFM appear to have shuffled audience between sessions, ABC 1233 made small gains across the board while triple j had some small loses.
Click the chart to enlarge it.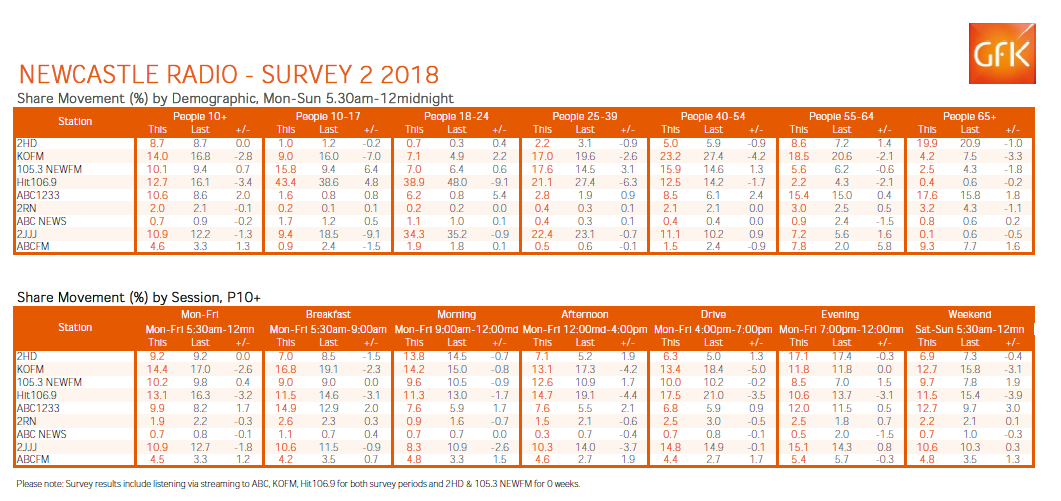 SPIN CYCLE