Kyle & Jackie O continue to have the numbers in Breakfast while Nova 100 took the mantle as the top station in the five metro markets, overtaking Gold 104.3.
Raw results here. See also: Cumes, DAB+ stations, Spin

Nova 100, Gold 104.3, Fox FM, smooth 95.3 and Nova96.9 all have over a million listeners with KIIS 1065, smooth 91.5 and KIIS101.1 all in the 900 thousand range.

While Kyle & Jackie O still lead breakfast overall, Chrissy Sam & Browny are closing the gap ever so slightly, followed by Fitzy & Wippa in front of Ross & John who leapfrogged Christian O'Connell.
The survey was held from Sunday February 9th until Saturday April 4th so the effect of the COVID-19 pandemic is difficult to pinpoint. Some talk stations like 2GB and 3AW picked up audience overall, but so did Nova 100, and triple j in Melbourne, and smooth 95.3 in Sydney.
9 of the top ten stations are music orientated stations, while only four talk/news stations (3AW, 2GB, ABC Syd, ABC Melb) make it into the top 20.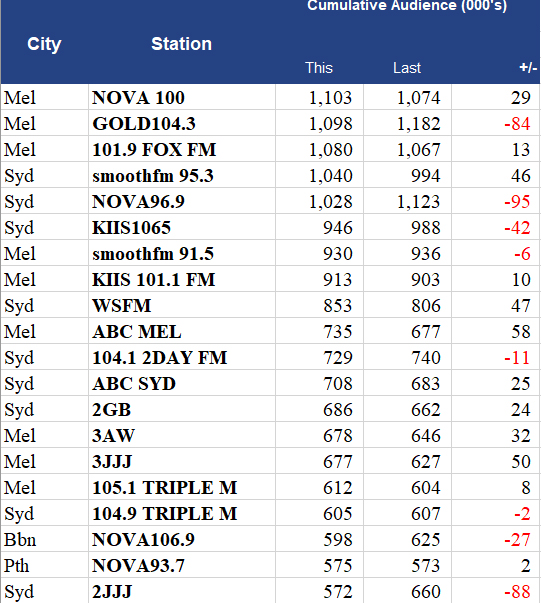 The top 20 breakfast shows are dominated by music/personality driven programs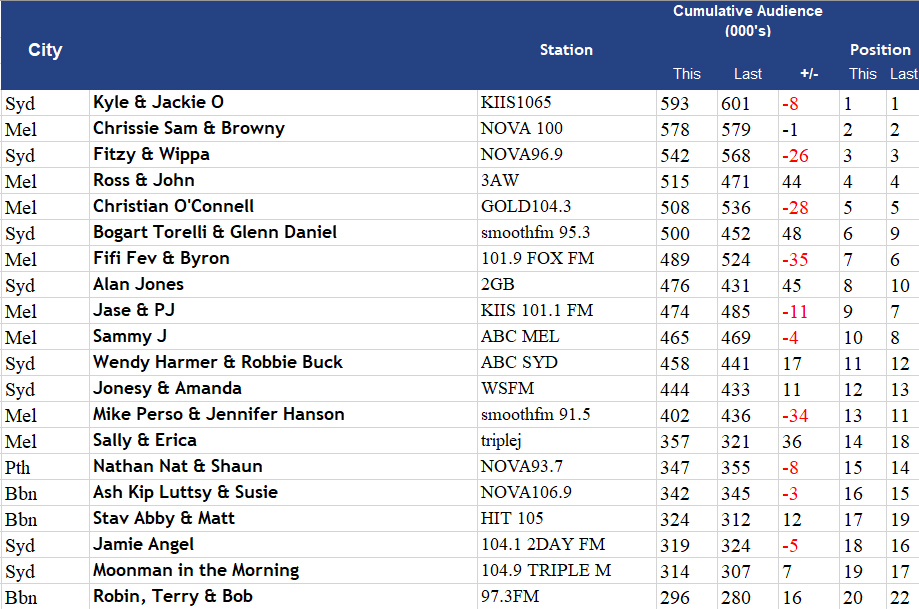 In Sydney while Alan Jones (2GB) and Wendy Harmer & Robbie Buck (ABC) both picked up audience, the biggest gain came from Bogart Torelli & Glen Daniel at smoothfm.

Kyle & Jackie O are still on top followed by Fitzy & Wippa, and while Sally & Erica (triple j) lost audience in Sydney, they gained in Melbourne, Adelaide and Perth.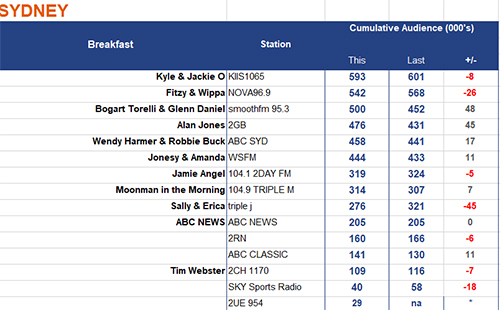 Chrissie Sam & Browny (Nova 100) are still on top in Melbourne, and Ross & John (3AW) moved into second place, leaping over Christian O'Connell, Fifi Fev & Byron and Jase & PJ.

Sammy J (ABC Melbourne) was down, only slightly, along with the Hot Breakfast with Eddie & Luke and Mike Perso & Jennifer Hanson (smoothfm).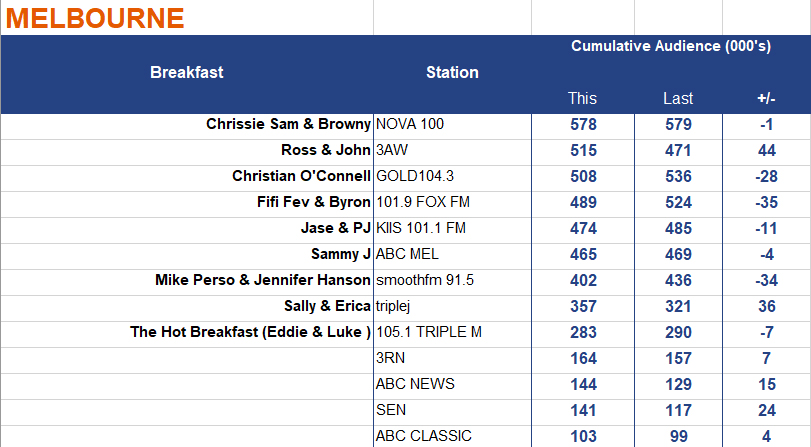 Robin Terry & Bob (97.3FM) picked up some numbers in Brisbane, along with Craig Zonca & Loretta Ryan (ABC Brisbane), but Nova's Ash Kip & Luttsy with Susie are still on top followed by Stav Abby & Matt (Hit 105).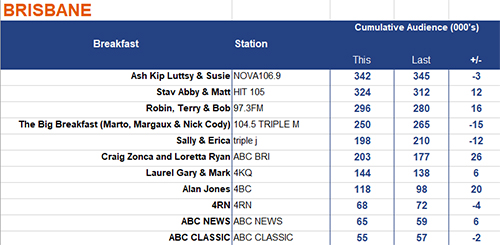 Ben & Liam (Nova) still lead in Adelaide with Jodie & Soda (Mix) Ali Clarke (ABC) and Bec & Cosi (Hit) trailing.

David & Will (FIVEaa) picked up 16,000 listeners.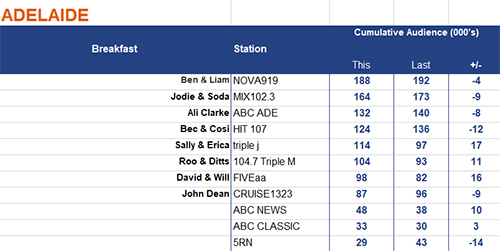 Nova's Nathan Nat & Shaun still lead in Perth while Clairsy Matt & Kimba (Mix) picked up 22,000 listeners and Xavier Pete & Juelz (Hit) also improved their numbers but slipped down to third.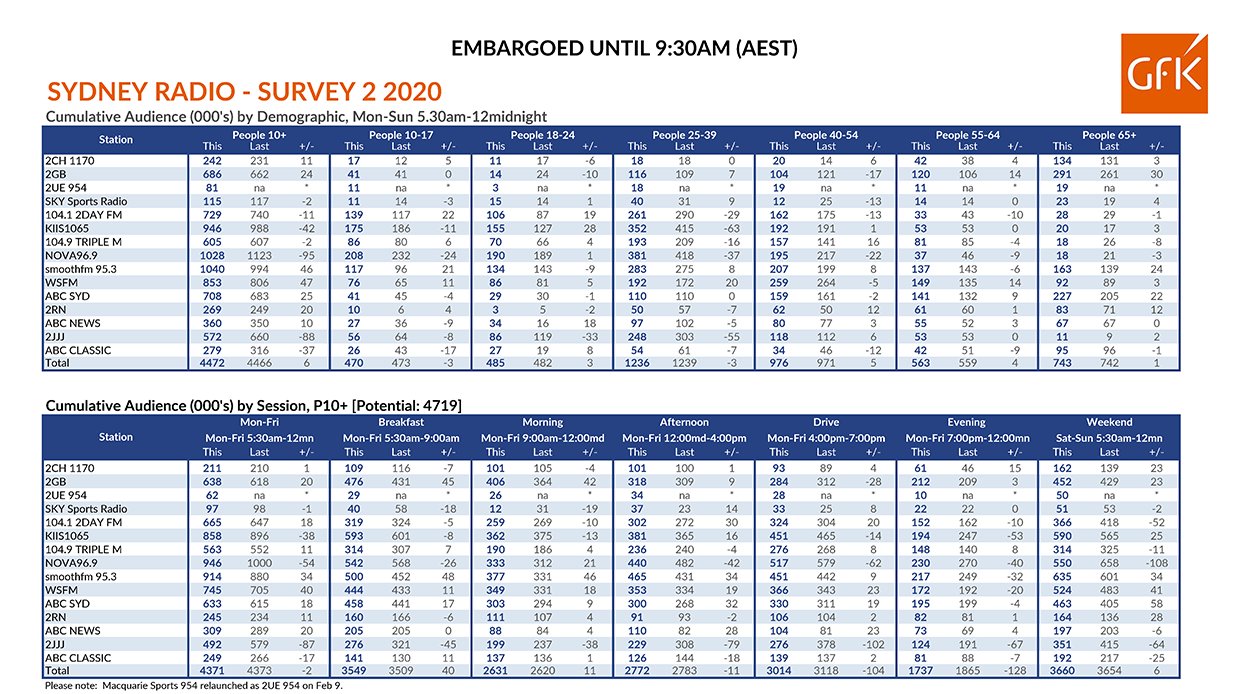 ---
Subscribe to the radioinfo daily flash briefing podcast on these platforms: Acast, Apple iTunes Podcasts, Podtail, Spotify, Google Podcasts, TuneIn, or wherever you get your podcasts.