While it has been generally accepted that the first radio "broadcast" in Australia was organised by Ernest Fisk of AWA on August 19th1919 in Sydney, according to Bruce Carty's book 'Australian Radio History', the first demonstration of broadcast radio actually happened between the 10th and 14th October 1918.
The 100 year anniversary of that broadcast is this week.
Bruce spent almost a decade researching the history of radio in this country for his book.

The following is an excerpt from his Australian Radio History

"AUSTRALIA'S FIRST RADIO BROADCASTS

Walter Coxon originally held a Morse code licence (callsign XYK) at Darlington in Perth. Walter was the first Western Australian to communicate with South Africa, Java, Holland, England, and America using Morse code. In 1918 Walter was the first in Australia to demonstrate music and speech broadcasts. This was from one side of the Perth Agricultural Show to the other from the 10th to the 14th October using a 78 RPM wind-up turntable and a telephone mouth piece, with a home-made transmitter. He was then granted Western Australia's first broadcast licence as 6AG, transmitting from Highgate. He often broadcast concerts from his lounge room.

Walter was appointed President of the Wireless Institute of Australia (W.A. Division). He was the first person in Australia to use a water-cooled transmitter valve, and was described as "The Father of Radio in Western Australia", by the West Australian newspaper in 1928. He was the original Chief Engineer of Perth's first commercial station, 6WF, and later equipped commercial stations 6ML, 6BY, and 6AM. Walter designed the popular Mulgaphone receiver which was built by 6WF, selling 1,200 at £50 each (10 weeks average wage). Walter also pioneered the technical work for the Royal Flying Doctor Radio Service in Western Australia."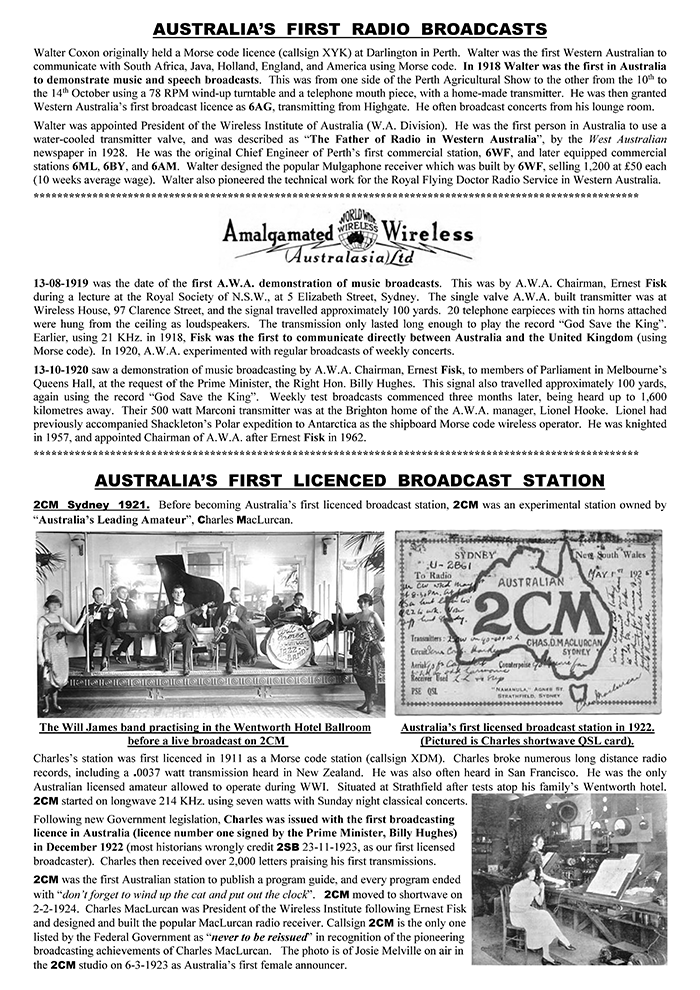 Bruce Carty started his interest in radio at the age of five as a member of the A.B.C. "Argonauts" club and at fourteen he became Australia's youngest commercial radio announcer at 2KA. He spent his working life in television and radio, both commercial and community, before beginning his research for his book. Bruce made the 1995 Guinness Book Of Records for the 'Longest Continuous Broadcast by One Announcer' of 211 hours. His book is available in most big libraries.