As Australia's two biggest cities take tentative steps out of lockdown, advertisers and marketers are wondering what WSFM Sydney and Gold 104.3 Melbourne will do next in their post-lockdown trade promotions.
The ARN network embraced the lockdown vibe with its home office necessities, putting station logos into prime positions in home offices as agencies and clients began to work from home.
radioinfo also received samples resulting in the office (spare bedroom), workroom (front verandah) and canteen (kitchen) being adorned with ARN marketing collateral
WSFM's Jonesy and Amanda lockdown promotions scored pride of place on the fridge and in strategic positions around the radioinfo WFH office.
Marketers know that if they can get their logos into the kitchen or onto the desk they have a strong chance of increasing brand recognition and of the logo staying around for a long time.
WSFM used the 'all dolled up and nowhere to go' mini-me Jonesy and Amanda doll theme on all the promo gifts. Developed by independent creative agency, Emotive, the WSFM campaign centered around the two cheeky life-like action figures.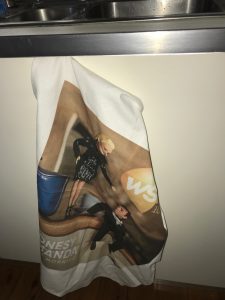 The magnetic notice board meant their images glared at us every time we opened the fridge, giving a not-so-subtle reminder to write this story. Like being stalked by the demon doll Chucky, there was nowhere to turn to escape the piercing eyes of the doll images on the tea towel and the WSFM coffee mug, which became fixtures in the radioinfo lockdown offices.
There was no escape during leisure time either with a strategically placed jigsaw puzzle sitting on the coffee table.
Not to be outdone, the team at Gold 104.3 seemed to sense that lockdown had deprived us of another essential… a cocktail party.
Evoking a sophisticated Melbournian cocktail event, a box of pre-mixed themed cocktails from Christian O'Connell were left at reception (front door) by a 'knock and run' courier to celebrate Gold 104.3's 30th birthday.
We followed the instructions to 'party like it's 1991' and enjoyed the blue tinted 'Lockdown Blues' cocktail first. It tasted great. The other flower and fruit themed cocktails went down easily too. By the time we got to the last 'Holy Grail' cocktail we weren't in any fit state to report on the taste, so you will just have to get hold of one and try it yourself.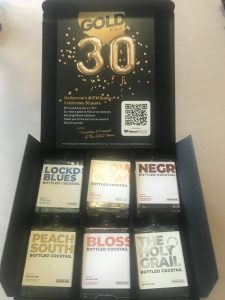 Thanks ARN for the lesson in highly topical marketing strategies… and the hangover.
Campaign Credits

ARN Marketing Team

Chief Connections Officer: Lauren Joyce

Marketing Director: Donna Gordon

Brand Manager – Pure Gold Network: Hannah Astra
Trade Marketing Manager: Alicia Sarnacki

Creative: Emotive 

CEO & Founder: Simon Joyce

Head of Strategy and Managing Partner: Michael Hogg

Creative Director/Writer: Rupert Taylor

Business Director: Marshall Campbell

Senior Strategist: Anna-Claire Clendon

Senior Producer: Gemma Atkinson


Production Company: Division
Director: Yianni Warnock

Executive Producer: Genevieve Triquet

Producer: Michaela Le

DOP: Sean Ryan

Post Production: ARC Edit