Chart Highlights – July 28, 2022
Top Debut: LF SYSTEM debut at No. 27 with 'Afraid To Feel'
Heating Up: George Ezra's 'Green Green Grass' enters the Top 40
New Leader: Lizzo's 'About Damn Time' ascends to No. 1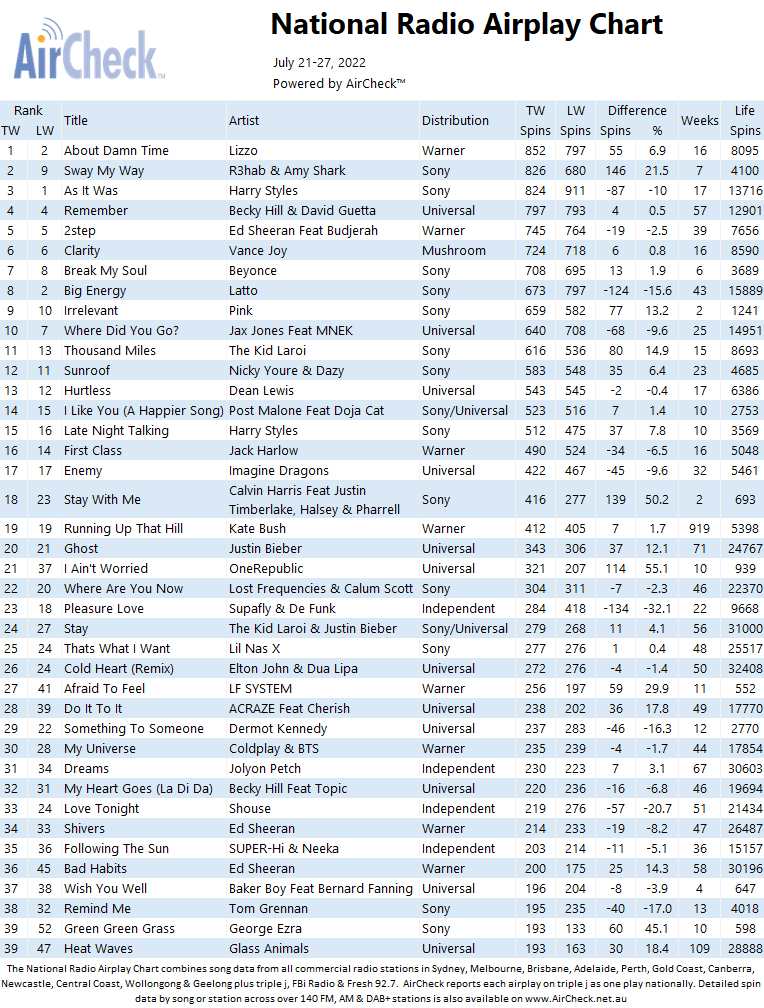 After conquering the UK charts with 'Afraid To Feel', Scottish duo LF SYSTEM have turned their attention to Australian radio, debuting at No. 27 on the latest AirCheck National Radio Airplay Chart.
'Feel' earned 256 spins across all dayparts this week. Nova were unmatched in their support of the breakthrough hit, contributing a total of 190 spins across the national network. KIIS are yet to make a move on the track.
George Ezra's folk-pop number 'Green Green Grass' scrapes into the chart at No. 39 with 193 spins. SCA's Hit Network led the charge with Hit104.7 and B105 contributing 22 and 19 spins, respectively. Ezra's smash hit 'Shotgun' topped the airplay chart for four consecutive weeks in 2018.
Lizzo is the new queen of radio with her song 'About Damn Time' ascending to No. 1 after 16 weeks on air, ending Harry Styles' nine week reign. 'About Damn Time' is the eighth single to top the chart this year, while Lizzo is the fourth Warner artist to reach the chart's summit in 2022 after Dua Lipa, Ed Sheeran and GAYLE.