In what could prove to be a game changer for digital radio, LG Electronics has unveiled its new LG Stylus DAB+ device at Radiodays Europe 2016, in Paris.
Expected to be available in Australia later this year, the 5.7-inch handset features the world's first built-in DAB+ broadcast digital radio. DAB+ covers 50 million people in 40 countries around the world.
Users will be able to access more radio channels with DAB+ than traditional FM, with up to 30 free digital only stations. Unlike radio broadcasting apps that use hefty amounts of data for streaming, DAB+ lets users listen to the radio for free and in excellent audio quality, plus DAB+ broadcasts pictures and text on screen.
Joan Warner, CEO, Commercial Radio Australia commented, "This is an exciting development for Australian consumers as listening and viewing entertainment, news, music and pictures broadcast via digital radio will use no data, compared to music streaming services which can use more than 2MB of data per minute, depending on the quality settings."
The device was developed by LG in conjunction with The International DMB Advancement Group (IDAG), a global organisation representing radio broadcasters. Peak industry body Commercial Radio Australia, a founding member of IDAG, was closely involved in the development of the device.
The handset is pre-installed with a DAB+ supporting chipset and an exclusive application, allowing users to enjoy digital radio broadcasting. Broadcasters can develop their own tailored apps for the Stylus DAB+, in which internet services complement broadcast radio.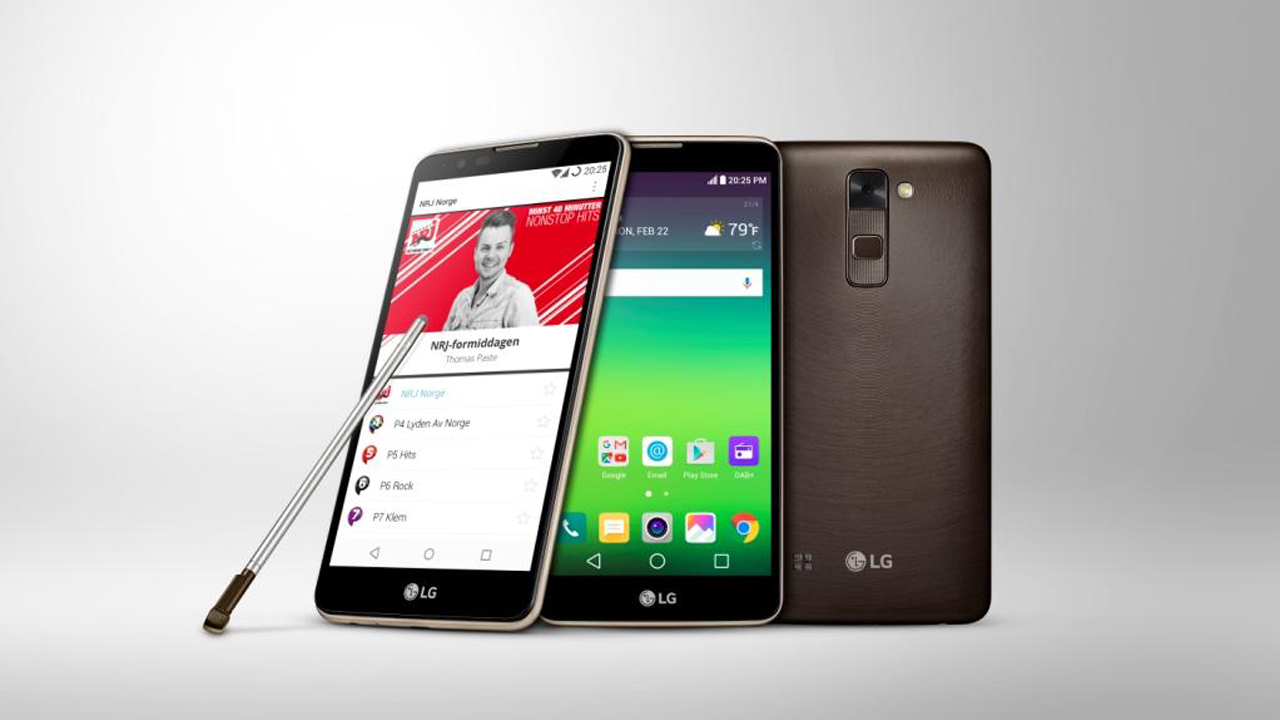 Gino Casha, General Manager, Mobile Communications Australia commented, "The LG Stylus DAB+ shows our commitment to meeting the different needs of the consumer. We have developed a piece of technology that gives a hassle-free digital radio experience, so consumers are able to listen to select radio stations simply and without incurring costly data usage charges. The device is ideal for many consumers as it provides premium functions at the price of a mid-tier phone."
The LG Stylus DAB+ is only 7.4mm thin and weighs 145g. The handset delivers a unique design statement and high end features such as a 3,000 mAh removable battery, a SD card slot to allow users to expand storage and a gorgeous 5.7-inch screen on which to enjoy a variety of content.
All consumers need to do to enable the digital radio feature on the Stylus, is plug in the included headset and click on the DAB+ icon that starts a scan of the local DAB+ radio stations in the area*. They will then be able to select from the list of available radio stations and save their favourite stations for easy access in future. See highlights of the big launch in Paris below.
Pricing and stockist details for Australia will be confirmed at a later date.
LG Stylus Key Specifications: **
Display: 5.7-inch HD In-Cell Touch (1280 x 720)
Chipset: 1.2GHz Quad-Core
Camera: Rear 13MP / Front 8MP
Memory: 2GB LPDDR3 RAM / 16GB ROM / MicroSD
Battery: 3,000mAh (removable)
Operating System: Android 6.0 Marshmallow
Size: 155 x 79.6 x 7.4mm
Weight: 145g
Network: LTE / HSPA+ / GSM
Connectivity: Wi-Fi 802.11 b, g, n / Bluetooth 4.1 / USB 2.0
Colours: Titan / White / Brown