Logitek has just launched a new radio console, which was on display in Asia for the first time at this week's Broadcast Asia exhibition.
It is the sixth generation of digital onair consoles from Logitek.
The new Helix range brings a modern multi-touch screen based interface to radio and tv control surfaces.
The Helix console is the first of many new products from Logitek's R&D partnership with Logitek Australia. The new hardware was designed in Texas, USA with the software and graphical interface done in Sydney.
Helix blends the tactile functions users need quick access to, such as faders and on/off buttons, with a customisable graphical interface for access to other functions. By removing all of the little buttons and knobs, the Helix saves studio space and becomes more efficient.
Logitek's Sydney based R&D centre is headed by System Architect, Max Healey. Max has decades of experience in software solutions for radio, and brings a wealth of new ideas to modernise the control interface for radio. Logitek Australia has also employed another two software engineers, and has many plans for new features and possibilities with the Helix consoles and software range.
The Helix console range includes Radio (6-24 faders), TV (6-36 faders with layer support) and a virtual edition optimised for the 28" Microsoft Surface Studio.
Managing Director Paul Dengate says of the first Broadcast Asia exhibition for Logitek: "We are very excited to be launching the Helix range in Singapore, as we see the future of onair studio operations will have more screen control on modern interfaces. This will give customers more flexibility to tailor their operation, and take the control surface with them as they move around the station or remotely."
Logitek Asia will be working with customers and dealers in the Asia Pacific region with sales & support help available in multiple languages from the Sydney office.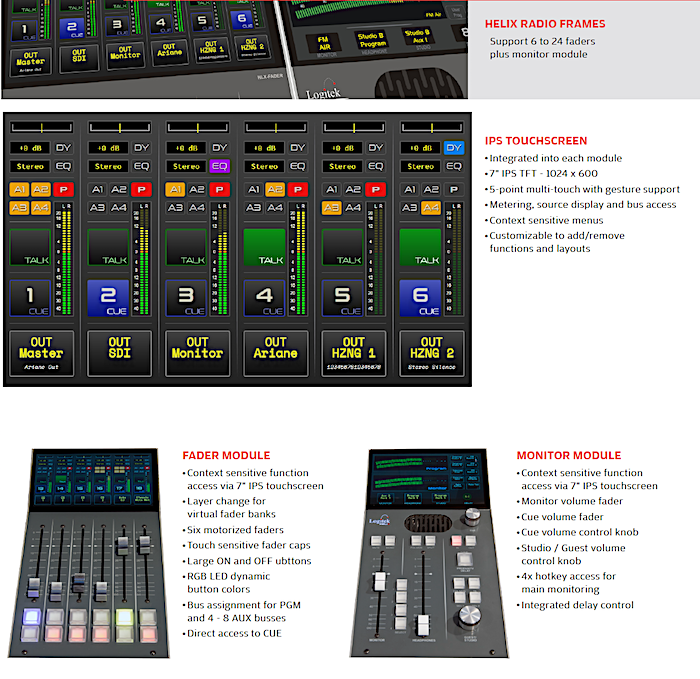 Paul Dengate demonstrated the console to Steve Ahern during the exhibition in Singapore.
See more Broadcast Asia coverage here.