Longtime 2GB Major shareholder John Singleton has, for an equally long time, lamented that his number one station was not given the share of advertising it deserved because ad buying agencies were populated with young people who preferred FM.

AM Radio may not be cutting edge technology but MacRadio's online presence certainly is – as is its production values. All that was showcased at MacRadio's Big Six initiative, launched to a large gathering of agency types at The Star yesterday afternoon.

2GB's biggest guns Alan Jones and Ray Hadley were nowhere to be seen. Instead the station chose to showcase its youngest and brightest led by Ben Fordham who was given leave from his Drive shift to MC the event.

Fordham, a natural choice to run your black tie chook raffle, was joined by the fabulously young and talented Erin Molan. Molan was followed by Steve Price, who could claim that he was, at least, "young at heart" as a highlight package of clips from his adventure on "I'm a Celebrity, Get Me Out of Here" was shown on the big screen. As Fordham pointed out, Pricey's appearance on the show had helped build his profile with a younger audience.

The slick Big Six sales presentation, as you may have guessed, outlined six initiatives designed to entice advertisers to spend their money on the Macquarie network, including Macquarie Sports Radio.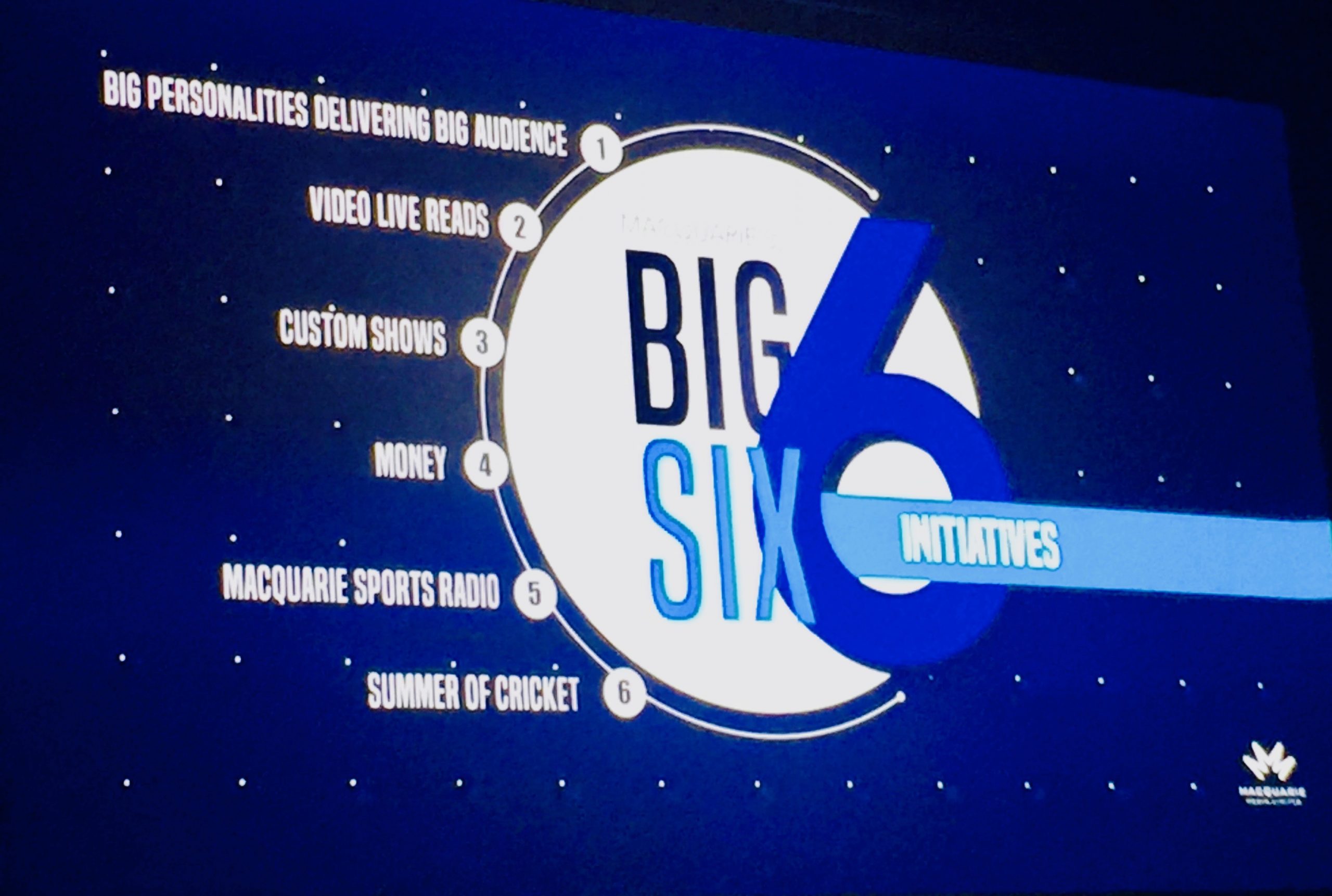 The Big Six focused on:

Big Personalities Delivering Big Audiences
Just a reminder, that while they may be a bit older Alan Jones, Ray Hadley, Ross Stevenson & John Burns and Neil Mitchell consistently deliver Australia's largest audience share – along with 2GB Afternoons presenter Chris Smith.

Video Live Reads
Now you can augment your 'live read' audio campaign with matching video clips, presented by your chosen presenter, distributed as pre-roll to content on the MacRadio's websites.

Custom Shows
The ill-fated Talking Lifestyle Format didn't die without leaving a legacy comprising a suite of podcasts that are available for branding.

Money
The Network's Money man Ross Greenwood appeared via video link to extoll the network's strength in capturing the ears of business owners and the wealthier end of town.

Macquarie Sports Radio
To hear the uber-exuberant breakfast host Mark Levy tell it, MSR is the hottest ticket in town. With rights to AFL, NRL, NFL, A-League, Cricket and more, they can only improve – which segued nicely into…

Summer of Cricket
This is where they pulled the really big guns out: heading up a star-studded commentary team is Ian Chappell and Darren Lehmann.

Fordham wrapped up proceedings by making it clear that MacRadio was fresh, vibrant and open for business.
Below:
1. David Levy with Ian Chappell and Darren Lehmann
2. Ben Fordham and Steve Price
3. Mark Levy
All Photos: Steve Ahern