With a world record 17 ACRAs to his name for presenting news, Steve Blanda currently working at 2UE, is inarguably Australia's finest practitioner of his craft. With a voice and delivery that proclaims "He whosoever believeth in me shall learn the truth of the events that occurreth this day," he oozes credibility from every pore. He is to Radio what Brian Henderson was to television.
It is little wonder then, as I am unreliably informed, that actor Sam Waterston, (below, left) best know for his portrayal of Prosecutor Jack McCoy in Law and Order, was selected for his most recent role as news chief, Charlie Skinner, in Alan Sorkin's The Newsroom largely because of his uncanny likeness to real life news hound, Steve Blanda.

That aside, with the possible exception of broadcast engineers, which are as scarce on the ground as Tassie tigers, Blanda would likely rate as having the most secure job in radio. He's been at 2UE for 15 years which is the equivalent of returning from 30 WWII bombing missions over Germany which had a survival rate of just 25%. In that 15 years says Blanda, "I've gone through a lot of ownership changes and management changes and personality changes on air. I've seen a lot of different people go through the corridors of 2UE, yet I've survived."
Indeed, he has. "I must have been only five years old and I said I wanted to work on the radio. Everyone said 'oh a little boy who wants to be a fireman or a policeman- he'll grow out of it.' Well I never did.
"Even while I was still at high school I ran a radio station with a low power transmitter at the school fete. I was in the debating team and started the school newspaper and that sort of stuff. But as soon as I finished high school – that was the early 70's- there were still things called 'office boys' and I was an office boy at 2GB delivering lunches to the likes of John Pearce and Brian White (below left) who, little did I know at the time, I'd be working with a few years later," says Blanda.

His first on air job was as a trainee announcer at 2ST Nowra after Station Manager Burt Button heard one of the audition tapes that Blanda had sent far and wide to country stations. "I did a bit of everything at 2ST- except sales. I was in charge of the record library for a short time – even though I knew nothing about music. That was a joke. I was a trainee technician digging trenches and helping out at the transmitter site. I learnt the ropes of radio in general – announcing, production, doing commercials. Loved it all and it gave me a great grounding so that I could understand the whole industry," Blanda recalls.
2ST ran their own local news service and his future career crystallised when, as Blanda recalls, "The local journo decided to chuck it in and I put my hand up to become a cadet journalist. My basic training was a typing course at the Nowra tech and a few lessons on the laws of sub judice and defamation from the South Coast newspaper."
In 1975 at age 21, Blanda landed his first metro job at 2SM which was a major force in those days and looking to expand its news service. There he learned the ropes from the likes of Steve Liebmann, ( below left) Brian White and John Tingle. When Liebmann moved to television Blanda took over as breakfast news reader. But with the advent of FM in 1980, 2SM decided to decimate its newsroom and Blanda found himself in Melbourne at FOX where he stayed for 12 months. It was there that he was offered the chance to be on television.

At the time, FOX was housed in the Channel 10 building at Nunawading, so naturally enough, he passed 10 News Director David Johnston in the corridors who suggested Blanda do a screen test. Which he did and was duly offered a job which he declined, reasoning, "I love the anonymity of radio. That is I can be reasonably well known but still go out to a restaurant or a club and not be recognised. Also radio is so hands on. You don't have to depend on other people so much as television to put the story together. You do the story yourself and present it yourself."
"I did have the possibility of doing a talk back show, or as I put it – filling the gaps between news bulletins."
News on a music station which takes a precious few minutes away from regular programming at the top of each hour and sometimes at the bottom too, can make some newsreaders feel marginalised. But not Blanda. "I've never felt marginalised. I make the most of the 5 – 10 minutes that I have to present the news and I think I make enough of an impact that people do take notice and hear it and understand it. I actually dabbled at being an on air presenter way back, just as a summer fill-in, and enjoyed it but I preferred news. So I've seen it from the other side and did have the possibility of doing talk back, or as I put it – filling the gaps between news bulletins."
Blanda might have stayed in Melbourne for a long time but the lure of Sydney, where he was born and bred, was too strong. So when Greg Milne offered him a job at 2WS (AM back then) it was an offer he couldn't refuse. Milne, who was News Director at the time was later promoted to General Manager of 2WS. He'd also hired Steve Raymond to do editorial comment.
"I was expecting others to live and breathe the job as I did, when really most people don't. They do put in a 100% effort but they don't live for their work as I did."
The 2WS newsroom had built such a strong reputation that in 1995, 2GB, which was suffering poor ratings and bleeding cash decided to axe its own newsroom and take a service from 2WS instead. "That was a huge challenge – building a great team to produce that. It was one of the most satisfying periods, from a journalistic point of view, in my career," says Blanda.
But all that changed soon after Wesgo which owned 2WS and a string of stations was taken over by ARN. Blanda: "They decided that it was a music based network that even though the news service was making a profit, because Singo was paying for it, the return on investment wasn't large enough so the edict from them was get rid of it and get rid of most of the news team.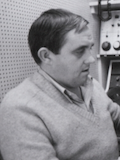 "Well, I begrudgingly did that but I wasn't going to stick around after being forced into doing it. So I put in a call to my old mate from 2SM days John Brennan who was then the programming guru at 2UE. He hired me he on the spot. Jim Angel (left at 2SM in 1978. Picture courtesy Wayne Mac's "Don't Touch That Dial") was the breakfast news presenter at the time. After a rearrangement of the rosters Brenno put onto Breakfast news in June of 1998."
Moving from 2WS to 2UE was something of a culture shock for Blanda who was used to doing more with less. "When I joined 2UE there were many, many more journalists than I had ever seen in one newsroom at any one time before. They had specialist court reporters and police reporters. You never saw them in the news room, they were out all the time reporting on the road or from the court room or whatever. And I could see that there probably was scope to streamline that, although I decided to keep my mouth shut because I didn't want to see my fellow journalist lose their jobs."
All that came to an end when 3AW owners Southern Cross bought 2UE from the Lamb family. Says Blanda, "They took one look at the operation and went hack, hack hack. No longer a half hour midday news. That was chopped back to ten minutes like 3AW's in Melbourne. And that was the start of the major changes."
"I think the industry has shot itself in the foot."
Blanda laments those changes, "I think the quality has suffered of late because – and this is not commenting on 2UE – commercial radio in general has strived to reduce overheads, hire juniors when seniors left and then try to make do. But if you don't have that senior talent and experience, something has to give and, more often than not, it's the quality of the news that suffers.
"Now that's not denigrating what young journalists are trying to do, and are doing, because they are working their guts out. It's just that they don't have the right direction in a lot of cases with experienced journalists to show them the ropes. I've seen that happen time and time again and it's unfortunate but I think the industry has shot itself in the foot."
Over the years Blanda has been a mentor to many young bright eyed and bushy tailed news cadets. There's a Steve Blanda or two in most stations, whether in news or program presentation or sales. For those who've been lucky enough to encounter the good ones early in their career, they all seem to have a simple message that starts with something like, "Listen kid, it's really very simple. All you have to do is…"
Blanda's simple message is, "You're not a news reader. You are a news presenter. Your delivery explains the story with your pauses, your inflections and your emphasis." Which is exactly the technique he used to say it.

Blanda's had mentors and role models himself. Apart from some others mentioned earlier, "The ones that I really enjoyed working with I suppose are Steve Liebmann when he's returns to 2UE at various times over the years. Others include Peter Fitzsimons (left) – easy bloke to talk to and to work with and such an all round gentleman and nice guy.
"John Laws I've got to admit, he was the most – despite his reputation- he was the most forthcoming with praise, with encouragement and that dated back to the very early days when I won one of my first radio awards which was held at the Sydney Hilton. He won an award the same night- we were both queuing up for our cars at the end – me for a taxi- him for a limo. He walked over to me to say congratulations.
Even in later years when we worked together at 2UE, he was always most forthcoming with feedback and I really appreciated that about him. Those detractors of his who might think that he lives in an ivory tower, I totally disagree with that," says Blanda.
For almost 40 years Steve Blanda has told it like it is with integrity and without bias. Sadly, like endangered species in the wild, he could be among the last of his breed as networks look to cut the funding required to properly resource the kind of newsroom that's been his natural habitat. Until those habitats disapear entirely, hopefully news presenters like him will be with us for a few generations yet.

Peter Saxon