Comment from Peter Saxon
It was exactly a year ago I attended a function on the Dot Strong Terrace at the ABC's Sydney headquarters in Ultimo.

Dot was the last and most influential of the tea ladies from a bygone era when coffee shops were sparse on the ground and our public institutions still clung to remnants of the British Empire. Stronger than the blackest of the teas she served, Dot's personality earned her a place in ABC history, with a plaque as eloquent as any engraved for Cook, to mark the spot where she dispensed her last cuppa and Iced Vovo.

"She was a feisty old bird," recalls one radioinfo reader. "I remember her telling off Bob Hawke for some of his policies… and for not returning his cup last time he was interviewed."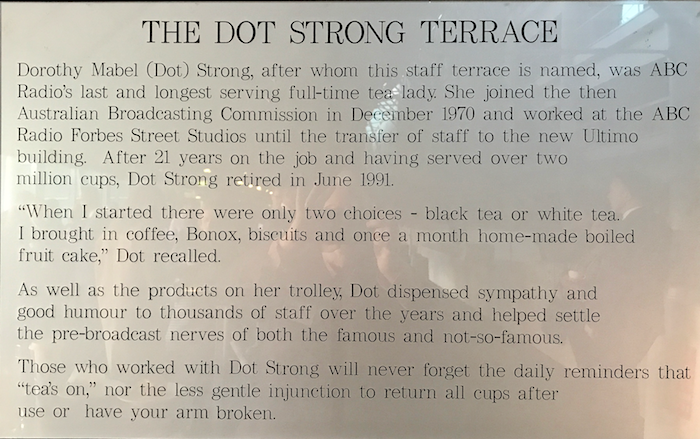 At this particular breakfast function to launch OzPod 2017, Michelle Guthrie addressed the gathering. I was standing with a group of senior ABC executives, watching their body language as she spoke. They were unimpressed. It occurred to me then that regardless of what she might achieve during her tenure, it was unlikely that they'd dedicate a building, a wing or a terrace to her service. You see, Dot the tea lady possessed the one essential ingredient Ms Guthrie lacked: charisma.

Her speech was competent and well-rehearsed but uninspiring.

By all accounts, Ms Guthrie was a capable manager of operations, particularly on the digital side of things but ultimately a poor leader. Leadership is what a Managing Director or CEO is all about. And one must earn the right to lead by winning the hearts and minds of their staff.


I could wax lyrical about the importance of charisma and leadership for pages – instead, it would be better to hear from a CEO who is possessed of both of those qualities in spades. Ciaran Davis (left) had taken the reins of ARN from a decidedly uncharismatic predecessor in 2009 and turned the network around by sheer force of character. I interviewed Mr Davis (now CEO of HT&E) in December of 2013, just after ARN snared Kyle and Jackie O from SCA.

Here's an excerpt from that interview:
radioinfo: It's no secret that when you arrived at ARN three years ago it had been underperforming for some time. What was your assessment of the situation, the key areas that you identified as needing change?

Davis: When I first joined it was a sleeping giant. It was a business that was just happy to be third in the market. And I think it was a business that was culturally just prepared to accept where they were. So, I think the biggest challenge we had was to instil into the organisation a sense of pride and ambition. A sense of determination to go after the competition. A sense of belief that what we were doing was building a network that could be the number one network in Australia. That shouldbe the number one network in Australia, based on the brands that it had and the demographic profile it had.

Very quickly, what I found was that there was a huge layer of the organisation that really just wanted go in one direction. Whatever direction we went in, didn't matter. They just wanted to go in one cohesive direction.

Because it wasn't performing, you can very quickly get good gains and show people that what we are doing is actually about investing and growing the business and the belief came through very quickly with the staff in terms of what we were trying to do.

I do believe that it's important to be open in communication to staff. So, I would do regular briefings. I would travel round the country. I would do presentations. I tell people the good news and the bad news. Because I just think that with 430 odd people working here if you can get that ball of momentum going with you then you can do pretty incredible things.

radioinfo: How would you define leadership?

Davis: Gosh, you could write a book on that one…

radioinfo: You could. But this is radio, you only have 30 seconds.

Davis: Great. I think it's having a vision. Having a purpose, having a belief and then bringing people on the journey with you – and explaining what the vision is and letting people have a go.

By all accounts – and there were many that followed her sacking yesterday – Ms Guthrie was unable to articulate a cohesive vision to her staff in the manner that a Ciaran Davis and most of the current crop of commercial media CEOs can.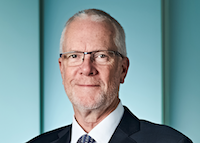 ABC Chairman Justin Milne (left) put it succinctly when he told ABC News, "The board felt in the end that her leadership style was not the style that we needed going forward."

To be fair, as the public broadcaster, the role of Managing Director of the ABC is one the most difficult in Australia, made considerably more challenging by the need to engage with government in order to secure funding. "That's possibly an area that could've been better," said Mr Milne.

Some commentators speculated that Ms Guthrie was under excessive scrutiny because she's a woman. But Nova Entertainment's Cathy O'Connor and the and Grant Broadcaster's redoubtable Janet Cameron, both Radio Hall of Fame inductees, embody the very essence of leadership and have earned the respect of everyone who has worked with them or in competition to them. And let's not forget CRA's Joan Warner who is tasked with wrangling a whole industry of CEO's while liaising with governmrent to boot. Gender doesn't come into it.

Others have suggested that it was the constant undermining by a conservative government and right wing media that destroyed her. But even the most left leaning of ABC staff all but rejoiced in her departure.

ABC Melbourne Mornings presenter Jon Faine made no effort to disguise his disdain as the news of her ousting broke yesterday, "She was refusing to conduct any interviews on-air. She would not take on her role as a champion for this organisation publicly. She would not advocate for us in the public domain, in the public space, which was an astonishing fail on her part …

Those who worked closely with her say she wasn't confident engaging publicly, which is an extraordinary thing for someone paid a million dollars a year to run the most important cultural institution in the nation," he told listeners.

Finally, there was this from Paul Barry on Media Watch last night: "Two weeks ago she made some astonishing revelations, telling the Financial Review she was not comfortable with the public profile that came with the job, she knew no one in Canberra when she returned to Australia and she'd only been looking for a job as a non-executive director – but no one would give her that gig.

Which begs the question, why did the ABC employ her?

And which also makes you ask why did she take the job, given it requires a passion for public broadcasting and a determination to fight its many critics, while ensuring government funding continues to flow?"

Within hours of her departure, Ms Guthrie was threatening to sue for unfair dismissal. But if her sacking was, as Chairman Milne says, due to her "leadership style" it's difficult to see where she might find sufficient witnesses to speak in her favour.
Peter Saxon