Today marks smoothfm's seventh birthday.
There's much to celebrate as the brand's success has eclipsed even the most optimistic of forcasts.
As if the two city network or its competitors needed reminding… in the most recent GfK survey, both 95.3 in Sydney and 91.5 in Melbourne were number one (FM) in their respective markets and number two overall.
And while the enormity of that achievement, which is beginning to become routine, has barely sunk in, the survey delivered another, even more improbable result in Melbourne: The More Music Breakfast Show with Mike Perso and Jennifer Hansen hit number one FM. Number two overall behind the unassailable 3AW.
It wasn't supposed to happen. It's up against star-studded line-ups that include Fifi Box on Fox, Eddie McGuire on Triple M, even a British import in Christian O'Connell on GOLD and enough footy legends between the lot of them to make up an entire AFL side. Yet a couple of relatively low-profile people on a low noise station that runs on a shoestring, beats them all.
It was never the plan.
The hysterical Scotsman, Paul Jackson, was screaming down the phone at me
While it's all about breakfast at other stations, music stations like smooth don't expect to compete with that kind of high energy. They don't expect to win the timeslot. Instead they target later shifts where listeners tend to want to relax.
Speaking to Nova Entertainment Group PD, Paul Jackson, just hours after Survey 2 results were released, he told radioinfo, "The aim has always been to be in the mix at breakfast time. It's post breakfast where we really take off. We've been number two (FM) in breakfast in Sydney for quite a while now but to actually have the number one breakfast show (FM) in Melbourne in a marketplace with superstar names, lots of money being spent on marketing those shows – the one they haven't seen on a billboard, is the one that's at number one. It's fantastic!"
Mike Perso has been the smooth 91.5 Breakfast presenter since day one. In fact, he was at smooth even before that but didn't actually realise it, such was the secrecy surrounding the launch.
Here, he speaks to Peter Saxon and takes us through the journey from end to beginning and bits in between.
Saxon: How did it feel when you found out you were number one (FM)?

Perso: It was kind of surreal because of the hysterical Scotsman, Paul Jackson, screaming down the phone at me at about four minutes past nine. And he wasn't making a hell of a lot of sense. So, I wasn't sure what was going on. When I finally figured out what he was trying to say, I realised it was pretty good.
What generally happens (on survey days) is that all the execs sit around and get the bulk of results by nine o'clock. Then they try and walk past with their poker faces until we have a little gathering of on-air people to get the results. After that, it will be all smooth staff..
But in this case, Paul Jackson lost his mind – in a good way. And they rang in from Sydney with their results and it all sort of tumbled out of control from there.
Saxon: You've done a lot in your career you've been a panel operator, a jock and a program director. And you've been involved in station launches before. How does this success compare to others you've had in radio – where does it rank?
Perso: Well, it's definitely up there. I guess it might be the best only because after so long in radio you get to appreciate what it actually takes to achieve that. And also, because now radio is more competitive than when I had my earliest success. You know it takes a lot more to actually win.
On top of that, when we launched, people hypothetically spoke about the amazing possibility that the radio station could get a 6.0 share if we're really lucky.
And now, here we are winning in Melbourne (11.0 share) and Sydney (9.5) and for our Breakfast show for me and Jenny, in particular – I mean you've never seen a Mike and Jen billboard anywhere in this city. There's never been a Mike and Jenny television ad. We don't get to just waltz in big celebrities of the day to boost the content of the show. It's been a show that's been together with Jen and I for five years or so and has built a genuine audience of people that we've had come to the radio station that stick around and be loyal to the breakfast show. And it's not been pumped up artificially with marketing dollars. It's been a really good solid meaningful connection with a lot of people that have been kind enough to stick around for a long time.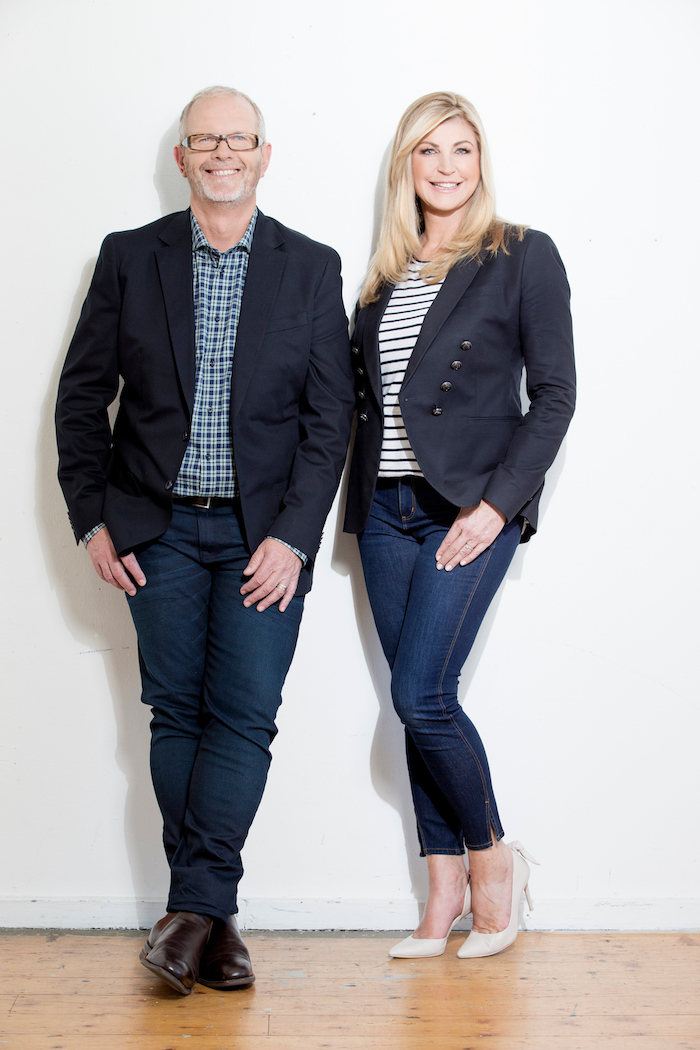 Saxon: So, what's the next challenge, to topple Ros and John on 3AW? (With a 9.5 share, a full 10.0 behind Ross Stevenson and John Burns at 3AW on 19.5, that seems unlikely).
Perso: (LOL) Look. That would be great, sure.
But you've got to say they're in a league of their own. And it's a completely different ballpark from where we are.
Saxon: You, as an experienced program director yourself, would appreciate that you jumped a massive 1.7 in share to get to that 9.5 (in breakfast) to beat all commers (bar Ross and John) and that's no mean feat. But in the euphoria of the moment, what advice would you, the program director, give you, the jock?
Perso: Like Billy Joel, "Don't go changing." But you're right. We did, in that particular book jump by more than a point to get to number one. But if you look at the trend over the last seven years, as a radio station that's been a pretty steady ongoing growth. And while there have been some peaks and some troughs, most of the time it's been up, up, up, a little bit and down and then up.
The point is our show has been a podium finisher – often number two in the market, sometimes number three – for the last 18 months, at least. And I think we've got a reasonable possibility of staying on the winners podium of top three for a considerable time and we hope to stay number one for the next book and get back there as often as possible.
There was always speculation about the opportunity a soft AC station but all the research said it was only a small opportunity, not commercially viable
Saxon: Let's go back to the beginning – to vega, the prequal, if you like, to smooth. In 2005 you were appointed assistant program director and announcer but by 2009 you departed. Was vega a disappointment for you?
Perso: It was sad that the radio station wasn't the success we all wanted it to be. But the problem was from the start that there was not a well formed and clear idea of what it was supposed to be and the company that put it together was burdened with a very great deal of debt that meant it couldn't have a whole bunch of creative freedom – it couldn't afford to take risks.
There was always speculation about the opportunity in the market for a soft AC station but, you know, all the research apparently said it was only a reasonably small opportunity and probably not commercially viable. So the people who were running dmg at the time didn't go for that opportunity and we ended up always being second or third to GOLD and Triple M, in the ballpark we were playing in then.
What happened, of course, was that when Paul Jackson came to Australia and looked around and said, 'Hang on, every other major market in the world seems to have a soft AC station, why doesn't Sydney and Melbourne?'
Saxon: So, you left vega and you set up Mike Perso Media, specialising in programming consultation and freelance voice overs. You could have gone for another job in radio but instead you decided to go into business on your own. Why?
Perso: That was just what I felt like doing at the time.
To be honest I'd probably been burnt by the whole vega experience. It had been a long hard slog and I was kind of over it. I'd felt it was time to stand back a bit and see what was happening in the real world.
Saxon: But just a couple of years later, in 2011, you found yourself back at vega.


Perso: What I was doing with Mike Perso Media was some consulting for stations such as 4BC and that was interesting, going back and forth to Brisbane. And I was getting a fair bit of voice over work.
But as you'd be aware, that sort of stuff waxes and wanes. And I felt that the prospect of being able to do most of that and have a steady job and reasonable income and doing what I actually love most, being on the radio, could work out really well for me. So, I came back to vega – it had been Classic Rock and had become 91.5 – just a frequency. It wasn't even a name. It was pretty much a station on hold.
I was toiling away there doing the breakfast show – the only live jock on the radio station. It was crazy. The rest was pre-recorded. Alice Cooper did drive or nights or something. So, that was all I did and that was good. And then things started to happen. Things began to be revealed.
Saxon: Before that, you didn't know what you'd signed up for. But Paul Jackson has already joined the network, right?
Perso: Yeah. I'd met Rohan Brown (launch PD) and it became rather obvious, sort of, like I might be useful for later.
Saxon: So, when did they tell you what was actually going to happen?
Perso: About two weeks out.
Saxon: Two weeks out from the launch? Wow.
Perso: They played their cards very close to their chests.
And then very close to launch, they've given me specifics of what was going on. What had happened (before that) is, they started testing the format late at night. And that sounded a lot like a radio station called Magic out of London. I thought something like that might be happening. No one was telling me exactly what, which was fair enough until very, very close to launch. And then, here we go!
It's good to be better but it's better to be different.
Saxon: And when you found out what the content and strategy was going to be what did you really think, that it would work, might work, probably won't work, but you'd suck it and see?
Perso: I couldn't predict the future. Like I said, there were some veiled conversations about if we work really hard, we could get a six share for the radio station.
So, even at the upper levels of the company I don't think anyone really knew what was going to happen. People clearly believed it was something that was going to be much better than what was there already.
Saxon: Well, vega was on a two something share.
Perso: Yeah. We were just keeping the transmitter ticking over.
When we launched smooth, though, what was interesting was how immediately people reacted to it in a positive way. It was like something had been missing and that was really gratifying. And I quote this all the time: It's good to be better but it's better to be different. And that's exactly the reverse of what we'd tried to do at vega. We tried to go up against other stations like Triple M but we were the second or third version of those other stations. Whereas, in the case of smooth, we were the only one on the FM band in that space. And the execution was really good.
The marketing with Michael Bublé was one of the best radio ads I've ever seen. He was exactly the right guy to launch that radio station because he was cool, but he wasn't elitist.
He took the mickey out of himself and is superbly talented. And the fact that he was our poster boy for the radio station and that he delivered such a great performance in that commercial that just set everything up.
Saxon: My understanding is that it was actually Bublé's idea that the woman in the ad ignore him when he enters the room. Apparently, the original script was that he'd come in and the woman would be like, wow, it's Michael Bublé.

But Bublé thought that was too corny and he changed it which, in my opinion, was a masterstroke.
Perso: And that's the thing. If you don't have that huge burden of debt, (after Lachlan Murdoch's company, Illyria bought the network from dmg) you can afford to be a little more creative and take a risk.
Still, it's a very tightly run radio station in terms of numbers of staff and costs compared to any of the major breakfast shows in any of the capital cities.

Peter Saxon