Analysis from Steve Ahern
Two events this week have put a spotlight on the way the music industry business is evolving.
Bob Dylan has sold the copyrights for his entire portfolio of songs, a lifetime's work, to Universal Music, for hundreds of millions of dollars.
Mariah Carey's song 'All I want for Christmas' has hit the top of the iTunes and Spotify charts, 18 years after it was published. The Youtube video of the song, published last year, has had 88 million plays.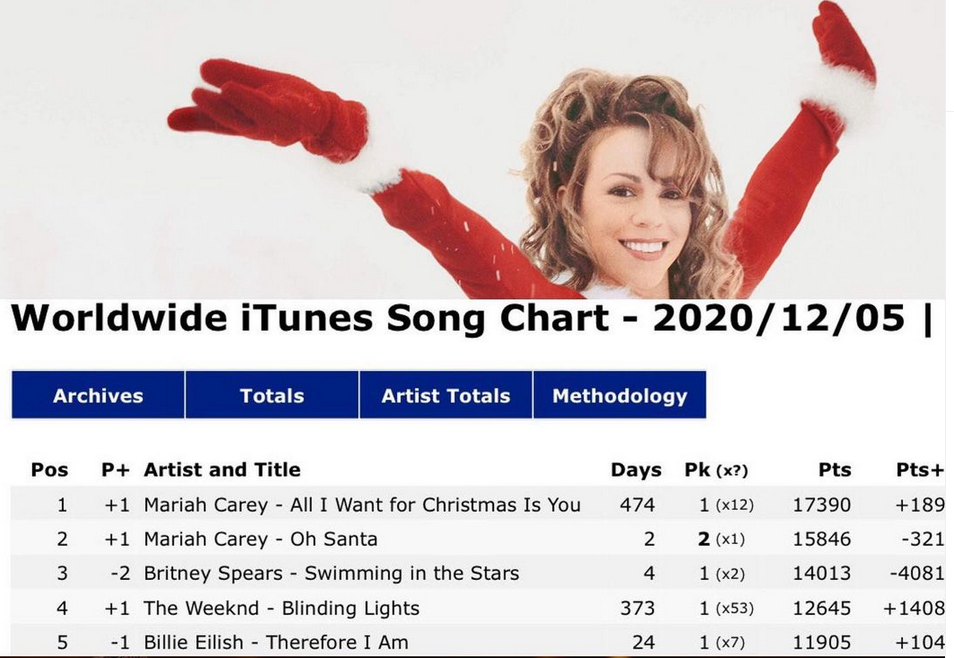 This signals a big change in how the music industry makes money in the age of 'rented' music through streaming services. Back catalogues have become valuable again.
In the old days, before digital disruption to the music industry, the commercial value of an artist was judged by their ability to keep churning out songs to keep them fresh with fans and maintain sales of new albums. In those days, the artist's main value came from the price of their most popular current album.
Now the value of each song comes to the artist and the record company any time the song is played on a streaming service. Continuous micropayments add up, and may, in the long run, be more lucrative for musicians than the old music busines model.
For more evidence that the whole music business model is being turned on its head, just look at the revival of the Fleetwood Mac 1977 hit Dreams, which was featured in a TikTok video in October, causing the 4 decades old song to spring back into the charts and excite a whole new generation of people who had never heard it before.
It inspired Stevie Nicks to reprise the hit in her own version on TikTok too.
After the TikTok video was released, streams of the track doubled from a daily average of about 49,000 plays to 105,000 per day. Sales of the song also increased 184% in the first three days of the TikTok video being posted. Streaming numbers saw a 242% increase in first-time listeners to the song.
Now, just being new is not necessarily the only way to get value from your music. Being good and being noticed is also important in the new world of 'rented' music collections on Spotify, Pandora and other music streaming services.
Old songs can be just as valuable to copyright owners as new songs, which is a new paradigm for musicians and music companies.
If a song can be surfaced on social media or because it has a key word like Christmas in it, it can make money for the artist no matter how old it is.
How many people will be asking their smart speaker for Christmas songs in coming weeks? Artificial intelligence, combined with search, will deliver those songs to the listener, as well as a royalty for each play, from back catalogue Christmas collections.
A lot is changing in the music business. Some time ago, musicians and record companies discovered that they now make more money from live performances than album sales, and adapted to that. Now it is becoming clear that a good song is a good song no matter when it was written, or a topical song that is worth reviving every year on a certain anniversary, could make just as much money as a new top hit.
What are the implications of this for radio?
Greatest hits formats may find themselves back in fashion again, as long as their music universe is full of great timeless songs with excellent musicianship, discarding those one-off disposable hits that were popular for a time, but do not have the quality of lyrics or music to make them timeless.
Contemporary Hit Radio (CHR) formats may not be the licence to print money that they once were if they only concentrate on what is new rather than what is good.
Music Directors will need to be open to rediscovering old music that is still relevant, as well as discovering new music. And they will have to search on all the social media platforms, particularly TikTok, to see what is trending in the zeitgeist, not just wait for a bunch of new releases to drop on their desk or into their inbox.
Themed shows and related playlists that transcend the decades to find the best mix of songs about a topic or holiday season may become fashionable again as music from any era surfaces via social media or non-specific requests like 'play me Christmas music,' 'play me happy music,' or 'play me party music.'
Good music is timeless.
The changes taking place in the music industry look likely to reward musicians and publishers who make great music. Music Directors will need to think carefully about how to best incorporate these new trends into the decision making about what they put onto their radio stations, podcasts and branded playlists.
About the Author
Steve is Head of the Asia Pacific Broadcasting Union Media Academy and founding editor of this website.
He is a former broadcaster, programmer, senior executive and trainer, and a regular writer and speaker about trends in media.
More info here.

---
Subscribe to the radioinfo podcast on these platforms: Acast, Apple iTunes Podcasts, Podtail, Spotify, Google Podcasts, TuneIn, or wherever you get your podcasts.