… so say her friends. "Imagine, Detective Torelli," jokes Bogart.
But that's not the path she chose.
Since her first job in Sydney at 2SM she's worked at 2CH and Mix before it became KIIS. In the very earliest days of smoothfm, as I walked into the building to talk to Paul Jackson about the station's great mix of music, I was warned by his minder to avoid using the word "mix" – "use, something like 'variety' instead," she told me.
Not that labels matter much anymore to smooth. They own the niche regardless of what you want to call it. "Dare I use the word 'easy?" ventures Bogart. "That's sometimes not a cool word to use. But when we say 'easy,' we don't mean boring. We just mean we want to take the clutter away from your life. Life's hectic for people."
Call it what you will, no one embodies the "easy listening" ethos quite like Bogart Torelli.
As often happens in radio – and in real life too – just as you are at a low point in your career a fabulous new opportunity presents itself. Before smooth, Bogart was caring for her parents full time. "They were my priority" she says. Then I lost them within nine months of each other. And I thought to myself, OMG, if I don't work I'm going to die.
"I do believe that everything's for a reason. Someone knocks at your door at the right time. Someone makes that call at the right time and I was so grateful. Paul (Jackson) hardly wanted to hear my tape. He just said, 'You have the job.' Here I was feeling crap about myself, having the worst time of my life, and this guy just said, 'You know what I'm hiring you." I thought It made me feel like 'Wow! What an incredible person. You want to go the extra mile for people who are good to you like that.
So is Bogart Torelli made for smoothfm or was smooth made for her?
"This is a perfect fit for where I'm at in my life. When I was younger and worked for Mix it was a perfect fit."
Mix FM never reached near the ratings success of smoothfm which is now #1 on the FM band in both Sydney and Melbourne – in case you didn't know. But while smooth's best results are posted across the day with Drive topping the Sydney market on a 10.6 share, the Breakfast shift Bogart co-hosts with Glenn Daniel was good enough to shade Jonesy and Amanda at WSFM and match Fitzy & Wippa at Nova on a 7.3 share in the most recent survey.
"It's hard to even think about that because you come in and you do your job. And we're not the type of breakfast show that is… well, we're not showy. Its not about us. It's about our format. We like to think that we highlight it. You can't sell what you do short but I can't also pretend that the music isn't the hero because it is.
"And that's what I love. Like we can play anything. Like Etta James, At Last. What a great song! But then we can play Ed Sheeran. I love that! I love Smokey Robinson. I love that we can just play Beach Boys, God Only Knows. My God! Isn't that just one of the best songs?"
"Our listeners are passionate about music and I love that. Its a perfect fit with our listeners," says Bogart.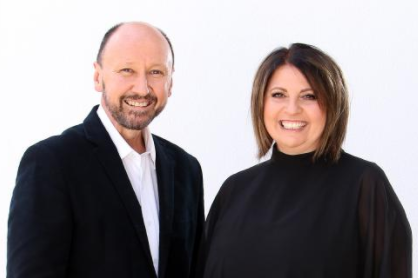 Both she and her co-host Glenn Daniel agree that the rapport, the chemistry between them came naturally. "We knew each other from the old ARN days but not that we'd socialised or anything. It's just that Glenn was our news guy and we just found that we clicked. It helps when you like each other and we found that we were a comfortable fit on the air. We're not the type who talked over each other. I think we respect each other very much as professional and I also like him as a friend. We all go out occasionally and have a coffee and catch up occasionally on the weekend."
On the smooth 95.3 website, it says on her profile: Bogart has helped pave the way for women on FM radio but has never seen gender as a hurdle.' What's that mean? Who better to ask than Bogart herself…
"For most of my career it was like, well – did you get this job because you were a female? Is it like a sort of tokenism? I know there's a glass ceiling. People speak about it in different fields and I have friends and I have family who face it.
"For me as an individual who started off very young, I was someone who had a great job. I loved my job. And I didn't look at my colleagues as male or female, they were just my colleagues and I think thats how I've lived my life. Both my parents worked. Both my parents cooked. Both my parents did everything. I grew up in a household where we all did it.
"I've worked just as hard as other people and spent many years in regional radio before I came to Sydney.
"I've got an older sister and a younger brother. Italian background . So for me it has not been an issue. I don't know, was it me just going through life as an excited young person going, Wow, everything great!? I don't know, it's not been an issue for me. But I talk to different people and it is. I wish I had the answer for that. I don't think I've been treated differently. I don't think I've been given any favours," says Bogart Torelli.
Peter Saxon
Related Stories
smoothfm
celebrates its fifth birthday with the release of a special song
Mike Person on smooth: "It's good to be better but it's better to be different
Glenn Daniel gives good news as smoothfm turns five