The latest upgrade to DRM's audio codec was demonstrated in a presentation at this week's Digital Broadcasting Symposium in Kuala Lumpur. Digital Radio Mondiale (DRM) is the first global broadcast standard to adopt the Extended HE-AAC (xHE-AAC), which promises improved quality for DRM broadcasts in SW, AM and FM.

Alex Zink, the Senior Business Development Manager for Digital Radio at Fraunhofer, outlined the benefits of DRM in emergency situations, particularly the ability of DRM transmissions to signal receivers to turn on automatically and deliver emergency warning messages in a crisis.

"Unlike consuming radio on a smart phone, there is no gatekeeper in between digital free to air broadcasting and the consumer," said Matthias Stoll in his presentation during the afternoon workshop.

DRM gives AM broadcasters the same coverage with less power usage, saving about 60% on analog transmission costs, according to Lindsay Cornell, Principal Systems Architect at the BBC and Chairman of the World DMB and DRM Technical Committees.

Delegates attending the session heard that All India Radio is currently converting 72 transmitter sites to digital using DRM, with transmitters supplied by Nautel. "It is one of the worlds largest digital radio deployments," explained Nautel's John Abdnour during the presentation.

The DRM installations in India are planned to cover 70% of the country. Receiver manufacturers are reportedly excited about the coming of digital radio because it will give local Indian manufacturers a chance to make and sell large numbers of digital radios in India and to export them to the region.

DRM receivers are now on three platforms: desktop radios, mobile phone radios and car radios, according to Alex Zink. Two new desk top receivers were displayed during the presentation (see picture above).

A DRM Introduction and Implementation Guide is available from the DRM website.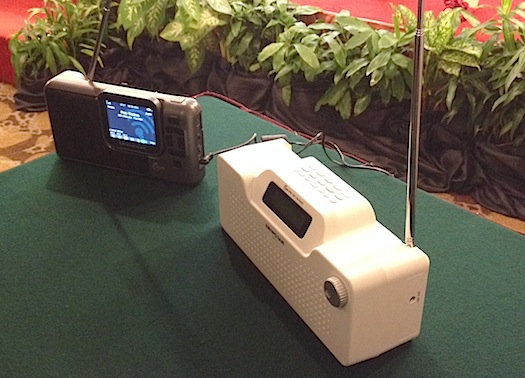 See other Symposium reports here:
DAB+ radios on show at DBS2014
World is changing, broadcasters must innovate