After seven spectacularly successful years, Nova Entertainment decided it was time for a refresh – a new face to represent the smooth brand.

Who better than Robbie Williams?
We asked NOVA Entertainment's Chief Programming & Marketing Officer, Paul Jackson (left) how much research went into the decision to bring Williams in to replace Michael Buble.
"We knew with or without research that Robbie Williams is loved by our audience. We play a lot of his records and in research they do brilliantly. We know that when he comes here, he sells out all his shows to predominantly smooth type audiences. This highlights a strong alignment for the radio station."

Jackson was quick to quash any notion that Michael Buble had been given the punt.

"Having evolved the radio station so much, especially in the last few years, people recognise straightaway that is something new, something different that we're getting across. Robbie Williams works much like Michael Buble. He represents youthful fun… charming, cheeky, light hearted and liked by everybody young and old, male and female. So, he was a perfect fit."

Yet there's a subtle difference in the positioning which has changed from Sydney's/Melbourne's "easy place to relax" to "feel good station."

"We're very mindful of how strong the Michael Buble TV ad is and has been over the years. You want something that isn't going to come off badly when compared to that.

"So, in effect, while there have been other things in between, this is like let's move on from the tone and feel of Buble sitting back relaxing. This one is up and about, singing along to feel good."

Of course Williams could have just said "no", rejecting the smooth offer out of hand. But he didn't.

"That was our best case scenario come true. It's a conversation not dissimilar to what we had about Buble in 2012. Let's try. Let's ask. So, we asked the question and got a yes. From there everything moved very quickly. Pretty much from the beginning of those conversations to filming it was about an eight week period."
The other subtle change in the branding is the colours. Gone is the orange and brown which echoes 1970's Madmen to an orange and blue – with the blue in a hue that matches Robbie's jacket and tie in the publicity shots.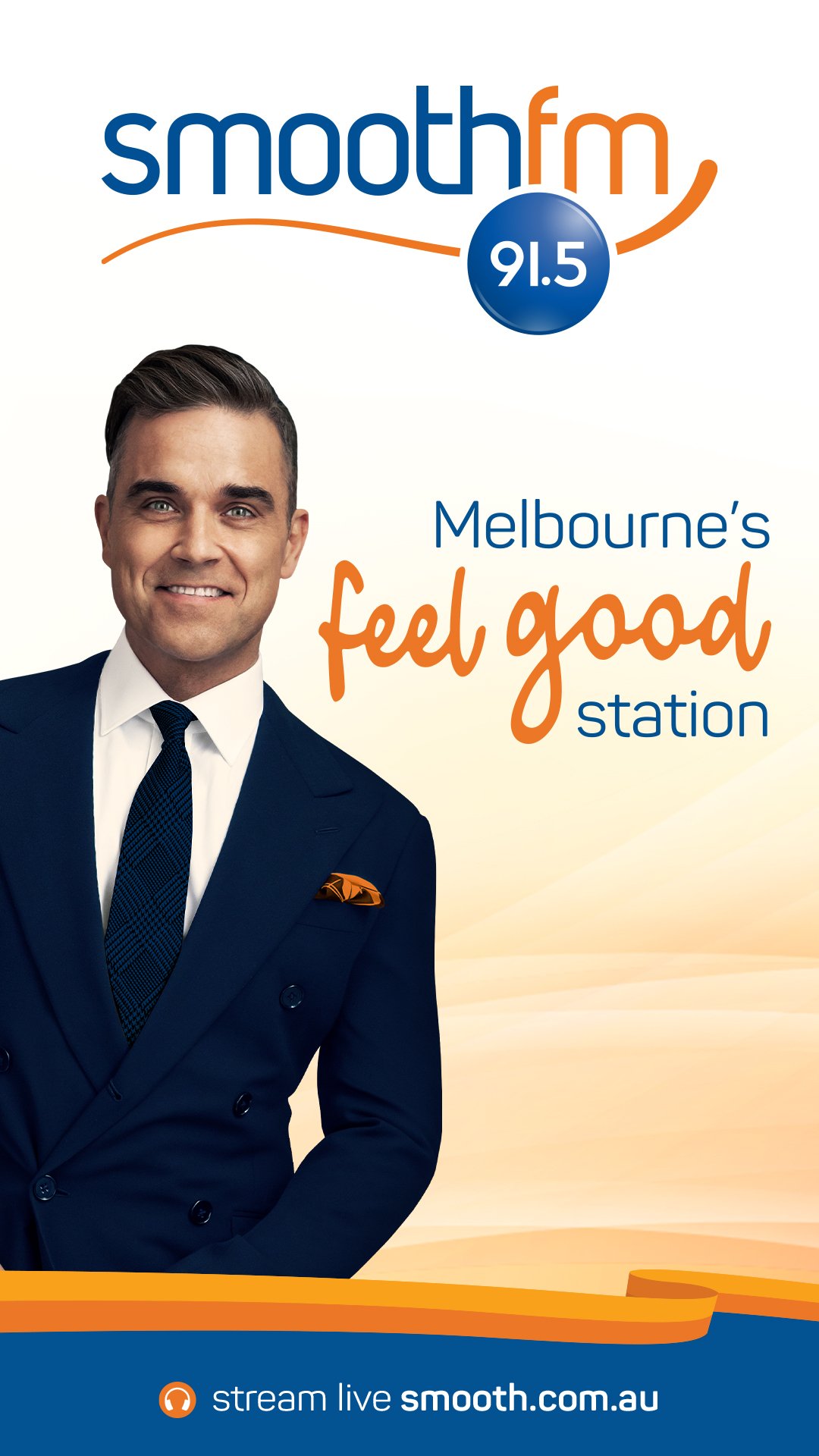 smoothfm's refreshed vision will be supported by an extensive marketing and media campaign in Sydney and Melbourne across TV, OOH, cinema, digital and socials. The TVC was shot in London and was directed by Vaughan Arnell, a British music videos and television commercials director. The creative features Robbie Williams enjoying the feel-good sounds of smoothfm and is set to three iconic tracks,
Williams' Feel, September by Earth, Wind & Fire and Billy Ocean's Get Out of my Dreams, to give audiences a taste of smoothfm's playlist which features tracks that lift the spirits and soothe the soul. The campaign is designed to familiarise audiences with the brand and highlight the station as the feel-good destination from 16 February.
In addition, Robbie Williams will take the stage later this year for smoothfm's Feel Good Night With, to deliver a unique and immersive fan experience through smoothfm's live music brand.
Paul Jackson said, "We launched smoothfm with a more music and less talk format, an emotive and timeless playlist and announcers handpicked to create an easy place for listeners to relax and escape their busy lives. Over the past seven years the station has experienced impressive ratings and commercial growth and the playlist continues to evolve to make listeners feel good. Now we are giving the brand a refreshed look and feel while maintaining the consistency that people expect.
"The refresh will be supported by an extensive marketing campaign and new logo, with one of the most well-known artists, Robbie Williams, as the new face of smoothfm. Robbie is charming and cheeky, he's a contemporary artist who has evolved over his career and his music remains timeless making him the perfect choice for smoothfm in 2020. He joins the likes of Michael Bublé, Sam Smith and Spandau Ballet as a smoothfm ambassador. We couldn't be more delighted with smoothfm's success and look forward to further growth of the brand," said Jackson.
Since launching in 2012, smoothfm has cultivated a loyal audience with its unique offering of more music and less talk, and a music format designed to help listeners relax. smoothfm is Sydney and Melbourne's feel good station. smoothfm launched with a 4.1% share in Sydney and Melbourne and 275,000 and 337,000 listeners* (combined audience of 612,000*) respectively and in seven years has increased by over 200% to 1.838 million** listeners. smoothfm is currently the number 1 FM station in Sydney with 9.3% (over 10 consecutive surveys) and number 2 FM in Melbourne with 8.5% share**.
smoothfm recently increased its offering by creating additional smoothfm stations, smooth Relax and smooth Chill in September 2019, on the DAB+ spectrum and via smooth app, broadening the smooth platform and creating new commercial opportunities. smooth Relax (49,000 in Sydney and 45,000# in Melbourne) has seen strong results in only one survey with results for smooth Chill to be available in survey 1, 2020.
Over the past seven years the brand has built a highly engaged audience, diversified across multiple platforms and created innovative client solutions based on deep audience connections. smoothfm's reinvigorated look and feel in 2020 is designed to continue to grow audience appeal and ensure smoothfm remains a strong and relevant radio brand for a broad audience into the future.
Peter Charlton, NOVA Entertainment Chief Commercial Officer said, "smooth is one of the most uniquely effective FM offerings out there, in terms of both its 'feel good' format and its landmark success to date. Last year, we saw double-digit revenue growth in an undeniably tough market, spent a year as Sydney's #1 station and secured consistently strong results in Melbourne. That kind of success comes down to being able to connect with and engage listeners in a way no other station can, in turn, opening the door for advertisers to do the same. We're incredibly proud of what smooth represents, both commercially and creatively, and recognise its enormous potential into the future."
smoothfm's revigorated look and feel, with the unveiling of a new logo, will be revealed on Sunday 16 February.
smoothfm's TVC and multi-platform marketing campaign launches on Sunday 16 February smoothfm can be heard on smoothfm 95.3 in Sydney, smoothfm 91.5 in Melbourne and nationally on DAB+
SOURCES
* 10+ share of 4.1% and 275,000 cumulative listeners in Sydney and 10+ share of 4.1% and 337,000 listeners in Melbourne, combined cume audience of 612,000– Source: Sydney & Melbourne radio survey 4, 2012, Nielsen radio ratings (survey period 25 March to 28 April and 6 May to 9 June 2012)
** No 1 FM station in Sydney with 9.3% share and 953,000 cumulative audience & No 2 FM in Melbourne with 8.5% share and 884,000 cume listeners, with a combined Sydney and Melbourne cumulative audience of 1.838 million – source: GfK Sydney & Melbourne radio survey 8 results, released 17 December 2019 (survey period 29 Sept to 7 Dec 2019)
# smooth Relax is available on DAB+, via streaming and on the smooth app. Source for results: GfK DAB+ stations for Sydney and Melbourne, (survey period 29 Sept to 7 Dec 2019)
+ smooth Chill is available on DAB+ in Adelaide and on the smooth app.