Finalists in the New York Festival's International Radio Program Awards for The World's Best Radio Programs have been announced.
World-wide since 1982, NYF's International Radio Program Awards honors the most innovative work in radio broadcasting, receiving entries from radio stations, networks, and independent producers from around the globe.
The Grand Jury selected 289 Finalists from entries submitted from over 30 countries worldwide. Entries were judged on production values, organization, presentation of information, creativity, and use of the medium. All Finalists proceed to the medal round to determine Gold, Silver, and Bronze trophies.
RTÉ Networks Ireland programming dominated this year with 33 Finalists, Canadian Broadcasting Corporation programming had 24 entries selected as Finalists, BBC 16, TBI Media United Kingdom 10, and Radio Television Hong Kong saw 9 entries achieve Finalist status.
This year, NYF's radio Awards launched multiple new categories including Best Innovation, launched to showcase creative and technical innovations in radio broadcasting. Eight entries moved on to the medal round. Finalists include: "D-Day: 70 Years On" TBI Media UK; "The Sister Cities Connection" Birmingham City University UK; "IMGR – State of the Art Station Imaging, Production and Delivery" IMGR UK; "Park Bench" RTÉ Radio 1 Ireland; "Leaving Home" BBC Radio Lincolnshire UK; "Ek Kahani Aisi Bhi" Digital Radio (Kolkata) Broadcasting Limited India; "Blowback" Deutschlandradio Germany; and "Radio, with new wings" CBS Radio South Korea.
Audio Books categories were introduced to showcase the rising trend in spoken entertainment. Five entries achieved Finalist status: "HOOD: The Scribe of Sherwood" Spiteful Puppet Entertainment UK; "The Brenda and Effie Mysteries/Bat Out of Hull" Bafflegab Productions UK: "Walt Whitman: Kinder Adams/Children of Adam" Harbuch Hamburg Verlag Germany; "Straight White Male" and "Darling Monster: The Letters of Lady Diana Cooper to her Son John Julius Norwich 1939-1952" both by RNIB UK.
Sound Art remained in the spotlight with two entries moving forward: "In Search of Captain Cat of Llareggub" Frequency Oz Australia and "Cathedral's Fall" Serbia.
History Category entries were in the forefront with a robust 19 entries achieving Finalist status including: "The Kalb Report: Writing History – Bob Woodward, Carl Bernstein and Journalism's Finest Hour" National Press Club Journalism Institute USA; "Archive On 4: Malcolm X in Oxford" Overtone Productions Ltd UK; "Damn The Torpedoes" Alabama Public Radio USA; "A New York Philharmonic Tribute to Lorin Maazel" New York Philharmonic USA; "The Irish woman who shot Mussolini" RTÉ Radio 1 Ireland; and "All Those Years Ago" Accessible Media Inc. Canada.
Music Specials struck a chord with this year's jury. Entries moving on to the medal round exhibited crowd appeal in a variety of genres. Finalists include: "Elvis: That's All Right 60 Years On" TBI Media UK; "Simon Marlow with Ed Sheeran in Afghanistan" British Forces Broadcasting Service UK; "Vocal Chords: In Conversation with Peter Gabriel" Athena Media Ireland; "Scotty Moore and the Guitar that Changed the World" Ten Alps Radio UK; and "Meet the Wainwrights" Wise Buddah UK.
Earlier this year we gave you some tips about how to win an award. Hopefully some of our readers have benefitted from the tips, with the finalists announced today.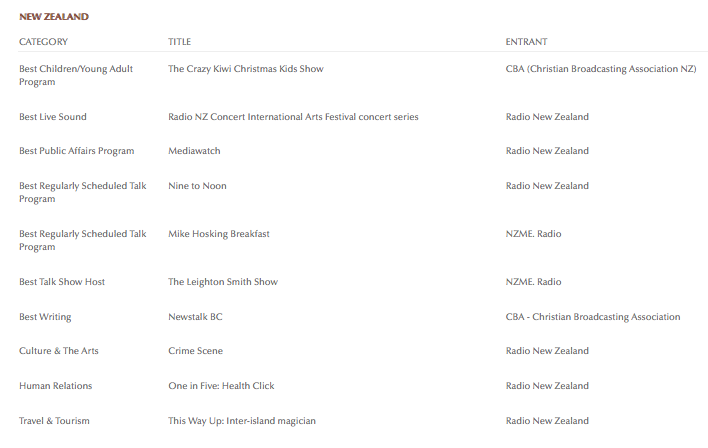 For a full list of finalists from around the world, click here.
NYF enlists jurists from all over the world to serve on the Radio Awards Grand Jury. These prominent men and women include some of the most recognizable voices and captivating programming producers in the radio industry.
The 2015 competition will honor the World's Best Radio Programs on Monday, June 22nd at the annual awards gala taking place at Manhattan Penthouse in New York City. To purchase tickets for the 2015 gala click HERE.