The S2 2022 GfK Radio Audience Data released today shows almost 3.7 million New Zealanders were listening to radio every week and over 3.4 million of those listen to commercial radio stations.
Radio Broadcasters Association CEO Jana Rangooni says "While there is large amount of attention on the audiences delivered by global media platforms and public media in New Zealand, today's results are a reminder of the fact Commercial Radio has some of the largest, most loyal and engaged audiences in New Zealand."
CEO New Zealand Media and Entertainment , Michael Boggs, says: "Kiwis across the country continue to support commercial radio platforms as we offer a huge variety of content to service and meet the needs of many different audiences. Whether they listen through traditional platforms or via digital radio, Kiwi audiences remain highly engaged with commercial radio, which is great news for New Zealand's radio industry now and into the future."
MediaWorks CEO Cam Wallace says, "Commercial radio continues to play a huge role in the lives of New Zealanders, with millions of Kiwis tuning in every week to be informed and entertained through both traditional and digital platforms. Being live and local has been a key strength in ensuring commercial radio remains resilient and that the sector is vibrant and thriving in the years to come for our audiences and advertisers."
Network Newstalk ZB continues to lead all others with a 15.2% share, down by 1.7 in this survey, but still a long way ahead of Network Breeze, who gained 1.6 for 10.9, followed by Network More FM, up by 0.1 to 8.1.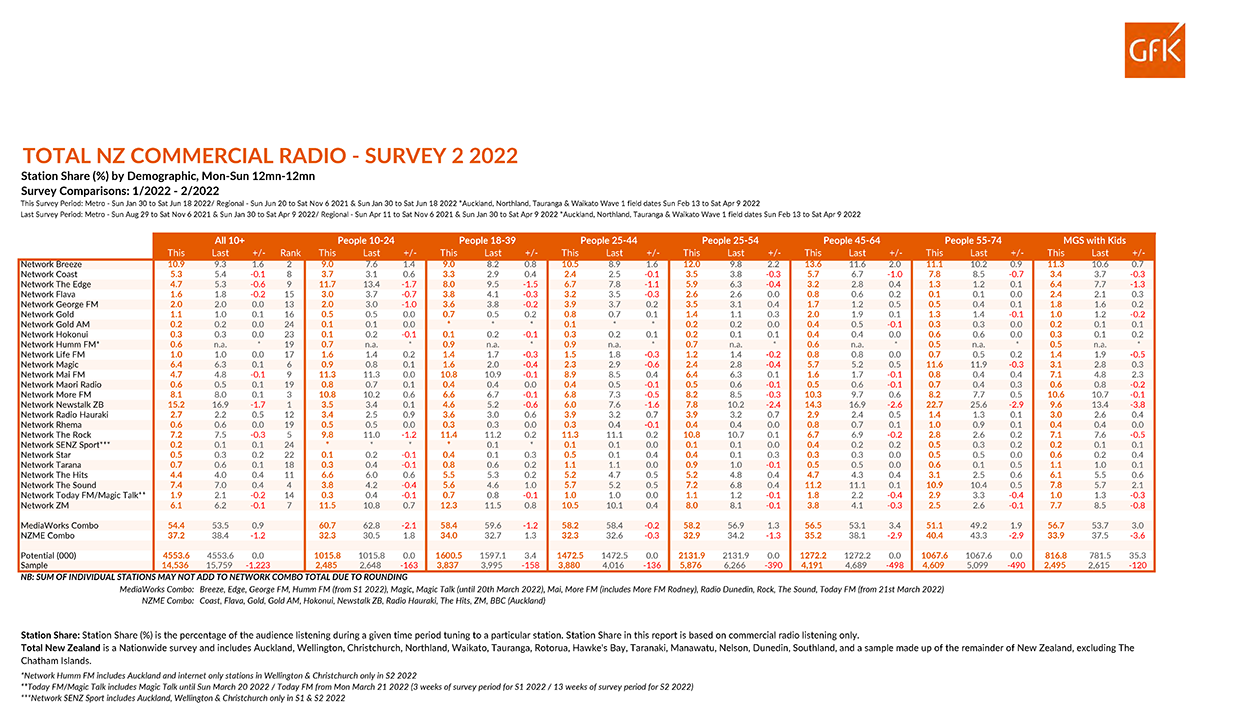 In breakfast Mike Hosking (Newstalk ZB) dropped by 3.0, but still is double the size of his nearest competitors with 20.6.
Chief Radio Officer for NZME, Jason Winstanley, says "I'm really proud of our teams and the results of today's survey, continually growing our overall audience numbers, with some fantastic results and growth across many of NZME's radio brands.
"After two and a half years of bumper results in GfK Radio Surveys, with the likes of Newstalk ZB listenership skyrocketing due to people being at home during COVID lockdowns, it's pleasing to see that the station's audience numbers remain incredibly high – well above any other network and significantly higher than pre-COVID levels."