One of the advantages of going to trade shows like the NAB Show in Las Vegas is getting the chance to see new equipment that is coming onto the market.
Radioinfo's Wayne Stamm was able to preview some new products that were to be released after the show and this is one of them.
---
I get really excited when I get to NAB because there is always something new, and this year there were a couple of products I got to see before their release.
One of these is from Norway, the Nomono integrated hardware and software solutions for simplifying field recording.
The Nomono platform includes the Nomono Sound Capsule, a Wi-Fi enabled recorder that combines four ultra-compact wireless lavalier mics with a 360-degree spatial audio microphone array and weighs less than 2 kilos.
This connects seamlessly to the Nomono Web App, an online audio collaboration tool where content creators backup their recordings, collaborate with their production team, and apply AI-powered dialogue enhancement processing to ensure their audio sounds the best it can before starting the editorial process.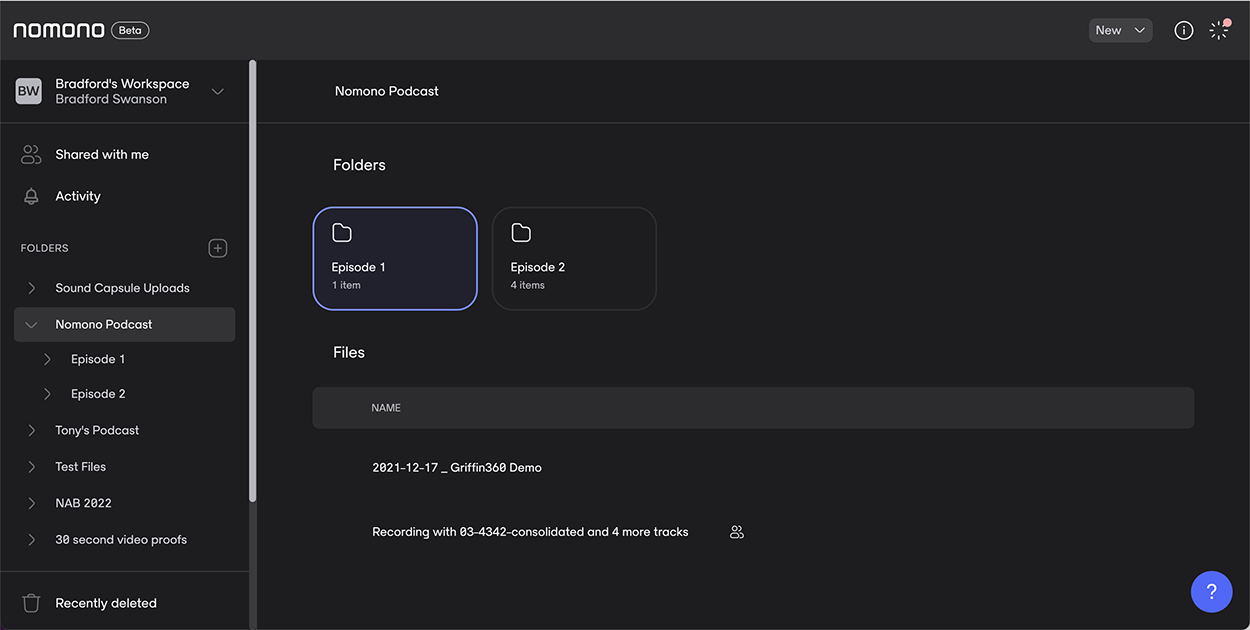 The Sound Capsule is a compact, one-button field recording unit that captures up to four guests and the immersive scene audio.
The wireless lavalier microphones become active once they are removed from the charger base, the levels are preset and the unit begins recording immediately the single button is pressed.
On the charger/recording unit there are eight small microphones that make up a 360-degree microphone array that picks up the ambient noise in the room, allowing it to be isolated from the finished recording, or used to enhance the final product.
Audio captured by the Nomono Sound Capsule is backed-up wirelessly to the Nomono Web App, a secure cloud resource and audio collaboration tool featuring AI-powered signal processing.
The recording is uploaded as individual tracks that can be edited, so in effect there could be four voice tracks and the room/surrounding noise. The recording is also uploaded as a finished product, combining all of the recorded tracks.
Because it has been backed up into the cloud, a producer could be anywhere else in the world, edit and download the audio almost as soon as it is recorded.
CEO, Jonas Rinde, says "We're sound people with a passion for building great products for like-minded pros, including podcasters, broadcast journalists, and media houses.
"Nomono simplifies podcasting with intuitive tools for capturing interviews from the field, collaborating on the editorial process, and improving audio quality. Our goal is to provide storytellers with an audio workflow that is smart, simple, and capable of delivering excellent sound."
At the NAB Show I was introduced to the Sound Capsule by Nomono's VP Partnerships, Brad Swanson, and this is the interview recorded at the time using one of their units, almost a month before the products release.
My thoughts on this are that it is a very clever piece of equipment that will make interviewing in the field very easy, especially as all you have to do is turn it on and push one button.
No level checks, no cables to run, no SD card to insert, and it all packs up into an easily manageable unit, and by the time you get it packed up, your recording can be back into a production studio, or onair.
I like the quality of the recording and the Web interface is easy to use. I certainly could have used this in Europe while doing interviews for Radiodays.
At this stage there is no advertised cost.