In a year when "our languages matter", Perth's Noongar Radio said a Kaya, wanjoo ! (Hello welcome) to more during NAIDOC 2017 than ever before.
40 hours of specialised outside broadcasting at 11 events over 10 locations.
Noongar Radio broadcast everywhere from Perth's iconic Elizabeth Quay for the NAIDOC Perth Opening Ceremony to suburban primary schools and even live from within one of Perth's best-known prisons.
NAIDOC 2017 saw many Noongar Radio firsts – the first Live Outside Broadcast from the coastal city of Rockingham that saw the audience dancing kangaroo-style with the Kasa Kaa Middars (local primary school dance group), the first broadcasts from suburban Mirrabooka (an area with a large Indigenous community), Hillcrest Primary School's inaugural Beeralyn (NAIDOC) Festival and even Noongar Country's first Aboriginal Gospel concert!

There was also Noongar Radio's live broadcast from Wooroloo Prison Farm where Human Rights Campaigner, 2017 Dr Yunupingu Human Rights Award Winner and 2016 Eddie Mabo Award for Social Justice Merv Eades spoke directly to prisoners about his foundation Ngalla Maya, a not-for-profit assisting people into education, housing and work after prison.
"The most important thing for young people", he says "is to be instilled with a sense of hope".
Merv was in the curious position of experiencing the prison from a different perspective having spent nearly two decades in and out of jail – including as an inmate at Wooroloo itself.

The outside broadcasts were spearheaded by 100.9FM Perth's hit breakfast duo, the 2Norty Broz along with Station Manager Paul Whitton producing, Program Manager Jeff Michael, freelance Broadcasting Engineer John Morcombe and veteran broadcaster Jeremy Garlett. Volunteers also played a large role in supporting all Noongar Radio broadcasts.
Noongar Media Enterprises Chair Phil Walleystack praised the efforts of the Noongar Radio team saying "There's such a great vibe happening between all our broadcasters and volunteers, all giving their 100%….With diversity, you create unity".
100.9FM is Perth's only Aboriginal radio station, nominated for three 2017 CBAA Awards, Runner up as NAIDOC Perth Business of the Year 2016 and 2017 and has been lauded on the floor of Western Australian parliament.
100.9FM Noongar Radio Perth streams live on www.noongarradio.com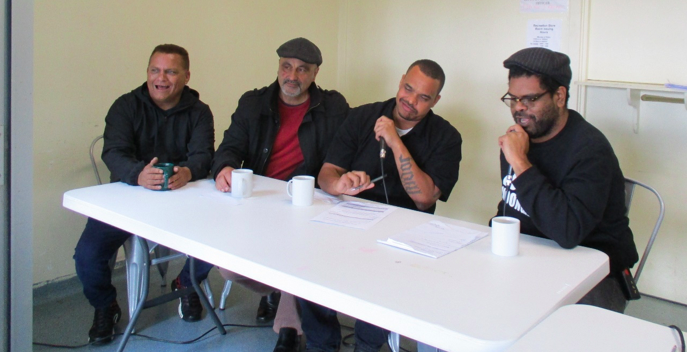 Merv Eades, Gerry Georgatos and the 2Norty Broz at Wooroloo Prison Farm​