By AirCheck/RCS Australia
Chart Highlights – 24 June 2021
Biggest Mover: Tones & I up 147.6% on last week, 'Cloudy Day' rising to No. 15
Local Music: Vance Joy's 21 more spins brings 'Missing Piece' up to No. 4
Heating Up: 240 spins for Lorde's latest 'Solar Power' up to No. 35 for her second week on the chart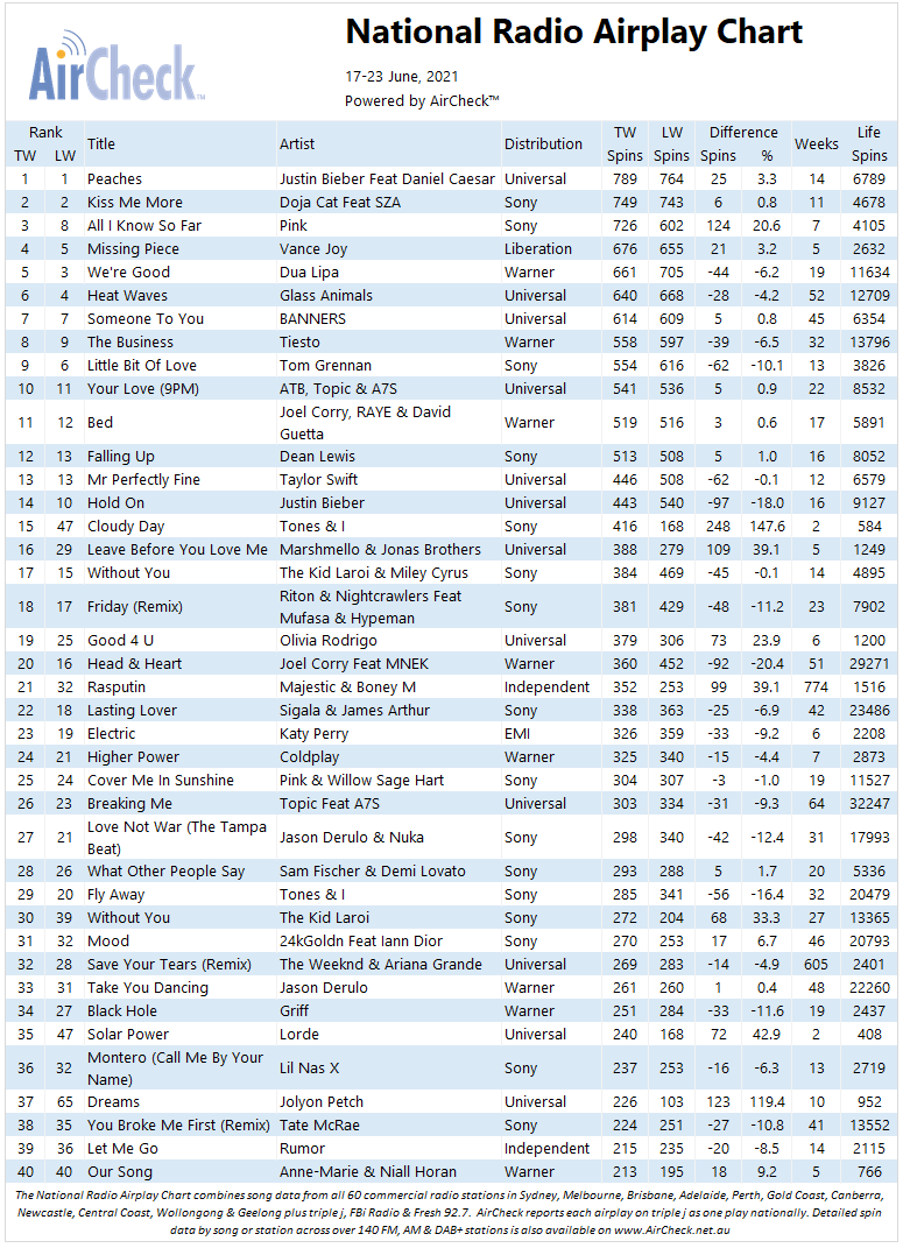 This week's biggest mover title on the AirCheck National Radio Airplay Chart was taken out by home grown legend Tones & I with 'Cloudy Day'. Her latest single has jumped up a massive 31 spots with 248 more spins on last week to bring her to No. 15. Lorde could be shining through the clouds soon however with 'Solar Power' now 2 weeks in, rising to No. 35 with 42.9% more airplay this week.

Still atop the chart is 'Peaches' from Justin Bieber feat. Daniel Caesar & Giveon, no signs of slowing down with an enormous 51 and 50 spins respectively on KIIS 1011 Melbourne & The EDGE Sydney. Hot on his heels is Doja Cat feat. SZA still at No.2 with 'Kiss Me More' getting support in all markets on the Nova Network averaging 47 spins and receiving the most love again from The EDGE Sydney up 14 more spins this week to 56.
Now at 5 weeks in Marshmallow & Jones Brothers' 'Leave Before You Love Me' have cracked the top 20 up 13 spots to No. 16. KIIS 1065 now playing across the board compared with only 3 spins last week.
Last week's biggest mover was English singer songwriter BANNERS with 'Someone To You', holding steady this week at No. 7 getting most of his support from the Nova Network, increased airplay on Hit with 7 more spins on 2DayFM Sydney and is now up to 33 spins on 973 Brisbane in all dayparts.
---
Subscribe to the radioinfo podcast on these platforms: Acast, Apple iTunes Podcasts, Podtail, Spotify, Google Podcasts, TuneIn, or wherever you get your podcasts.