As Survey 1 commences, Aircheck has analysed the playlists of Sydney radio stations last week.
Of the 653 tracks played across the two CHR stations,
Nova 96.9
shared more than a quarter of its playlist with
KIIS 1065
.
Dance anthem 'Body' by Loud Luxury featuring Brando (pictured) was the most played track across the two stations, earning 77 spins. This was also the most played track last week between 2Day and Nova, with a crossover of 22.4%.
Comparing WSFM and Smooth 95.3, 226 tracks were played on both stations, a 22.7% crossover.
Toto's 'Africa', Tears For Fears 'Everybody Wants To Rule' and George Michael's 'Father Figure' were spun the most, each garnering 12 spins on the two stations.
Meanwhile Triple M shared 15% of its playlist with WSFM, with the stations championing tracks like GANGgajang's 'Sounds Of Then (This Is Australia) and Joan Jett & The Blackhearts' 'I Love Rock 'N' Roll'.
As 2Day celebrates one year of its Adult Contemporary format, there was a 9.9% crossover with WSFM. Alanis Morissette's 'You Oughta Know' was spun the most between the two stations.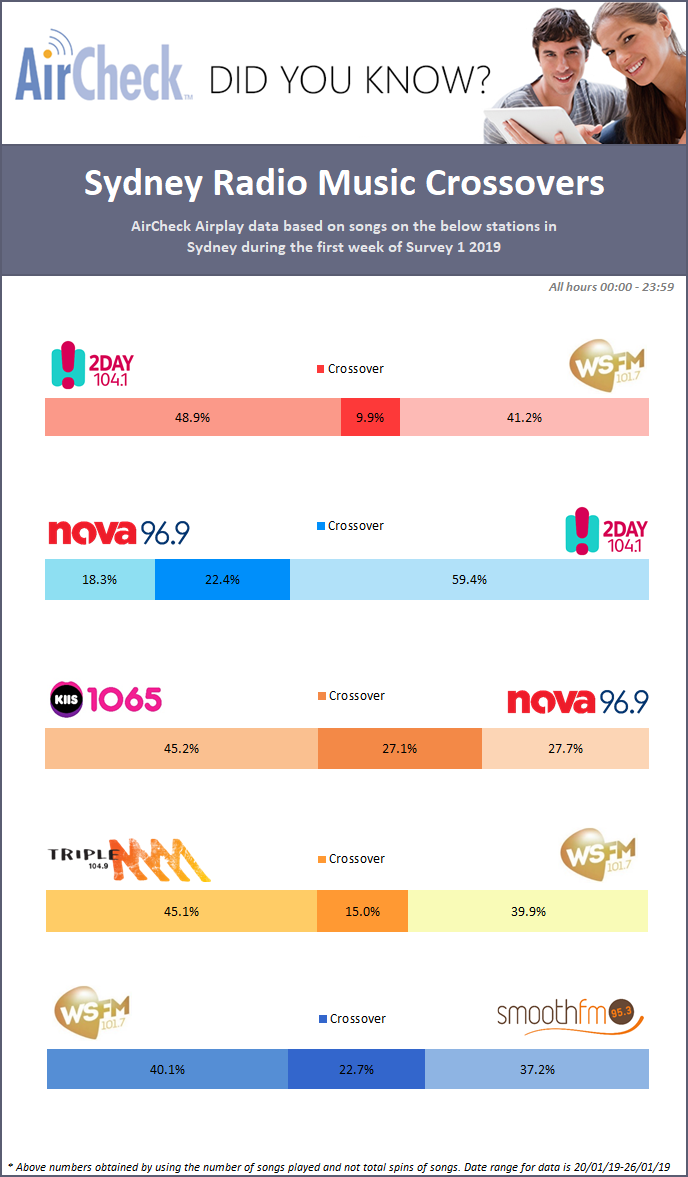 AirCheck, the Leader in Local Media Monitoring in Australia, checks the airplay of songs and commercials on ALL 54 commercial radio stations 24/7 in Sydney, Melbourne, Brisbane, Gold Coast, Adelaide, Perth, Central Coast, Newcastle and Geelong, plus Triple j and FBi in Sydney and Fresh 92.7 in Adelaide.