NOVA Entertainment has a major new partnership with Stockholm based technology company Acast designed to leverage the growing popularity of podcasts in Australia.

Nova will become a launch content partner for Acast in Australia and will launch a portfolio of podcasts including show content as well as original productions in non-radio categories currently in development. Nova will also launch Podquest to provide opportunities for new and emerging audio content creators through grants of financial assistance and access to Nova's production facilities.

Acast is the world's leading technology platform for on-demand and podcasting. The company is developing top innovations in audio ad tech including pre and mid-roll content and analytics. Nova will also provide advertisers with the opportunity to commission native content within podcasts tailored to an advertisers needs.

Cathy O'Connor, NOVA Entertainment's CEO said, "Australia is increasingly becoming a nation of podcasters and the podcasting medium provides new opportunities for advertisers to connect with defined audiences. Acast is a global best practice provider of podcasting tech and together we aim to educate the Australian market on the unique opportunities podcasting provides to advertisers"

Acast CEO and Co-Founder Mans Ulvestam said, "We are very excited to be partnering with NOVA Entertainment to launch Acast Australia and the Nova podcast network. Expanding to Australia is a natural fit for Acast. It's a really exciting time for the audio and podcast market here and we will bring our expertise and data to help accelerate that growth."

Cathy O'Connor said, "The partnership with Acast is a good demonstration of NOVA Entertainment's multi-platform strategy, leveraging our skill in audio production beyond broadcast radio to new platforms and audiences."

Nova Podcast is available now with podcasts accessible through NOVA Entertainment's digital and mobile platforms and Acast.
More details will be available on Podquest in the coming weeks.
Get a €200 discount for RadioDays Europe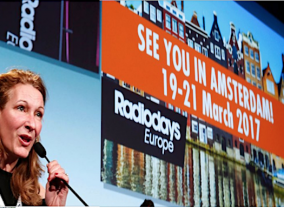 Hurry… Must be booked by February 10.
Thinking of going to RadioDays Europe next month in Amsterdam?
You can save 200 Euros off the ticket price by booking with radioinfo's special discount code.
radioinfo is once again partnering with what has become the biggest European radio event.
If you can't get there, we will cover the three day radio fest for you, but if you are going and haven't booked yet, take advantage of our discount.
YOU MUST BOOK ONLINE BY 10 FEBRUARY, USING OUR SPECIAL CODE TO GET THE DISCOUNT.
Email us for the code, no strings attached, no limits, you won't go onto a mailing list… just ask us for the code by emailing [email protected].
Participants must register on the RDE website (www.radiodayseurope.com) using the partner organisation discount code. Payment is made by credit card online.
Radiodays Europe is being held from 19-21 March at RAI Convention Centre in Amsterdam.
See some of our coverage of last year's event here.