In their first big overseas trip together, the team will broadcast a week of special shows live from Las Vegas USA.
It all starts on their national Drive show from next Monday In conjunction with the Las Vegas Convention and Visitor Authority.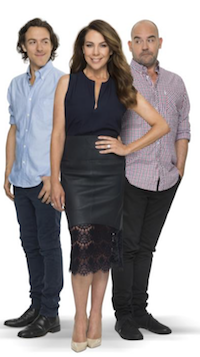 Kate, Tim & Marty said (in unison), "We're flying 17 hours across the globe to road-test everything Las Vegas has to offer and we're doing it all for our listeners, because that's the kind of show we are. You're welcome Australia!"

The team will be checking out the best Las Vegas has to offer, spending a day getting pampered at the luxurious Canyon Ranch, dining at the elegant Lago at The Bellagio Hotel, being shot out of a giant poker machine and soar over Fremont street on a zip line before watching the sun set over Las Vegas at the impressive Chandelier Bar in The Cosmopolitan. Each day Kate, Tim & Marty will package that day's experience with flights and accommodation for one lucky listener to win.

While in town the team will also interview world-renowned illusionist David Copperfield and chat to home-grown heroes Human Nature (who also happen to be Kate Ritchie's high-school mates) after their 'Jukebox' show at The Venetian.

Listeners won't miss out on all of Kate, Tim & Marty's favourite weekly segments including 'Mailbag', 'Quick Draw', 'Age Game' and an extra special 'Jacuzzi Friday', live from the Jacuzzi at The Palms Casino Resort.

Listeners can win their own Las Vegas experience Kate, Tim & Marty announcing a daily winner on the show all week.