Spotlighting the cumulative figures.

Kyle & Jackie O can claim the title as the biggest breakfast program with an audience of 648,000 (up 61,000) in Survey 2.

FOX FM's Fifi Fev & Byron dropped into second spot nationally with 586,000 listeners, and Nova 100's Chrissie, Sam & Brownie just behind with 511,000.

FOX FM still have the biggest numbers nationally with 1,074,000 listeners, followed by KIIS 1065 and GOLD 1104.3, both the only other stations with over 1 million listeners.

In Sydney, KIIS had 1,048,000 listeners, Nova 96.9 968,000, and smoothfm 942,000.

Kyle & Jackie O lead the way in breakfast from Fitzy & Wippa, and smoothfm's Bogart Torelli & Glenn Daniel, while Alan Jones moved into fourth.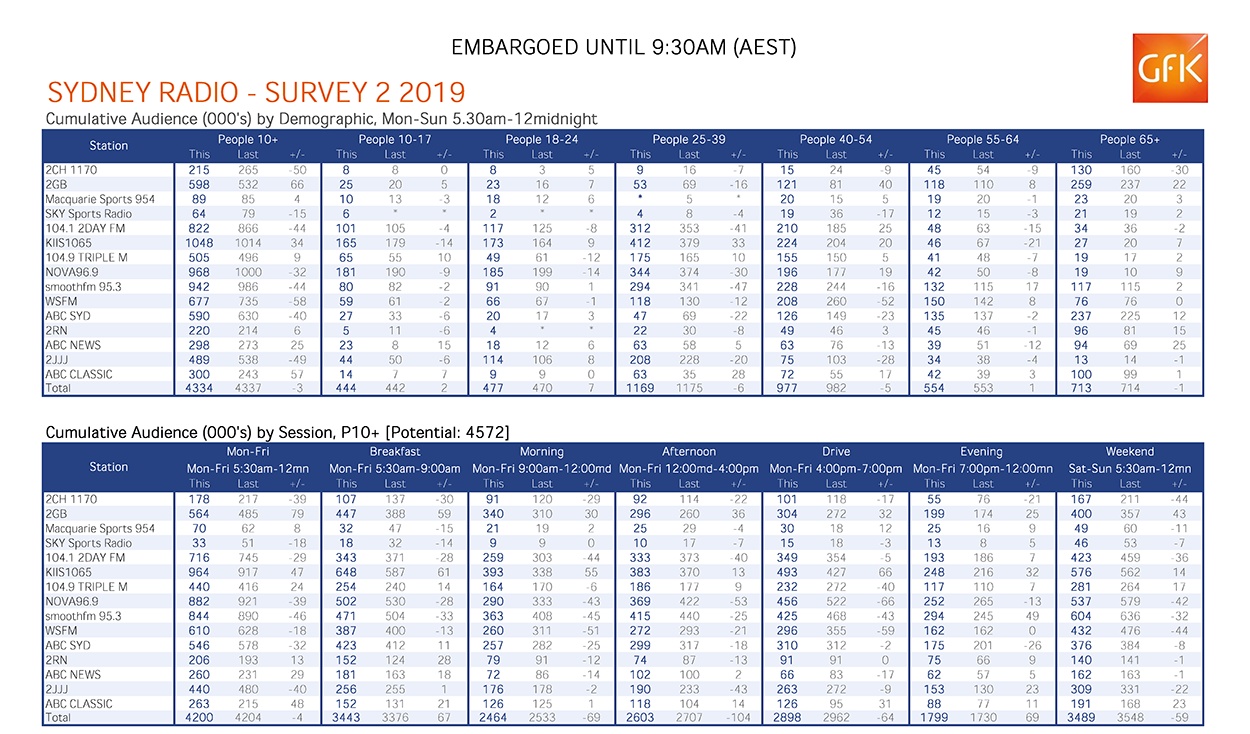 In Melbourne FOX FM and Gold 104.3 continue to lead with the biggest audiences, followed by NOVA 100 and smoothfm 91.5.
In breakfast Mike Perso & Jenifer Hanson (smoothfm 91.5) moved into third jumping Ross & John at 3AW, but still behind Nova 100 and FOX.

Christian O'Connell (GOLD 104.3) continues to gain valuable numbers.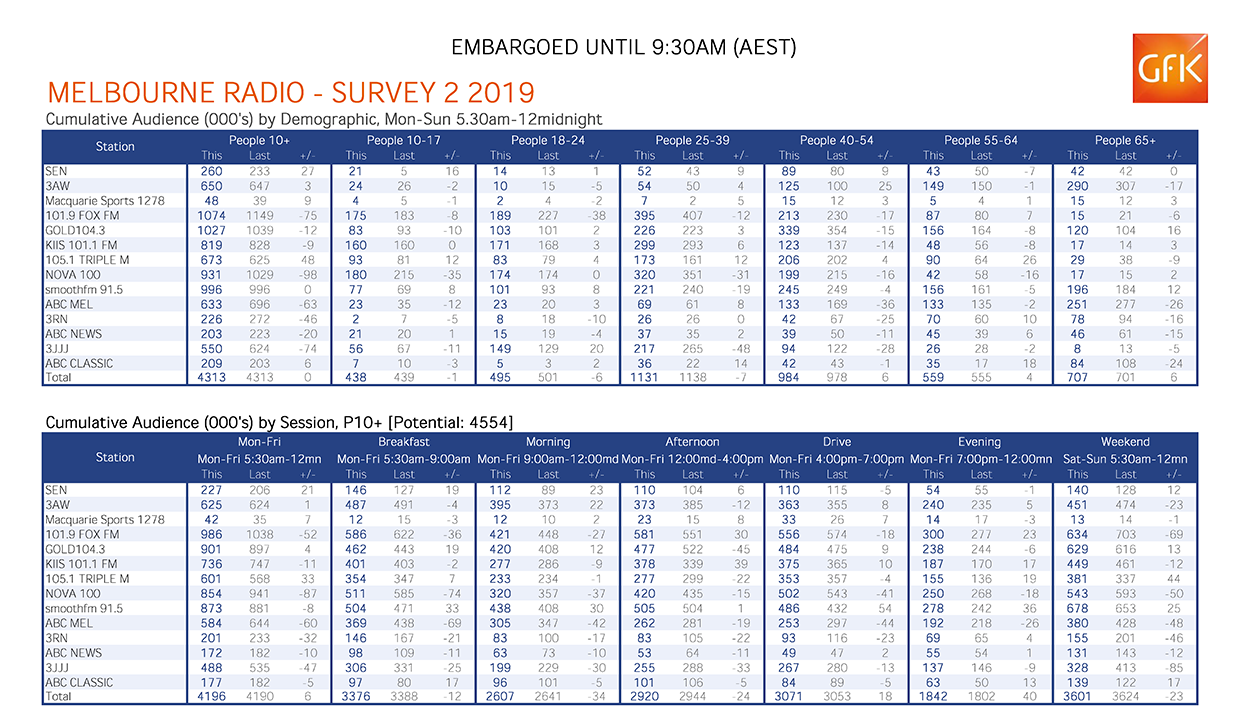 Ash Kip Luttsy & Susie on Nova106.9 still have the numbers in Brisbane (349,000), in front of Stav Abby & Matt (Hit 105) and Triple M's The Big Breakfast (Marto Robyn & Nick Cody).
Nova 106.9 still leads overall from Hit 105, 97.3FM and Triple M.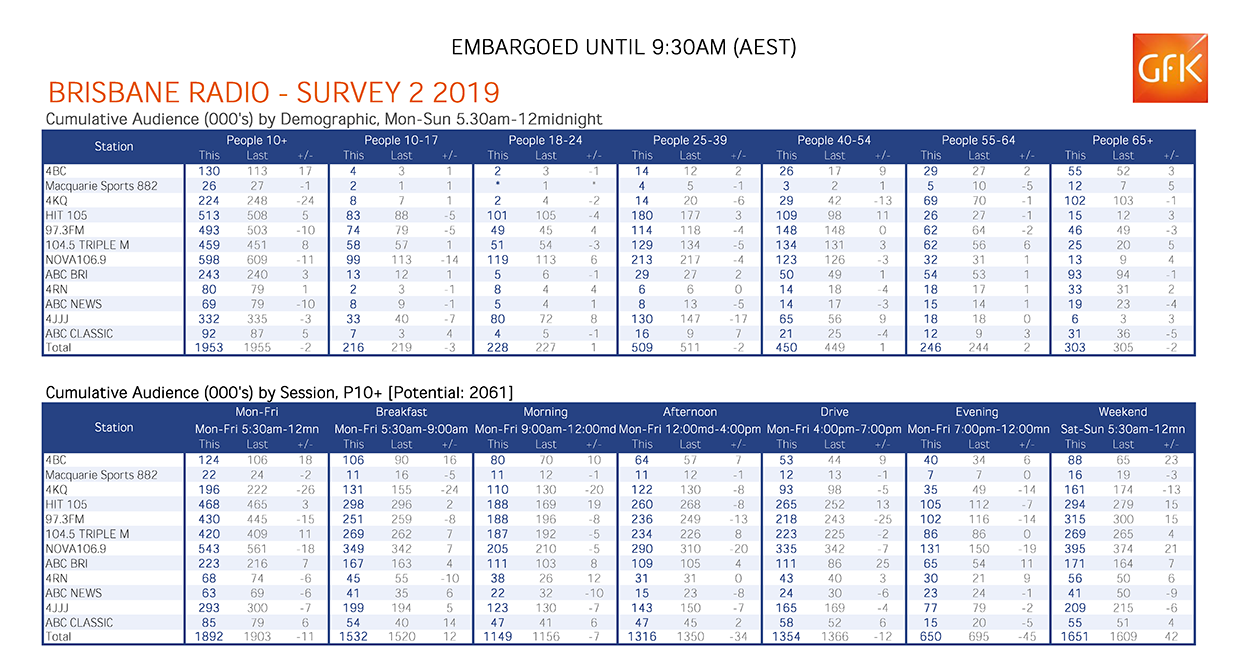 Jodie & Soda(Mix 102.3) continue to improve in Adelaide and are only just behind Lewis & Lowe (NOVA91.9) while Hit 107's Bec & Cosi also continue to improve their numbers.


No change to the order in Perth with Nathan Nat & Shaun (Nova93.7) still leading Clairsy Matt & Kimba (Mix 94.5) and Heidi Xavier & Ryan (Hit 92.9)