O Week has begun at most universities around Australia so the team at triple j want to get in on the action.
All this week triple j Brekkie's Matt & Alex have been racing against their Drive counterparts, Veronica & Lewis, to complete a series of O Week challenges at universities all over the country.
The stakes are high and the challenges epic, with the winner of the O-Mazing Race getting a day off and the loser being forced to host 12 hours of radio.
So far the Breakfast and Drive teams have hit universities in Albury, Toowoomba, Melbourne, Gold Coast, Canberra, Brisbane, Sunshine Coast and Wollongong, soaking up the local tertiary traditions.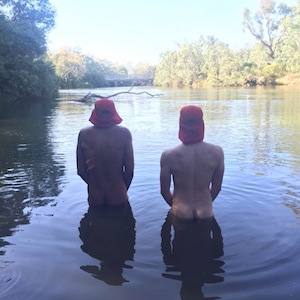 Matt & Alex delivered twins, painted portraits of Anthony Albanese and Wyatt Roy wearing triple j legionnaires caps and had a cheeky swim in the Murray River,
while Veronica & Lewis rode segways and surfboards and introduced us to 'Little Hobba' when Lewis got dunked naked in
front of a few thousand first years.
Plus a grand total of 6 pairs of underpants were collected from students around Australia (some more willing than others).
Now, just when they thought they'd finished, the station will throw down one final challenge at UNSW in Sydney tomorrow, where the presenters will complete an Endurathon, consisting of various physical and mental challenges.
Whoever finishes with the least points will be taking over triple j on Mon 29 Feb for a full 12 hours of live radio where they will be taking pledges for triple j's Fiji Appeal with CARE Australia.
See videos of their O Week escapades here and here.