Continuing his series of columns, Melbourne radio legend Doug Aiton recalls his interview with Barry Humphries
---
I had known Barry Humphries for some time since I had covered his movements for The Age as a reporter. Twice I think it was. So when Barry Humphries came to do a show he was happy when my producer contacted him to come on the program.
But he went further. He said "can you have me on for longer than usual and I'll use your program for publicity that I am here."
I said, "of course," and he immediately went off with Senior Producer Kate Latimer to find appropriate music to accompany him. That was during the day. But as the time approached for the program, at 4pm, we planned it further.
What we did was decide to have him on for a full hour, three or four times as long as most interviews. Humphries agreed to be Dame Edna, Sir Les Patterson, and finally Barry Humphries himself.
It was a good arrangement for all of us because to have the inimitable and international Barry Humphries for a full hour was indeed a coup.
I went to air and at the same time introduced my special guest Dame Edna Everage. She started immediately with "Oh Douglas you look so sweet across there in your own little studio."
I could hardly contain myself but I became immediately aware that when Humphries spoke, his eyes were closed. He later explained this by saying he did not usually do these characters, Dame Edna Everage and Sir Les Patterson, without their costumes, and it "felt wrong."
The interview with Dame Edna went marvellously with Humphries as funny and creative as he always was. I had to make a decision quickly. I had to decide whether I should join in the fun or treat it quite seriously as a normal interview.
I quickly decided that it had to be "normal". I couldn't compete with Humphries in the humour area and it would sound wrong. I decided that to treat him as a normal interviewee seriously was the right thing to do.
So Dame Edna was treated normally as though she were a leader of industry or an acting prodigy. I still think it made everything more funny with me being serious and she being enormously humorous.
After saying goodbye to Dame Edna, we went on to introduce Sir Les Patterson. The contrast between the two, Dame Edna and Sir Les, was remarkable as they were up close. Sir Les' gauche and ocka presentation of himself was a riot. He actually told dirty stories and I knew that the ABC would not interfere with Sir Les.
Then it was a change again to Barry Humphries himself. Humphries has a mild Australian accent which, after those two, sounded incredibly cultured and enormously tactile. He spoke about creating Dame Edna and Sir Les and at last I was looking into his eyes which were now open and alert.
Within minutes the interview had to come to an end and it felt like it had just started. It was a great success and Humphries said he would come on when he was next in Melbourne. I said "any time at all" and we parted on the best of terms.
About the Author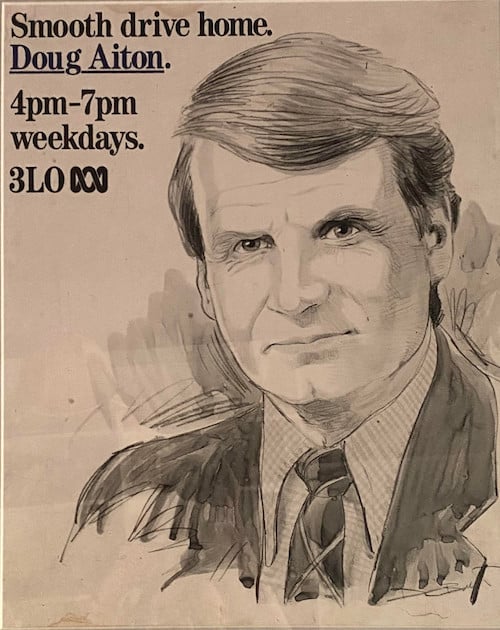 Doug Aiton was the Drive time Presenter at Melbourne's 3LO from 1987 – 1997.
He has a combined past of newspapers and radio including a weekly column for the Sunday Age for about ten years. He is married to Judy and has three children.
Now in his 70s, Doug still presents a regular program on The Pulse Geelong.
Edited by Jessie Aiton, (photo credit: Barry Humphries – The Man Behind the Mask)