Chart Highlights – July 14, 2022
Top Debut: Radio gets its hand on a Top Gun hit from OneRepublic
Biggest Mover: Imagine Dragons move up eight spots to No. 11
Cooling Down: Tate McRae's 'she's all i wanna be' sheds 287 spins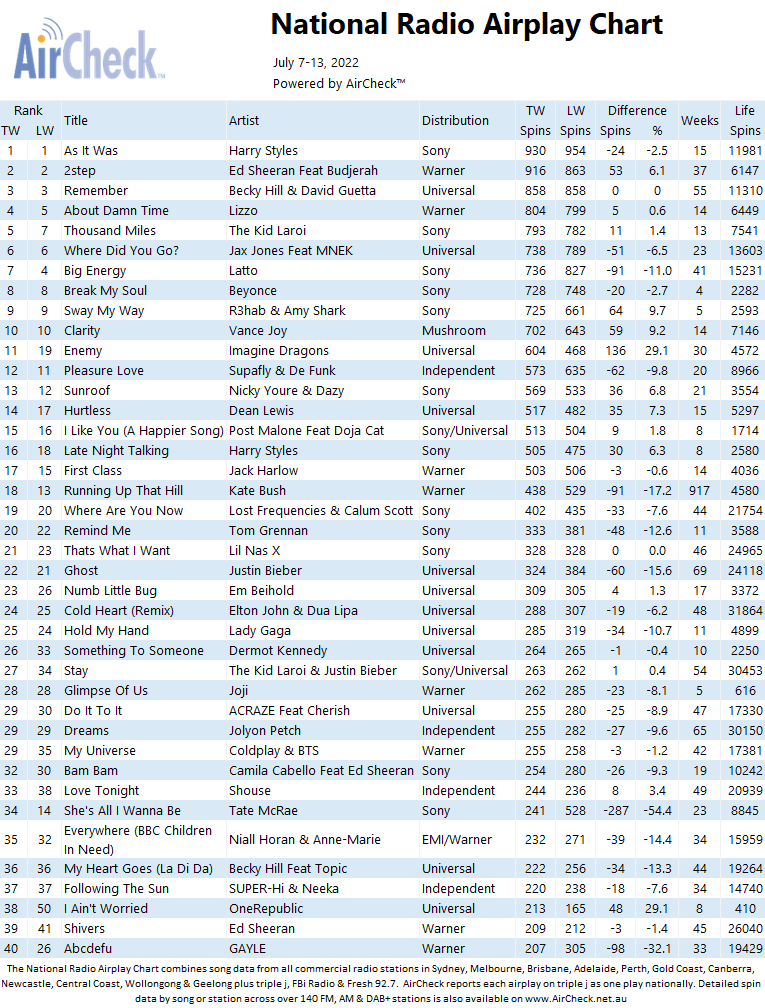 OneRepublic's new single 'I Ain't Worried' scores the highest debut on the latest AirCheck National Radio Airplay Chart, coming in at No. 38. It's the second song from the Top Gun: Maverick soundtrack to feature on the chart after Lady Gaga's 'Hold My Hand' (No. 25).
'I Ain't Worried' recorded spins across 15 commercial stations, including the Nova network (132 combined spins), i98 (14 spins) and 101.9 The Fox (12 spins).
Imagine Dragons have picked up the pace with their single 'Enemy' rising eight spots to No. 11, a new peak position. Nova and Hit stations added extra spins this week, contributing to an overall increase of 136 spins (+29.1%). KIIS Sydney and Melbourne remained steady.
Tate McRae's 'she's all i wanna be' tumbled 20 spots with a loss of 287 spins, shedding more than half of last week's tally. The song is currently on its 23rd charting week, peaking at No. 8 back in June.