With the relauch of the new digital Double J, one of the station's early staff members, Gayle Austin has shared her story about the launch of the original Double J with radioinfo readers. Gayle has researched the ABC's youth network for her PHD thesis.
11am Sunday 19th January 1975:
It started with a flashback, a reference to the possibilities of the 60s, a countdown pinched from the Moon Landing. "10, 9, 8, 7, 6, 5, 4, 3, 2, 1, Houston, we have lift-off" exploded into a banned song!
'You Just Like Me 'Cos I'm Good In Bed' had been released a couple of months earlier on an album that turned out to be definitive of the 70's in Oz. Living In The Seventies by Skyhooks was also like a very large percentage of Australian releases at the time, almost totally ignored by Australian radio, who were hell-bent on copying overseas markets, particularly Britain and the US. The fact that Double J's first piece of music played had to be Australian was our first big political statement. Things were about to change. The fact that the track was banned from commercial airplay was an even more in your face way of bringing about that change.
It seemed like the whole of Sydney was glued to their radio that day.
Over at 2SM – which was the undisputed top young people's radio station in the mid seventies – Charlie Fox on his way to becoming the rock radio programming 'God' of the late eighties at top rating Triple M, remembers everyone being gobsmacked. He couldn't believe we could play the track and get away with it. This was the beginning. On staff at the Js we had some very astute people who knew the process, and where it could be pushed.
After 'You Just like Me Cos' I'm Good In Bed', came "Sympathy For The Devil," and The Doors, and every other album we could grab that hadn't been played on Sydney radio, but should have been.
In the studios below the surface of the old ABC building in upper Forbes Street, Darlinghurst, TV news cameras, photographers, well-wishers, and Double J staff all crowded into and around what later became affectionately known as "The Bunker", Studio 206. The old bomb shelter seemed a fitting birthplace for our government sanctioned "underground" radio station."
11am. January 19, 1975? I remember where I was standing and what I was wearing" says Herald journalist Doug Anderson twenty years later, "and there are only two other times in my life I remember so vividly: when Kennedy was assassinated, and the moon landing. "
If you were to analyse the symbolism, you could say we exploded the American icon out of the sky with cheeky Australian humour. We were putting our own culture centre-stage. And if you're looking for context, cultural cringe was still very much part of our national identity in 1975. The coffin had been nailed shut on the White Australia Policy only three years earlier, and it was still very much part of who we were, as a nation. Commercial radio reflected this. Music playlists were compiled after much studying of what was working in England, and in America. People may have been queuing up around the block to see local artists, but that didn't mean a thing to commercial radio programmers, who found the thin productions of local content hard to sit next to the million dollar productions of overseas product.
Original Double J on-air guru figure, Chris Winter recalls: "There were a whole lot of things going on in the late sixties and early seventies in the media generally that – with the clarity of hindsight – were pointing towards a change."
John Diamond, who became a producer at Double J remembers: "There was no way that you could get a local band on air unless it came through one of the major record companies. You wouldn't hear Creedence Clearwater Revival on 2SM or 2UE or any other stations that said they played Rock & Roll…. it was very hard for Australian music to get heard."
Colin Vercoe, who worked for two major record companies (CBS & Festival) before becoming one of the first music programmers at the Js, remembers the difficulty getting Australian music played, indeed the difficulty getting very much played at all if it wasn't already proven successful overseas, and was from a white centric background. He recalls going to radio stations in the late sixties, early seventies with American black music: "In those days it was the early disco stuff, and if it was black they just wouldn't play it."
Whatever it was, it wasn't what us baby boomers, inspired by all the student and Gay & lesbian, and Black action overseas, and all the political action that was taking place around the universities here in Australia, were willing to take quietly for too much longer. When Double J started up, it was the right voice in the right place at the right time.
For a short while it seemed everyone loved the J's. Even the straight ABC was acting pleased with itself, and actually encouraged us to speak our minds and reflect our generation. How were the staff selected for this first station to open up in Australia in 43 years?
"We'd written an ad saying: 'Please apply, a sense of the ridiculous essential'" Marius Webb recalls. Ted Robinson remembers: "There was also a bit of concern about breaking down what was considered to be 'an announcer' in terms of finding ways other than the traditional approach." The mix of people decided on was as a way of creating a more truthful representation of young people was: people from within the ABC, the more talented/edgy applicants from the commercial arena (and almost everyone in the country who was in any way a progressive thinker was applying) and as many people from other places as possible.
The idea was to set up a collective which Webb and Moss would both co-ordinate. The beginnings of what was to decades later become the Triple J National Youth Network, had to start with creative management, as much creative freedom as was possible, and as much involvement with the listeners as could be encouraged.
One of the youngest members of staff, Sam Collins – who later became one of the station's music programmers and was the first voice heard on Triple J FM – recalls: "You can use all the superlatives you like, it was just unbelievable. It was the dawn of something unknown. Could it be that we could create magic, go where no one had gone before, do right by the times, dare to break ground rules, moulds? I felt at that tender age and experience, a mix of ridiculous elation and onerous responsibility. I think we all felt an awesome amount of fear in a lot of ways. If any of us had any idea what was about to be unleashed, I don't think we would have gotten up to January the 20th. But it's what happened after that, that I think really made an impact on all of us. The weight came down and we had to keep it going and there was a responsibility not to go berserk"
Pretty soon we all realised that Double J was a 24/7 lifestyle choice if we were to get the job done. First we wanted to establish a truly Australian identity. We chose to speak in our own accents, and honour our own culture. We were dragging our Australian identity out of a post colonial mentality. We were young, we were invincible, we had no idea what the fuck we were doing, but we were willing to throw ourselves into it, fearful yes, but always with our eyes on opening up representation. As the Whitlam government who had brought Black rights to the frontline, the beginnings of equal pay for women, and free tertiary education had proclaimed, it was Time.
Timeline:
1975, January 19: Sunday Telegraph announces: New look comes to Radio. "One of the most exciting aspects of 2JJ is the respect it has for its audience. It sees them as people whose musical tastes have been ignored by commercial radio. We want to provide creative radio that involves the listeners. People should feel 2JJ is their station' says Marius Webb 'We really want to style the station on the values of the audience' says Ron Moss." [Marius and Ron were the station's first two co-ordinators].
In the first few months of the opening of Double J, we went around all the pubs and recorded as much local music as we could find, then put it to air. We produced free concerts all over the city and surrounding suburbs, we produced controversial documentaries like: The War We Grew Up With, the 5-hour documentary on the Vietnam War; The programme dubbed by the Sydney Morning Herald as 'tomorrows documentary today' the 10-part radio programme "The Seventies." We produced programs like Radio with Jockstraps – an alternative sports programme – with Lex Marinos and Mac Cocker. We changed how radio comedy was produced and presented Nude Radio with Graham Bond and Rory O'Donohue, and Chuck Chunder of the Space Patrol, a serial that took us where no serial had ever gone before. It was a twisted variation on the old theme that was to inform twisted minds who aspired to produce radio comedy for years to come.
Eight months after the station had begun broadcasting, we were even sued by The N.S.W. Police Commissioner, Fred Hanson, for $1 million in damages in the NSW Supreme Court who declared that during a broadcast on 2JJ in July, he was held up to public hatred, ridicule and contempt when the station claimed that he had a financial interest in a gambling club near his home. The listeners loved it. Finally, here was a media outlet with a real voice. The relationship with our listeners was one of mutual respect and trust.
We had also lucked in, it seemed, by where our offices and production booths were actually physically positioned in William Street. We were down the road from the squatters, around the corner from the film makers' co-op, within walking distance of the inner city's most alternative. We were in a building that already housed some of the most radical people working for the ABC: the feminists including Liz Fell who set up the Women's Unit, and the Lateline Team headed by ex Four Corners renegade Allan Ashbolt, and they were very generous with their advise on how to stay on the right side of the Broadcasting guidelines, and still push the barriers.
From day one, "Double J was an incredible signifier of hope," recalls Dan Arthur, a J listener who later became a record company rep and much closer to now, was on the Party committee for the Sydney Gay & Lesbian Mardi Gras' 20th and 21st birthdays. "Counter culture at that stage in Australia had really been unfocussed, and all of a sudden we had a crucial and central gathering point, and in addition to it being an apparatus of the media, it was actually a focus of media attention."
Many talented people came out of the early J's who went on to inform how news and current affairs approached issues, Mark Colvin, Jim Middleton, Fran Kelly, the rollcall could go on for chapters. Many Australian musicians were supported to the level where they could go on and influence people all over the world: Midnight Oil, Divinyls, INXS, The Go-Betweens, Mental As Anything, The Birthday Party, Boys Next Door…once again the list could go on to fill chapters. Many Australian comedians were given room to develop and move on to influence and inform future generations: Roy and HG is just one example.
I see the original Double J and all the talented people who gave their hearts and souls to opening up possibilities, as the foundation act of all the J's that followed. I have faith that like all foundation acts, the original building blocks that were laid in place will keep on reasserting themselves for as long as the good ship J and all who fly her continue to push boundaries and dare to live in possibilities. If the work is continued to be done hand in hand with the listeners, the Js will continue to transcend the boundaries of geography and be bound only by the limits of the imagination. And yes, I know that times have changed, but isn't it our job as public servants (and yes I do think that people who work in the media are public servants) to expand on that?
Some of Gayle's PHD research was first published in the Sydney Morning Herald in 2005. It is reproduced here with Gayle's permission.
See some early media clippings from Double Jay here. Triple J history page here.
Below: Gayle Austin then and now.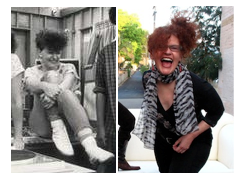 Gayle currently presents a weekly overnight program called Curved Radio on Sydney's 2SER FM.