Independent Tasmanian MP Andrew Wilkie gave a talk this evening in Parliament House Canberra about independent media.

Wilkie, a former army officer and intelligence analyst in the Office of National Assessments (ONA), knows first hand about the importance of independent media.

In 2003 Wilkie resigned his position at ONA so that he could speak out about his view that Sadam Hussein did not have weapons of mass destruction, which was the reason given for invading Iraq. "I formed the view that the official case for war was fraudulent… that Iraq in fact posed no imminent threat to anyone… I decided that I should resign from ONA… and go to the media."
He did put his view to the media, which was proved right, but his career suffered. He lost his job and "became unemployable in Canberra." After receiving death threats, having his reputation trashed, losing his marriage, being dropped by friends, and many other consequences as a result of speaking the truth, eventually Wilkie was elected as an independent member of parliament. He spoke about his experiences and the importance of free media.

"I am the lucky one. There have been hundreds or thousands of whistleblowers, most of them do not have a happy ending like mine. So when someone who you think is credible blows the whistle about something that matters, pay attention and assist them if you can, because every effort will be made to discredit them… I tell you what, no one goes through that for the fun of it.

"Everything whistleblowers try to do is meaningless if we don't have a free press to publicise what we have to say.

"If I had blown the whistle today it would be much harder. In the end I survived and prospered, but it is much more difficult these days."
Wilkie stated (in his words) "the blindingly obvious," that "a free press is one of the building blocks of a healthy democracy."

"If we don't have it, who will inform us of the goings on in our country… who will give a voice for those who need to speak truth to power and shine a light on misconduct.

"It's important for journalists and their sources. We need to talk as much about protecting sources as protecting journalists…

"This country owes an enormous debt to its whistleblowers who have faced so much to speak up," said Wilkie




He gave many examples of courageous whistleblowers:

Toni Hoffman, the nurse who blew the whistle on the misconduct of Dr Patel at Bundaberg Hospital. "She spent 2 years complaining internally and could put up with it no longer… Eventually a journo latched on to those issues, all because Toni risked everything to blow the whistle."

Allan Kessing the customs officer who blew the whistle on security gaps at Sydney airport is now broke and living in a shed. "We are all safer due to what he did," said Wilkie.

Other examples included Witness K who revealed the bugging of East Timor, Wikileaks revelations of US war crimes, and more recently the ABC publication of the Afghan Files.

"Another example is Ben Fordham, who had been told that up to 5 boats were on their way from Sri Lanka and was told by Home Affairs that he would be investigated for daring to tell the public that they have a right to know that…

"Our country is a better place because of these whistleblowers," said Wilkie.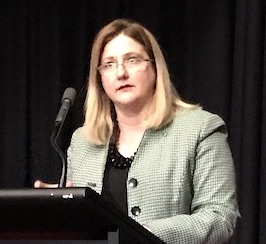 South Australian Independent MP Rebekha Sharkie spoke about the private members bill which she and the other independents have put before the House of Representatives.

"We are at a real cross roads in our nation… freedom of speech is not in the constitution we need to do something about it.

"We have limitations compared with other democracies… It is not just freedom for journalists, it is freedom for all of us to know things that we need to know.

"The laws about national security are just flying through the parliament with no oversight and not enough thorough investigation of the consequences. If you call out these laws you are accused of not protecting Australians…

"We are at risk of entering a police state… Our Bill is about sending a very clear message that we [need] freedom of the media…

"Supporting journalism is critical for the future of our democracy. We need well funded public interest journalism and a well funded ABC.

"The bill is now on the notice paper, it is up to the government and the opposition to join us on the cross bench who are calling for this."

Labor MP Mike Freelander also spoke briefly at the talk, before all the MPs were called away to the chamber to vote.

"We would be very complacent if we think it can't happen here…

"We have a long history of attacking the messenger… We are not immune from totalitarianism in Australia with these increasing attacks on independent media."

An unexpected member of the audience, sitting in the back of the Parliamentary lecture theatre was the ABC's Managing Director David Anderson. He said the national broadcaster intends to lodge a submission to the Joint Intelligence Committee about the raids on the ABC and that laws which the national braodcaster thinks shoudl be changed to prevent such raids happening again.