Keith McGowan profiles Ian Wright.
It could easily be argued that the Fleurieu Penninsula is the most popular part of South Australia. With towns like Strathalbyn, Goolwa, and Victor Harbor along with attractions like the Cockle Train, the Horse Drawn Tram, the Whale viewing, Penquins on Granite Island, the paddle steamer ride to the mouth of the Mighty Murray – and if the cap fits the Maslin Nudist Beach.
In 1802 Encounter Bay was discovered and named by Captain Matthew Flinders aboard the Investigator. But it wasn't until 35 years later that two whaling stations were established in what we know as Victor Harbor, so named in 1838. The now famous Horse Drawn Tram first operated in 1894 with the journey to Granite Island and back across the Causeway costing three pence. Today the same trip costs $9 and it seems that everyone who goes to Victor Harbor is happy to pay it. To ride the Horse Drawn Tram is a tourist must do.
Media is tight in this Town with everything Adelaide offers belting in, and two newspapers, five community stations able to be heard, and 5MU Murray Bridge having a main street office/studio and local sales rep and announcer combined. 5MU on their www boasts proudly to be "100% Australian Family owned" and part of the "Grant Broadcasters Network", no slouches when it comes to parish pump broadcasting.
Ian Wright, a 40 plus year veteran of commercial radio pounds the pavement selling airtime on 5MU and conducts the 1 – 6pm Monday afternoon program from the Victor Harbor satellite. It's chock full of regional issues and represents the kind of provincial radio we sadly don't hear too much of today.
If anyone knows about communication, Ian Wright should. His cv extends through three states, Capital City and Provincial. "I was nine years of age (left) and I knew I wanted to be a Radio announcer" Ian told me. "Dad and I were painting the house and the radio was going… I think on 2SM. And even when I was that young, I thought that would be a great job, playing music and talking and telling the time.
Mum and Dad were very supportive and when the family moved to Kempsey I started hanging around 2KM and the rest is history."
Born in 1954 in Cabramatta, Ian received his Education from the Patrician Brothers in Fairfield. "I was an ok student, loved English, wasn't good at Maths, but enjoyed debating," Ian recalls. When he matriculated in 1971, Ian was employed at 2KM as trainee announcer for $39.80 a week, a year later it was to 3LK Horsham, then after 12 months to 2AD Armadale. About 2AD Ian says, "I was only there for a week, I got very ill, and was told that it wasn't good enough and I was fired. It took me three months to regain my health after which I returned to 3LK but this time in sales and I've mostly done sales or management ever since."
Some years in Adelaide at 5KA and 5AA were to follow, and then in 1981, Ian went to 2BE Bega for 12 really happy years. "I loved my time at 2BE/2EC," says Ian. "I started in sales and was soon made Station Manager. It was very hands on and we had some truly great people there like Kate Economou, Sean Pickwell and Duncan Campbell to mention only three. . . . . yeah loved it there . . . great autonomy, left alone to do our own thing and we made money."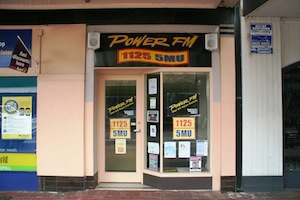 But often in radio the good times grind to a halt and in 1992 it was over. Now living in Victor Harbor Ian Wright was driving to Adelaide each day working for Radio1323 the former 5DN which eventually was to become Cruise. "I was the first employee of Cruise," says Ian, "I was doing sales and weekends on air, spending more than two hours a day in the car driving to Adelaide and back, but in 2010 I resigned from Cruise and for a little while sold houses in Victor Harbor until 5MU offered me this job which I grabbed and have enjoyed ever since."
Ian Wright has been married to Dianne for 39 years, and they have three adult children, two sons, Ashley and Daniel and a daughter Carly who provided Ian and Diane's only grand child Curtis.
The two met when Ian was at 3LK (the second time) at a party, and they soon married in the Victorian town of Dimboola. Ian told me, "Dianne was a nurse at the Wimmera Base Hospital and when we married in 1975 the late Rod Batchelder who was also at 3LK was the Master of Ceremonies."
Next year 5MU will be celebrating 80 years on air, making it one of the oldest stations in the land. Now 59 years of age, Ian Wright is happy with his lot. "I don't see retirement on the horizon, and why should I? I've got the best of both worlds, I do sales and I'm on air a little and I love it here in Victor Harbor . . . it couldn't be better," says Ian. I left Victor Harbor thinking about Wright. He's right.
Keith McGowan