Three specialist masterclasses at RadioDays Europe today delivered hints about people management, technological responsiveness and pitching program ideas.

The hints go beyond their immediate applications and offer good ideas that can be applied in a range of areas.

Trust is a big factor when coaching talent, advised Travis Kemp (pictured below), a psychologist from Australia.

Sometimes, when things are trivial, people will grant trust you, even though they don't know you very well. But when bigger things are at stake, like the reputations of your on air talent, program directors and managers need to be build trust by sharing something of themselves with the other person to connect with them, by keeping their confidences and by earning their trust over time.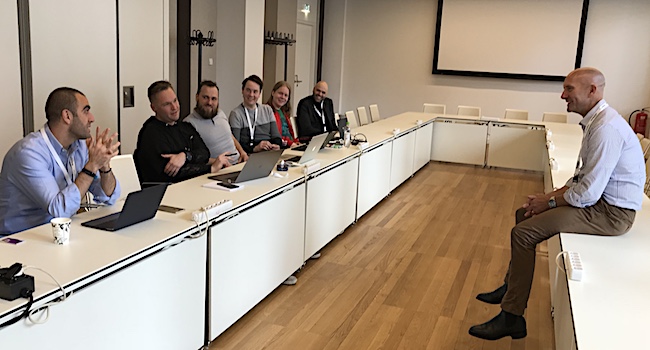 Christian Lapointe's masterclass (pictured at top) covered Agile Project Management

When you are in a simple world you can easily sense what is going on and you can respond. You know what to do and you can follow a plan. When there is simplicity you can sense what is going easily, categorise it and use a known response.

In a complicated and complex environments you must spend time working out what is going on first. You need to analyse, probe and then respond. To perform well in a complex environment, ask questions, check facts and take time to understand what is happening before developing your plans and responses.

In the modern world of fast to market products, there is another type of project management method that is also useful. The chaotic environment method, where there are many unknowns, is to take action first, then work out what happens when you take that action, then modify your future responses based on what you have learnt, to develop your responses to the situation.

The chaotic project management response is seen in the example of apps and software, where the current approach is to get to market quickly and then modify the app or the software based on how it is being used.

This response to 'chaotic' environments differs from the old project management approach where the stakeholders had a meeting to determine all the things that were needed, then the technical team went away and built the product. Often this resulted in many useless elements to the product that were not really necessary when people used it. It wasted time, money and resources.

The agile style of modern project planning and implementation seems to be more effective for modern businesses than the old way of doing things.

"Agile is not just about going faster, it is about discovering methods to make a better product… Agile values are about being flexible and accepting change," said Lepointe



In the third masterclass of the day, Linda Green (pictured above) from Leading Creative Talent, UK, examined the ideas behind pitching successful ideas from her television production career. She has pitched many successful program ideas that have gone into production, from Ex on the Beach to Strictly Come Dancing/Dancing with the Stars.

"Strictly come dancing is a fairy tale," she said. "When we pitched the idea we explained how complex and difficult the world is now, and pitched a show about dancing as a fairytale. In the show people are nice to each other, there is glitz and glamour, it is a fairytale where, for an hour, people can feel good about things. Not worried about the bad things that are happening in the world."

When that show was pitched as a fairytale it had a clear value proposition which was easy to sell. Find the fairytale in your ideas as part of developing your pitch, she explained.

Green then explain Pixar's method of story telling as another way of pitching your idea:

"You need to get to the core concept. Switch off logic and focus on the emotion as your way of finding the hook for your idea," she advised.

Pixar uses several simple steps to tell the story when they are deciding whether to make a new movie. Those steps are like constructing a story:

Once upon a time…
Every day…
One day…
Because of that…
Until finally…

If you can explain your idea in this story format, it will be easily presentable in your pitch.