There is a struggle for world domination by podcast platforms, but it may turn out that one single dominant podcast platform may never emerge.
A range of researchers at the recent Podcast Day Online event, held by Radiodays Europe, gave snapshots of the major platforms in various countries.
In the UK, where BBC Radio has been dominant for decades until recently, the British national broadcaster is again taking the high ground in the new audio field of podcasting, with the BBC Sounds App being the most used platform to consume podcasts in Britain.
Spotify, founded in Sweden, is the dominant platform in that country, according to research conducted by British research company YouGov, while Youtube is the main platform in America and Australia. The irony of a video platform being dominant for audio was not lost on conference attendees.
YouGov's research panel consisted of 40 million surveys in 44 global markets.
The majority of worldwide podcast listeners are younger males (69%). They are more likely to get news from news websites and social media than tv. 59% consume more than 1 hour of podcasts per week, mostly listening on smartphones.
The podcast consumers are also regular radio listeners, contradicting the misconception that younger podcast consumers do no listen to live radio. One third of the podcast listeners surveyed said they would be likely pay for podcasts.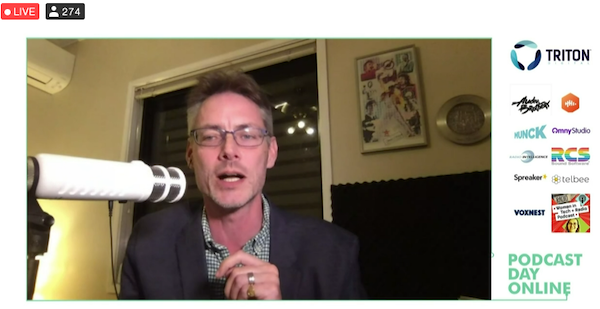 James Cridland (pictured above) pointed out in his presentation that only 20% of Europeans own Apple iPhones, so there is less use of the Apple Podcast platform and more use of Spotify across Europe.
Spotify listeners like comedy and sport, whereas Apple Podcast consumption listen to more news and culture podcasts, according to Cridland. "Amazon has just got into this field, there will be an exciting 6 months ahead," he said.
Now that dynamic ad insertion is common, the next thing to watch for is dynamic content insertion, according to Cridland, citing the first localised podcasts from NPR as an example of local content being inserted for different cities. Other examples include Mamamia, which is using dynamic content insertion to put up to date daily news into some of its podcasts, such as The Quicky.
Triton Digital demonstrated its podcast monetisation platform during Podcast Day, noting the huge growth of podcast consumption during covid, with 40% growth in Europe.
Informed advertisers view podcasts as "engaging and effective," according to Triton Digital, but not all ad agencies have yet realised the significance of podcast advertising to know how to buy it. "The agency view is that the process of buying ads in podcasts is still very manual, they want better ways to measure the audience and to buy podcasts."

---
Subscribe to the radioinfo podcast on these platforms: Acast, Apple iTunes Podcasts, Podtail, Spotify, Google Podcasts, TuneIn, or wherever you get your podcasts.