Alan Clement was raised in the dairy farming region of Maffra 220 kilometres east of Melbourne, in a home that had the radio turned on and tuned in to 3TR all day everyday.
Keith McGowan profiles Bairnsdale community station manager Alan Clement's four decades in radio.
Whilst his mates were helping in the family dairy and learning which breeds gave the most milk, Alan was counting the days till he could leave school and get a job in a radio station. Preferably the local one in Sale. His interest in the three "R's" was so slight he told a Maffra High instructor, "Tell me how learning this stuff will help me be a radio announcer."
Alan recalls "I learned more watching Graham Eddy calling the football at Maffra Oval on 3TR than I ever did at High School."
In 1967 Local broadcaster Norm Laehy suggested to Alan he should attend Clarke Sinclair's School of Broadcasting in St Kilda. After only five months in the Sinclair studio and six more doing Overnights on 3BA Ballarat, Alan Clement was back in Maffra with family and friends and employed by 3TR (pic below).
Clement has been "more or less" in radio for 44 years and the journey to where he is now, Station Manager 3REG FM Bairnsdale, has seen him in Queensland at 4GY Gympie, New South Wales at 2TM Tamworth, South Australia (5PI Port Pirie as announcer and Sales Manager and 5CC Port Lincoln, pictured below, where he was founding Manager), and Western Australia at 6NW Port Headland and 6KA Karratha.
It's been a long journey for the lad whose heart is firmly in his home town. A long journey that hasn't stopped him from closely following his local footy team (The Eagles) who played off against Sale (The Magpies) in the Grand Final this year. Sadly for Alan, Sale won the flag and the trophy that goes to the winner of Maffra/Sale games, which are known as "The Battle Of The Birds." The "Battle" concept was devised by Clement in 1972 and it was he who donated the perpetual trophy.
About good memories Alan is quick to speak of his time in Port Headland and setting up 6NW. "I was hired as Station Manager and flown up there in a Lear Jet and shown around." He remembers, "I met the Mayor and was given a car to drive." "I even helped dig up the transmitter site," he recalls, "but when 6NW spluttered to life it was just so exciting and as Network Manager I started up 6KA Karratha as well." (pic: Alan turns the first sod for the 6NW Tx)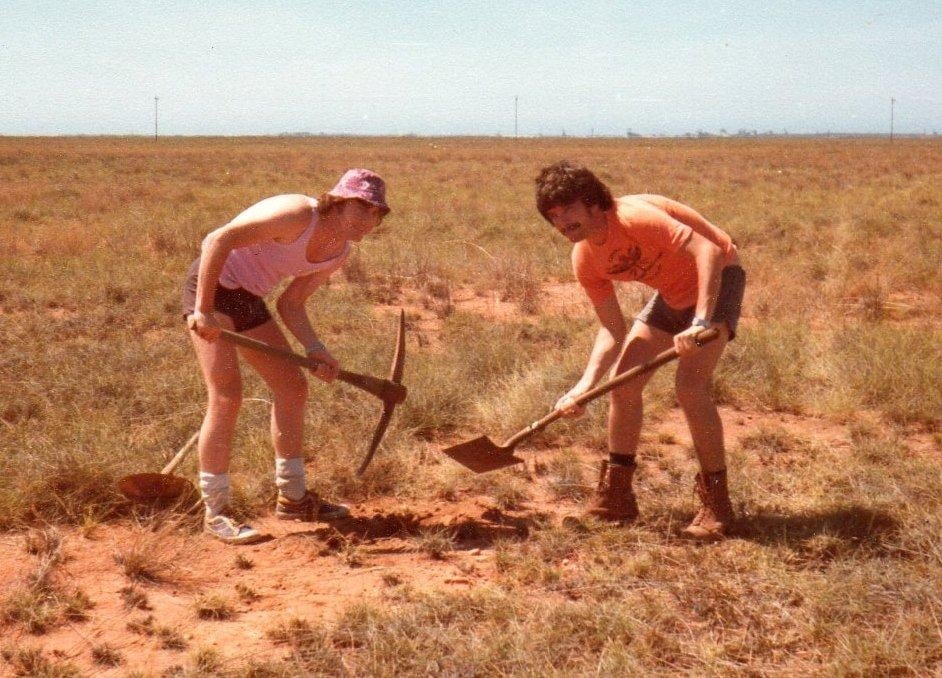 During the 80's there had been a few attempts to get a station for Port Lincoln, but these had failed. Clement went to Port Lincoln, found some locals who were still believers and in time 5CC was born.
Clement is a bit good at turning the fortunes of under performing stations around, as seen by his 1993 to 2006 stint at 3MFM Philip Island, and it was this success which made him in demand at Bairnsdale. Along the way the lad from Maffra has picked up a number of industry awards, including the "Westpac National Award For Community Broadcasting" 1978 and 1979.
Alan Clement has a deep and enduring love of Country Music and was a Founding Member of the Committee for the Australasian Country Music Awards. Amongst his closest friends are Country Singer Deniese Morrison and Broadcaster Nick Erby. Below he is pictured with Reg and Heather Lyndsay.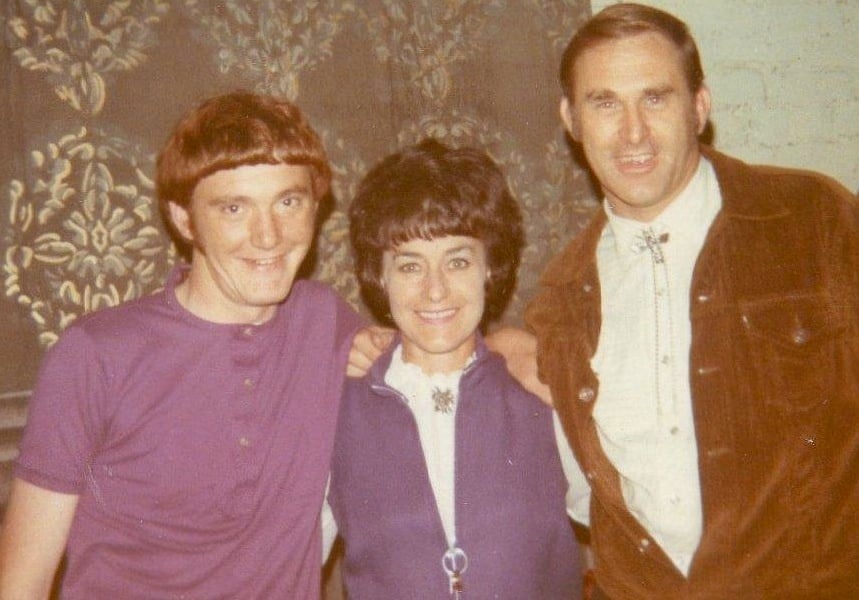 Of 3REGFM Alan says, "I am so lucky here in Bairnsdale, as we have a beaut committee who are terrific to work with. I've seen so many community stations self destruct over the years, but there are none of those problems here."
With a studio also in Lakes Entrance 3REGFM is a fairly tightly formatted radio station with lots of local information broadcast. Alan does the breakfast program himself and has a good crew of handy performers to back him up across the other programs.
I first met Alan Clement in 1968 at 3TR, and whilst I was a bit of a "radio gypsy" I never thought Alan would travel far from home. How wrong was I ?
Keith McGowan