PwC have released their annual Australian Entertainment & Media Outlook that this year is framed by the twin forces induced by COVID-19, economic disruption and powerful shifts in consumer behaviour.

Now in its 19th year, the report says that in 2020, the pandemic triggered the sharpest contraction in overall E&M revenues in the history of this research, and it accelerated changes in consumer behaviour to pull forward digital disruption and industry tipping points by several years.

In 2021, those tipping points morphed and coalesced into power shifts that are rapidly reshaping the industry.

While the overall entertainment and media industry in Australia declined by 3.6 percent, 2021 is showing signs of a strong recovery for most, despite the shadow of COVID-19 remaining.

According to PwC, total Australian advertising spend contracted by 8.0 percent to A$15.4 billion, and consumer spend dropped by 1.9 percent to A$42.5 billion, and in audio/radio the total segment declined 8.1 percent in 2020 to A$1.5 billion.

While metropolitan stations saw a decline in revenue over 2020, regional radio was reported to have largely held on to its share.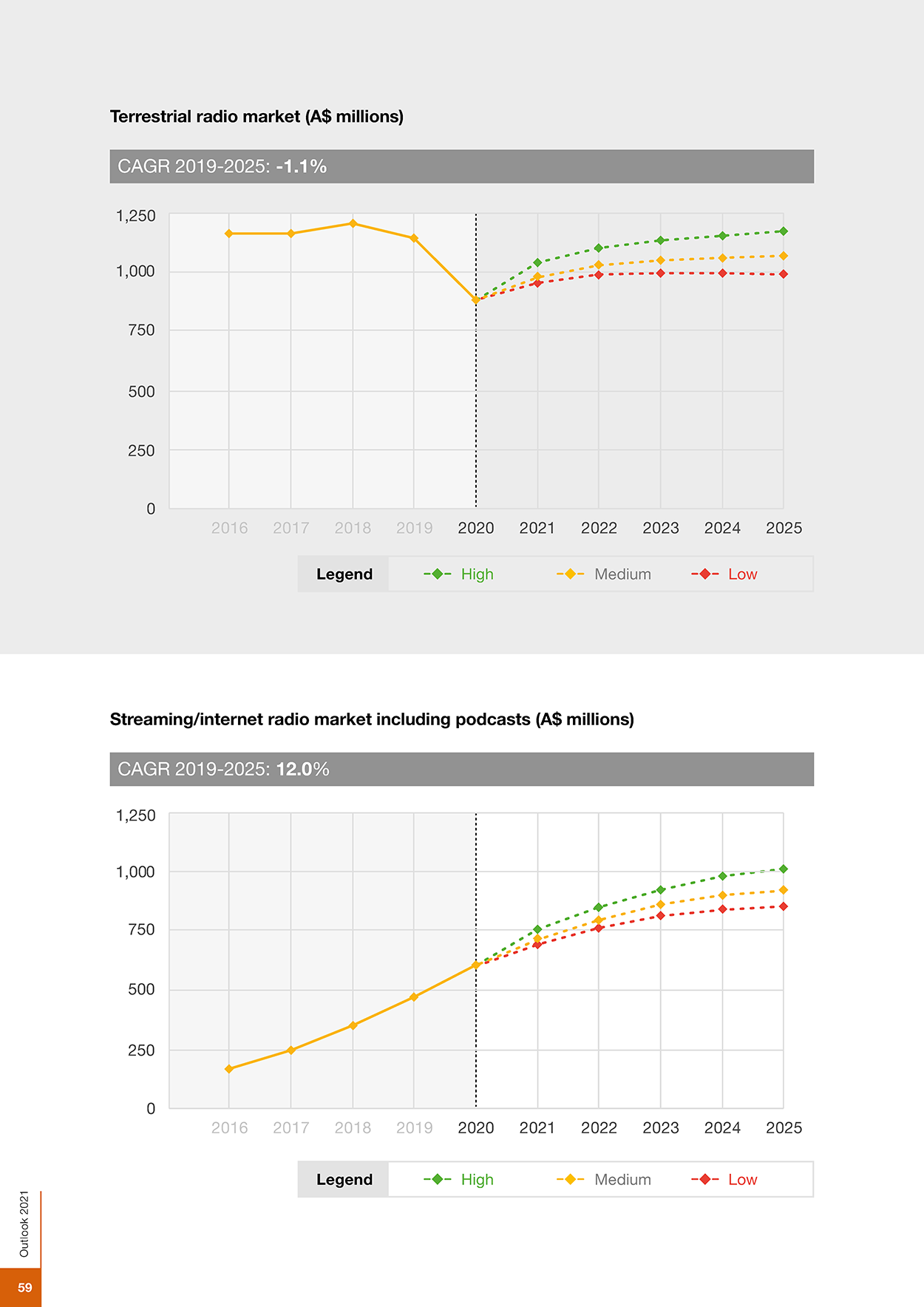 Streaming listenership continues to grow in Australia and while the marketplace is dominated by Spotify, iHeartRadio and TuneIn continue to retain a share of the market.

Competitors, such as the SCA Listnr platform, which offer live radio, podcasts and other audio content, have benefited from extensive in-program promotion, helping migrate live listeners to additional listening opportunities.

PwC Australia Partner and Australian Entertainment and Media Outlook Editor, Justin Papps, says, "The pandemic triggered the sharpest contraction in Australian entertainment and media revenues in the history of the report. While the contraction impacted the whole market, it was clear that some sectors were hit harder than others. However, even with the COVID cloud still lingering, momentum was strong for the sector going into the first quarter of the 2021 calendar year.

"We see five major power shifts that are impacting the entertainment and media landscape to varying degrees. The overarching shift is undoubtedly sustained digital disruption. This shift is then enabling significant power shifts into the hands of consumers, a shift of creative power to content originators, a shift based on location and the need for anywhere, anytime access and finally, regulatory shifts that put privacy and data monetisation under the microscope. Even with these shifts, the stability or resilience of the market overall should not be underestimated. The contraction of 2020 is giving way to a solid rebound this year, and a return to 2019 revenue levels within the next few years for most parts of the industry, if not sooner."

According to the report, the traditional stronghold of terrestrial radio is now fully complemented by streaming, podcast, and catch-up services.
---
Subscribe to the radioinfo podcast on these platforms: Acast, Apple iTunes Podcasts, Podtail, Spotify, Google Podcasts, TuneIn, or wherever you get your podcasts.