An announcement on the relaunch of Radio Adelaide is expected in coming days, according to new General Manager Rob Popplestone.

"We have already started testing and contributing new content to our pre recorded format."

radioinfo caught up with the new GM following fears from RASWA that the association hasn't be consulted on key decisions, including the apparent axing of the station's Classical and Jazz programs.

But according to Mr. Popplestone that's 'not quite true.'

"Prior to the decision I consulted, existing and previous Radio Adelaide staff, existing and previous Radio Adelaide volunteers, a number of other Community Radio General Managers, Commercial Radio contacts and members of the general community," he says.

"What I then had to do, was weigh up what was the obvious decision to be made, against what I already knew was a passionate group of Classical and Jazz volunteers.

"With approximately 30 people associated with these programs booked to be part of an induction within days, I thought it only fair to let them know there was no future going forward in the current 9-12 daily timeslots.

"Rather than have them come to our new station location, be inducted commence their programs, all the while knowing that both genres were not in our long term plans at their existing timeslots going forward."

Chair of RASWA Nicky Page has accused the new board of a lack of consultation and an 'announce and defend' attitude, which Mr. Popplestone denies.

"The relevant members of the Station community, will always be consulted.

"It's my intention to always be transparent with all volunteers and staff, equally important is that if their is a conduit for information, consultation, and engagement between the Station, staff and volunteers, that the message remains as it was intended," he says.
There were also some concerns raised by RASWA that the apparent 'lack of consultation is a breach of legislation.'

"No, quite the contrary, we really want to encourage members of the community we serve to participate in the selection and provision of programs and have a more formalised community consultation strategy and structured engagement program.

"This however doesn't seem to have been the case at Radio Adelaide in recent decades, so I'm keen for this to happen in the future," he says.

When asked about rumours the breakfast show would be replaced by a sports show…

"No, I haven't heard that one before, in fact quite the contrary, we believe the Breakfast program should be given even more resources and have already started discussions with key staff for that to happen.

"Mind you, the thought of a Sports program at "another time" sounds like a good idea!"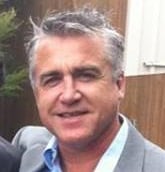 Mr. Popplestone (left) has a strong sports background with over ten years at Network Ten as a producer, presenter and journalist.

He has also worked with the ABC as a boundary commentator for its SANFL coverage, along with being the producer of a racing program for channel 9.

While this is first role as the General Manager of a radio station, Mr. Popplestone has been a breakfast and nights presenter with 5DN and spent "approximately a decade" on community radio with 5RPH and more recently 5EBI.

So is it daunting getting across ACMA and their requirements i.e. codes of practice, rules on advertising etc. while at the same time trying to get to air?

"Relevant ACMA requirements, codes of practice, rules on advertising and so forth have all been highlighted to me by ACMA in recent weeks after I initiated discussion with them.

"I anticipate ACMA providing strong support and guidance for us going forward," he says.

With the official announcement of Radio Adelaide's launch expected soon, radioinfo asked Mr. Popplestone about any new programming directions and plans for the station.

"The most obvious is for a better "flow" for the listener, that is to take away some of the 'clunkiness' caused by very diverse programs back to back.

"How this eventually looks will be dependent on consultation with existing programs," he said.