The inaugural Radiodays Asia conference took place this week in Kuala Lumpur Malaysia.
Across the two days the sessions were data driven with excellent research analysis while also highlighting how radio & podcasting are intertwined from a listener perspective.
The opening day dialogue included Abraham Thomas (CEO Big FM India) on how India as a nation is embracing the medium. The numbers are staggering; the county has a population of 1.3 billion with a current market of 890 million while its estimated 283 million listeners are not reported. Just like the UK, Ireland & USA who have reality TV stars as radio presenters, India has Bollywood stars on radio.
Other speakers were James Cridland the Radio futurologist; who brought us right back to where it began with Hugo Gernsback (inventor of the wireless radio) up to Google, Facebook & Spotifi. However with the same conclusion that 9 out of 10 people listen to the radio every week.
We also learned about the world of ' Fake News ' from Lucile Stengel and Sapna Solanki (Senior Researchers, BBC World Service Audiences Research team) on the phenomenon of the ordinary person consuming and sharing fake news.
The second day focused a lot on Podcasting while the importance of audio advertising was also in the mix. Tim Watkin Executive Producer of podcasts from Radio New Zealand shared his knowledge on the craft of making and conquering the world of podcasts. He said it's about sharing the experience ' The Detail' while also stressing ' A topic is not a story '.
Successful podcast sessions included ' My India Life' and 'worklifeindia ' from the BBC World Service. The latter is simulcast on TV/Digital/Radio giving it a bigger audience making sure the listener or watcher is not alienated by painting a picture in all cases. A Podcast in China called Story FM has 400,000 listens per day and host Kou Aizhe said ' Mobile Media is becoming more trusted in China'.
Advertising and Tech companies spoke on the future of ADs. Interactive ADs with a voice, marrying the data of the listeners' location/Facebook / Google searches to make sure you target the right audience. Radio plays a role for the advertiser – but only when you have measurement will your sponsors keep coming back.
Lastly a fun event session was ' 25 Ideas in 25 Minutes ' a number of experts gave brief rapid fire ways on certain aspects of radio; 5 Promos, 5 Podcasts, 5 ways to spot Fake News, 5 ways for your digital presence to shine.
The following are three quotes that stand out from the event for me:
"If you haven't heard it on radio it's not true "
" Fake news travels faster than truth"
"If your content is not good, you're still better off to play a song"
The first Radiodays Asia conference was a hit. It opened with a unique band consisting of the Drums of Malaysia for Radio the beat goes on.
We will feature more reports from RDAsia throughout this week.
About the Author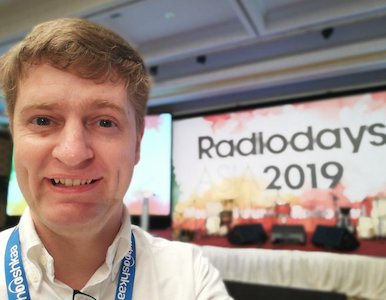 Brian Farrell is a Radio Presenter & Producer from Ireland he can be found on
Twitter: @BrianBeag or Instagram: briantfarrell.