Brisbane's Nova 106.9 celebrated turning 12 this week with both a sugar and a staff "smack-down".

The Nova foyer was transformed into party central and diets were ruined courtesy of a cupcake and lollie buffet, but the main feature of the birthday celebrations was the staff piñata challenge.

Everyone at Nova Brisbane is part of a house team, and the teams compete all year for points – like those Harry Potter kids at Hogwarts.

Four piñatas were hung in the foyer and staff took turns being blindfolded, spun like a vintage 45″, and were given one chance to take a shot.

Nova 106.9's General Manager, Jay Walkerden, was first to step up and take a crack for his yellow team, connecting easily with the piñata to the loud cheering of his team.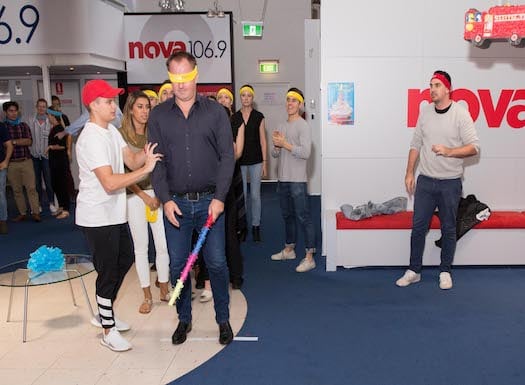 Team Yellow was the overall winner, breaking their piñata in record time.

"I'm just happy I could bring my A Game to the piñata party," Walkerden said.

"Being blindfolded, spun around, then trying to find your target usually ends in tears."

Back in 2004, the Nova 106.9 team was given the task to build a brand new FM radio station from scratch.

They rented a one-bedroom apartment at Kangaroo Point, recruited a "work experience DJ" Bevan, who broadcast from the apartment's bedroom, while the newly recruited Nova team met in the kitchen, and kept their paperwork in the bathroom.

The Nova team moved to their world class studios at Teneriffe shortly after, where they still remain today.

Three of Nova Brisbane's original breakfast team are still in the studio: Ash Bradnam, Kip Wightman, and David "Luttsy" Lutteral, who originally hosted the show with former announcer Meshel Laurie, and can now be heard every morning with guest announcer Susie O'Neill.